A Tale of Two Rivers
Sunday, July 29 - Wednesday, Aug 1, 2007
Southern Oregon Coast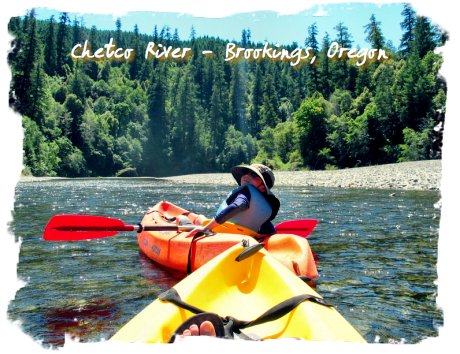 Denise has long held a fascination with Brookings, Oregon. Intrigued with the area after an Oregon vacation in 2003, she spent a fair amount of time researching the Brookings area – located in the 'Banana Belt', a narrow microclimate of year round warm (not hot) temperatures. Indeed, almost all of the Easter Lilies grown in the United States come from about a 12 mile region between Brookings (just across the California/Oregon line) and Smith River, California. With its reputation of wonderful weather and a resort like setting, she was hooked, at least at long distance.
My exposure to Brookings was on the final leg of a 1990 bike ride down the southern Oregon Coast. As the final town I passed thru on a nearly 400 mile ride, it appeared as nothing more than a strip of shops along US 101. With the end of the trip just south of Brookings at the California border, it was just another town with a lot of traffic. I didn't much care much for it.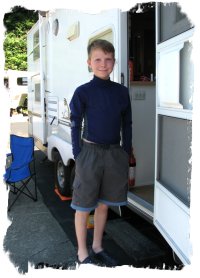 Thus with these two competing impressions we pulled into Brookings for a visit to the southern Oregon coastline. The crowded but well manicured campground, located next to Brookings Harbor, provided the first clue. Vance immediately noticed 1) there was no campground store (he
loves
to go up and buy snacks at the KOA stores), and 2) everyone camping there other than us was quite a bit older. In fact, Brookings is a retirement town, for much the reasons that appealed to Denise via her internet research on the area.
While we never warmed up to Brookings itself, we rapidly came to appreciate the surrounding area.
Harris Beach State Park
, just north of the city, provided a spectacular setting for sunsets, and a great introduction to the dramatic scenery that the Oregon coastline is so rightly famous for. However, although we thought this stop would be about the coast, we were in for a surprise, like we often are when we pull into a stop without any preset plans.

'Travel Days', as we call them, have developed their own rituals. After setting up and packing the camper dozens of times on this and other trips, Denise, Vance and I each have our own tasks and methodologies for preparing the camper to move. I largely concentrate on the outside, dealing with the mechanics of disconnecting the camper from utilities and hooking up to the truck. For Denise, Travel Day is Cleaning Day – it doesn't take long for the interior of the camper to become rather unruly. So every 4-5 days she makes a clean sweep, so to speak.
A 'Travel Day' tradition - if we get into our next campsite early enough, we like to 'check things out'. Because we don't do a lot of prior 'planning' before pulling into a new area, an afternoon spent 'getting the lay of the land' can really be helpful. If visiting a National Park, this usually means a visit to a visitor center. There we usually pick up the park's
Jr. Ranger program
for Vance to start working on, look into hiking trails, ranger programs, and sights to see. If not visiting a park, we'll just drive around to get a feel for the place.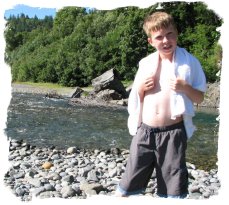 In Brookings, a spur of the moment decision to 'check out' nearby Loeb State Park turned our stay from a 'coastal' to a 'river' visit. We had heard a reference to the 'river bars', and at Loeb SP we figured out what this meant. The banks of the Chetco River (
whose mouth is at Brookings Harbor
) were lined with small gravel stones, forming a series of bars, substantial enough for cars to drive on. A large number of people lined the shores of the cool, clear river, swimming, sunning, and generally having a good time. Fortunately, we had Vance's bathing suit in the truck, and he gleefully joined in the fun.
Denise noticed a couple coming down the river in a set of plastic kayaks, and when they pulled into shore she asked them about kayaking the river. They had rented the kayaks at a local outfitter. Suddenly, tomorrow had a plan. Denise agreed to shuttle Vance and I up the Chetco and pick us up at the state park, a float of about 5 miles.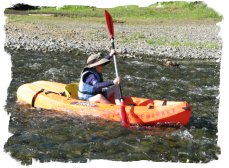 It was a great trip. Vance rapidly became comfortable with maneuvering the kayak, and the river was shallow enough that we didn't have to worry about any serious rapids. Mostly, we paddled thru a series of deep, crystal clear pools, lined with the seemingly never ending gravel bars. We stopped a couple of times at particularly inviting pools for a snack and a swim. Occasionally we would have to get out and pull the kayaks over a particularly shallow spot, and later in the afternoon we had to fight the strong wind blowing in from the coast. At the end, a dog waded out to greet us, and Denise was waiting (camera in hand) to record the end of our river voyage for posterity.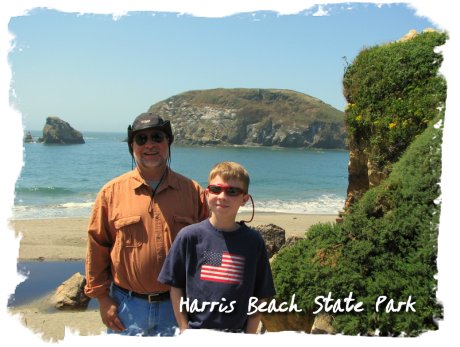 After an enjoyable sunset experience at spectacular Harris Beach State Park, Vance and I set out the next morning for the Rogue River, 30 miles north at Gold Beach, OR. The Rogue is well known for its Jet Boat tours. The 80 mile boat trip takes you up the winding Rogue River at high speed. The trip is a load of fun, with the boat skimming up shallow rapids that at first glance you think a motorboat has no right to go up. Our pilot had been making the trip for 20 years, and as such, cut corners and slid by rocks very tight, adding to the thrill.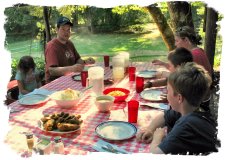 The Rogue is a National Wild and Scenic River for much of its length, and along the journey we saw plenty of wildlife. A highlight was spotting multiple bald eagles in the trees, along with one that swooped down and snagged a trout right in front of the boat. We also saw a family of otters, and an assortment of herons, ducks, deer and other wild critters. For lunch, we were dropped on shore at the charming Lucas Lodge, where we had a large family style feast.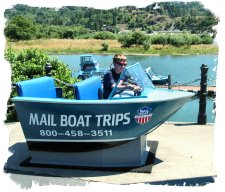 The '
Mail Boat
' company that offered our tour literally started our delivering the US Mail on the Rogue to several lumber camps along the river. Today, there are two companies offering the Jet Boat tours. Every few minutes one of the powerful (Three engines with 350 horsepower each) boats can be seen zooming up or downstream, swerving at the last minute to miss colliding with the upstream boat. Another favorite trick is to rapidly cut the power while making a hard turn, throwing the boat into a dizzying 360 degree spin. This maneuver usually resulted in a large wave of water splashing into the boat, drenching the passengers. I learned rapidly to keep the camera under wraps whenever we approached a wide spot in the river!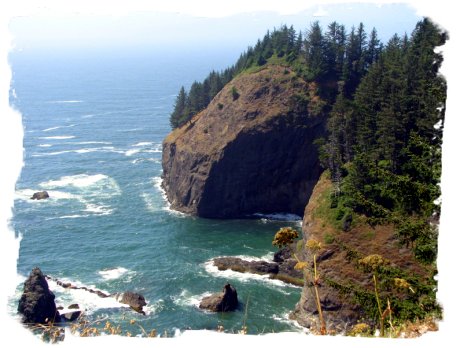 After a couple of days spent on the local rivers, it was time to see the coast. Most of the Oregon Coastline is preserved in a string of State Parks and National Forests. The coastline can only be described as wild – the mountains come right up to the oceanfront, providing a setting of soaring cliffs and sea stacks everywhere you look. We spent a great day driving up the coast, stopping wherever our fancy struck. The coastline provides an embarrassment of scenic riches – it is almost overwhelming.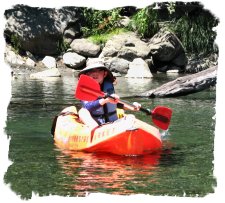 Vance:
We didn't stay in the campground a lot in Brookings. There was no store, no game room or anything for kids. In fact, it was really a retirement campground. So, being active outdoors is what we did.

Mostly Dad and I were the boat men. We took a four hour kayaking trip from a national forest to a state park. It was a very good experience. I learned to paddle and turn the kayak.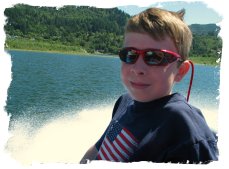 On our last day, we experienced a white water jetboat run. The captain threw fish out and Bald Eagles swooped down to grab the food. When we were just a little bit away from the dinner lodges, some River Otters showed up as if they were saying, "howdy". I was soaked by time the ride was over.


THIS WAS PROBABLY THE MOST BORING CAMPGROUND IN THE ENTIRE TRIP!!