Hasta La Vista, Baby!
Thursday, July 26th - Saturday, July 28th, 2007
Eureka, California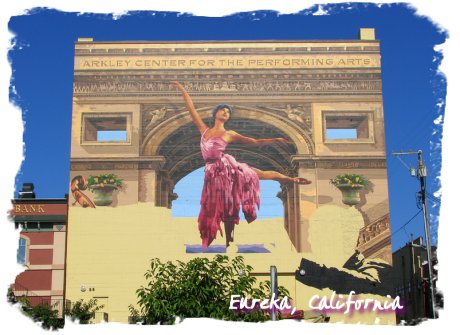 We're back to the cool temperatures of coastal Northern California. This time it's the extreme northern terminus of an area in the state known as the 'Lost Coast'. Don't get too excited, for the most part it has been discovered. However, culturally speaking, it feels like we've entered a new state. There's a hard, gritty edge to this area. As one downtown shop owner explained to me, "Eureka can't make up its mind what it wants to be.....an old logging and fishing town or a tourist destination with some high tech influx". The indecision is evident as you stroll about the historic district. A curious mix of the ragged fringes and the newly gentrified areas stand in sharp contrast to one another.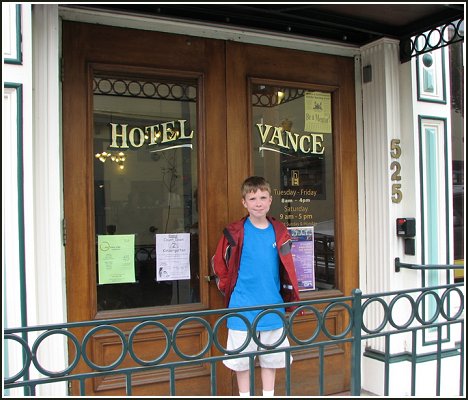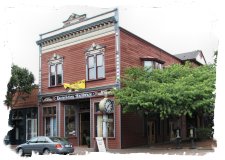 A delightful discovery was the historic
Hotel Vance
! Of course, we had to snap some pictures and have lunch downstairs in the lobby area. Today, the hotel no longer caters to guests...it's an office and retail complex. Down the street, is my favorite shop, the original
Restoration Hardware
. It is housed in a beautifully restored Victorian and I love, love, love their stuff.
Speaking of Victorian architecture, it abounds in this area and the cute little town of
Ferndale
is a must see when visiting this region. The wood to build these charming houses was once readily available from the abundant groves of the Coastal Redwoods. In this century, the redwoods faced near-extinction by logging. Today, only 100,000 acres of old-growth redwoods remain. That's a mere 5 percent of the forests of a century ago. What remains of these giant trees helps to drive the tourist industry in this region. During our 2003 Oregon vacation we took a detour into northern CA to visit the
Redwoods National Park
. This time we decided to visit
Avenue of the Giants
in
Humboldt Redwoods State Park
.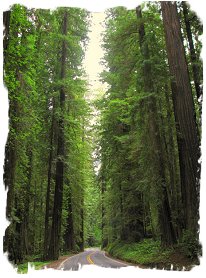 I love to stroll in the protected primeval forests of this region, amid the tall giants and beneath the shadow of their towering canopy. Unlike the arid Sequoia forests, these groves are bathed in misty fog from the Pacific Ocean. Moist, lush ferns and moss blanket the forest floor. Flowering rhododendrons are found in the northern groves of Redwoods National Park. The setting is peaceful and serene. The urge to slow down and become part of something ancient is irresistible.
Our interest in the coastal ecology prompted us to join a county sponsored nature walk with a local biologist on Clam Beach, just north of Eureka. In addition to learning about the plant and wildlife amid the sand dunes, we were primarily on the lookout for the endangered
Western Snowy Plover
.
View a really cute 11 minute movie for kids about sharing the beach with plovers.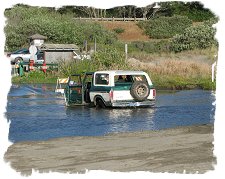 While the Plover proved to be elusive, it wasn't hard to see why they're endangered. Motorists are allowed to drive along the beach, but they're supposed to stay off the dunes. Human behavior being what it is, people don't always follow the rules. One of the truck drivers proceeded to wreck havoc on the dunes much to the dismay of our biologist guide. This display of reckless behavior prompted her to give us a talk on why it's important to protect the natural habitat and nesting areas of seabirds and other marine life. Too bad she was preaching to the choir! The person who needed educating was busy cutting donuts and free wheeling with complete abandon amid the dunes.
There you have it.....the age old conflict between those who feel it is their God given right to do what they desire with the land and the environmentalists who strive to protect it. This is a battle we often see played out in the region we call home...the western mountains of North Carolina.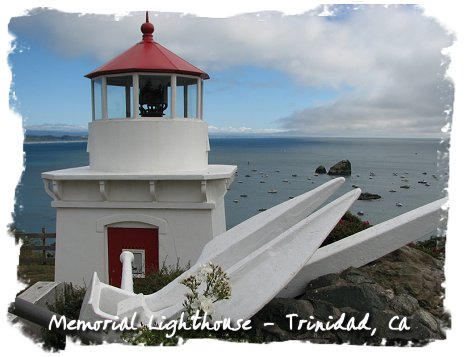 A short drive up the coast brought us to the quaint little village of Trinidad. A memorial lighthouse overlooking the harbor provides a stunning setting for photographs. The beach is accessible via a steep trail and once there you can spot numerous seals lounging on the rocks. We had eaten at the Seascape restaurant that sits above the pier on our 2003 vacation and it seemed appropriate to have dinner there this time around.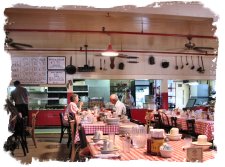 Speaking of grabbing a bite to eat, when Mark heard that an old logger's cookhouse was now a restaurant it became a destination unto itself. The combination of history and something to eat is a combo that appeals to my husband. It's easy to imagine the historic Somoa Cookhouse full of hungry loggers with Paul Bunyon size appetites. Apparently, Somoa was one of the last company owned towns in the United States, owned by The Vance Lumber Company.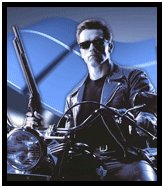 Mark and I knew we would need a hard push to send us packing out of California. We joked with Vance that if we didn't move to another state soon, Governor
Arnold Schwarzenegger
might call and order us to leave. Even though Vance is much too young to have seen the Terminator, he knows all about Arnold. Eureka proved to be the impetus in nudging us northward. A few days of being socked in with gray fog factored into the equation. That's the beauty of camping without a set itinerary, if the area and the weather is not to our liking....we just load up and move!

Vance:
Eureka was near where we had visited when I was seven years old. Eureka seemed a lot more interesting than it looked . It has a restaurant called the Hotel Vance. Obviously, we ate at the hotel. After we ate, Dad and I went down to the waterfront. According to a sign, there are otters in the water but we didn't see them.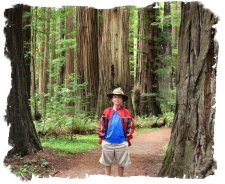 While we were around the area, we went to Humboldt Redwood State Park. There are some very large trees there. We visited a small museum and watched a video a about a big flood in 1964. It destroyed a huge amount of highway roads. Later Mom and Dad and I took a walk in Rockefeller Grove with some stupendous trees.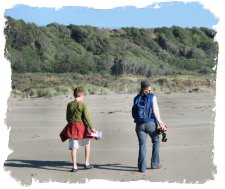 Near our last day, we stopped by Clam Beach for a birding walk. It was mainly about the endangered Western Snowy Plover. Scientists used to put the Plover nests in iron cages to protect the eggs, but the predators of this tiny bird outsmarted us humans.



IN THE NEXT FEW BLOGS, THERE WILL BE A BIG SURPRISE! STAY TUNED!