Stairway to Heaven
Thursday, July 19, 2007

Nevada Falls - Yosemite National Park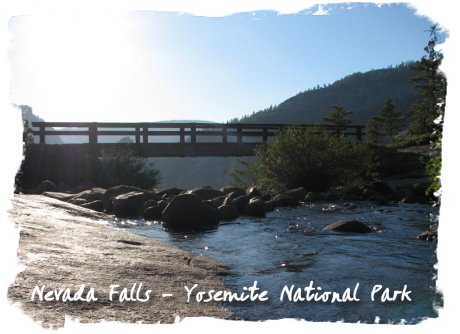 Why are we back at Yosemite? Good question... after a couple of wonderful weeks spent in the Bay Area, we find ourselves once again camping outside Yosemite National Park. As much as we like it here, we would have preferred to not visit twice, but this time we are on a mission.
My father's will specified his desire for a portion of his ashes to be scattered from the top of Nevada Falls at Yosemite. We had envisioned honoring his request on our first visit to Yosemite. However, when push came to shove , it just didn't work out. Nevada Falls is a tough hike, from both an elevation gain and footing standpoint. California in general was experiencing a heat wave while we were previously at Yosemite, with temperatures peaking near 100.
Given these factors, we felt that attempting the hike with a couple of hot, tired children was not a recipe for success. I knew I could probably sit down with Vance and explain this was something that was important to Grandaddy and us as a family, and he'd most likely pull thru. However the situation was different with Ella, who hasn't been hiking for the past few months getting ready for this. Rather than risk ruining what should be a solemn but happy occasion, Denise and I decided to return to Yosemite after Ella'a visit with us was over.
As it turned out, this was the right decision. The weather turned much milder, with temperatures in the 80's. I also had time to have a discussion with Vance about why it was important to me that he give his best effort on the hike. As it was, he came through with flying colors - I know Daddy would have been extremely proud of him. The Mist Trail, the route that follows the Merced River alongside Vernal and Nevada Falls, is a hard hike (
it is also nicknamed 'The Staircase'
). The climb next to Vernal Falls is a seemly never ending series of steps, most about a foot high, climbing up the black cliff face.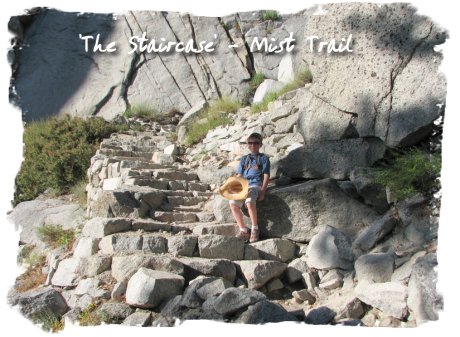 Above Vernal Falls the trail starts a brutal set of switchbacks on uneven rock, zigging up through a talus slope alongside the base of Nevada Falls. I've had friends who were in great shape nearly give out hiking the Mist Trail, one whom refuses to hike with me to this day after I recommended the trail to him! Most backpackers or daytrippers to Half Dome avoid the Mist Trail altogether, taking the longer but easier John Muir Trail to the top of Nevada Falls.
Our hike up was uneventful. Almost miraculously, the crowds at the top of Nevada Falls vanished shortly after we arrived in the late afternoon, leaving us to ourselves. We have waited for over 2 years for this moment, and it was about as perfect as could be imagined. In the aftermath, I felt both a sense of peace and relief, knowing that I've now accomplished about the last thing Daddy ever expected me to do for him. For Daddy, the top of Nevada Falls was a little bit of Heaven on earth. We were happy to climb the stairway for him.
In Memory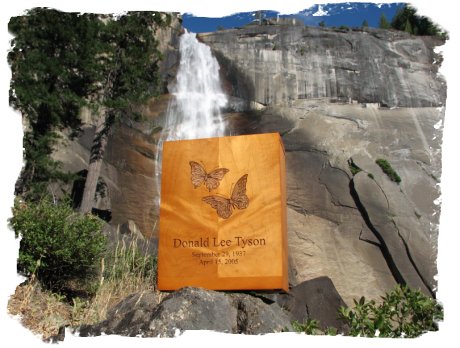 One of the reasons we are writing the blog is to provide a reference for Vance as he gets older. We hope the posts will give him and other family members some insight down the road into this part of our lives. Because of this, I ask our readers indulgence as I reproduce for posterity the contents of an email I sent out to various family members after the hike:
Per Daddy's wishes, we scattered a set of his ashes from the top of Nevada Falls, in Yosemite National Park. It's a remote and beautiful area at the intersection of the famous Mist and John Muir Trails. Muir himself described his reactions to the area wonderfully:
"Never more, however weary, should one faint by the way who gains the blessings of one mountain day; whatever his fate, long life, short life, stormy or calm, he is rich forever."
Daddy and I shared a wonderful hike to this spot when I lived in San Francisco - it is a location that is not trivially earned - a 7 mile round trip with a steep 2000 foot climb, over a set of thousands of irregularly placed steps and stones. A hard hike, Daddy was thrilled when he reached the top of Nevada Falls the second huge waterfall you pass on the Mist Trail. He spoke often of his desire to return. Now he has.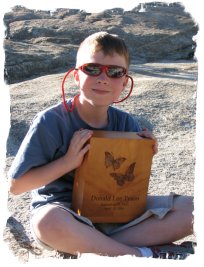 I can't think of a better or lovelier spot than the one he picked. I think he would have been proud of Vance for making the strenous trip to the top, all for his Granddaddy.
Should you ever look for the spot, we released his ashes in a pool to the right just above the bridge that crosses above the waterfall. Just below the pool the
Merced River
plunges nearly 600 feet in a massive and beautiful cascade.
I feel at peace, knowing that Daddy is now where he wanted to be. As we came down the trail beside the waterfall, in the setting sunlight, Vance came up behind a deer, which proceeded us down the trail for quite a distance.