We're finding it hard to leave...
Saturday, July 14 - Tuesday, July 17, 2007
San Francisco Bay Area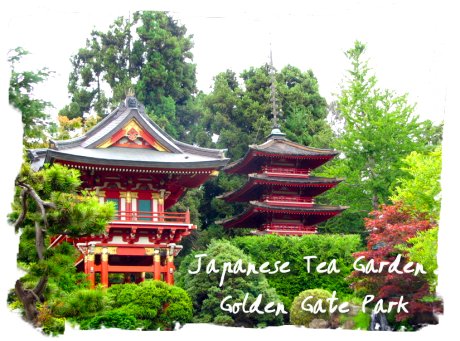 It's true! We'll literally have to make ourselves leave the Bay Area. It will be a bittersweet departure when that day comes. So let's not waste a single moment when there is lots to see and do in this beautiful city and the cool climate is just the way we like it.
Urban Hiking in San Francisco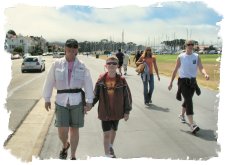 You might think we've gotten a bit slack about hiking, but when it comes to getting your exercise on foot, I can't think of a better city than San Francisco. It's so much fun to hit the pavement in this town. The scenery is absolutely gorgeous from the sparkling waters of the bay to the historic architecture and the famous landmarks.
Layer this rich texture with a plethora of outdoor activities and entertainment such as joggers, bicyclists, boaters, wind surfers, stunt kite fliers, sidewalk musicians and street performers. Before you know it you've walked a bunch of miles and it feels effortless. You don't mind chugging up all the hills because you're so darn distracted.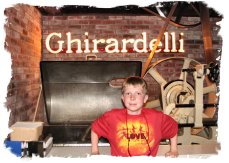 We're all inclined to keep walking if a special treat awaits us at the end of the journey. Vance is usually motivated by this logic and today the reward is a world famous hot fudge sundae. Chocoholics from all walks of life flock to the historic Ghirardelli Chocolate Company (pronounced Gear-ar-delly) to indulge in this decadent treat. You're sure to find something on the menu to satisfy your sweet tooth.
Yum Yum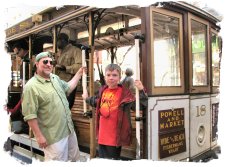 If you do need to get off your feet, you can always hop a cable car at Hyde Street for a ride to Powell and Market. Vance loves to ride on the step board and I admit it is a thrill as you ascend and descend the steep hills. This ride provides some great views looking out over the crowded spectacle of the city as it sweeps down to the bay.
Golden Gate Park - San Francisco's Giant City Park
I love parks. Shouldn't every city (big or small) have at least one great public park? Golden Gate Park is a collage of various sites offering a breadth of activities and scenic beauty. It is to San Francisco what Central Park is to New York - a welcome respite from the congestion of a large and densely populated city. Actually, it's bigger than Central Park - about 3 miles long 1/2 mile wide it covers 1,013 acres.
When I visited Mark in San Francisco in March of 1992, it was my very first time to see the city. I couldn't wait to explore Golden Gate Park so I walked from Noe Valley and spent an entire day sauntering through the park while Mark was at work. It was a beautiful time of year to be there. The azaleas and cherry trees were in full bloom in the Japanese Tea Garden. Amazingly, Mark somehow managed to miss seeing the Tea Garden while he lived in San Francisco. So we decided to spend part of our last day enjoying this unique place...we were all rewarded with a few special surprises!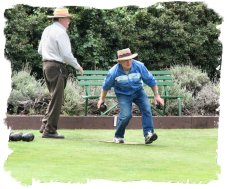 First off, we happened upon a game of lawn bowling. I had no idea that such a sport existed and in fact, has a long history in Golden Gate Park. We watched, fascinated, as several gentlemen rolled balls gently down the long green lawn, to the accompaniment of a nearby group of drummers banging away. Anything goes in the park, and often does.
Vance was ready for some action on his part and luckily just around the corner we entered the park's newly refurbished playground. The July ribbon cutting of the Koret Children's Quarter had just occurred days prior and it marked the completion of a $3.8 million renovation project at this popular and historic site located in the southeast corner of the park.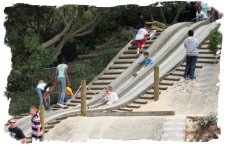 The playground was overflowing with kids who were eager to enjoy all the new activities and features. Apparently, an old favorite remained.....a double concrete slide. Yes, it is really made of polished concrete and the kids use pieces of cardboard to cushion the ride and spare the seat of their pants. Vance loved it! The famous carousel nearby was closed that day, but that was probably more of a disappointment for me and Mark as opposed to Vance. He was tickled silly with the playground.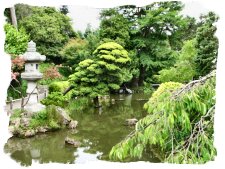 A nice leisurely stroll led us to the serene Japanese Tea Garden. Fortunately, the garden was not overly crowded with visitors and we could stop and linger at a relaxed pace. The garden was originally built as part of a sprawling World's Fair, the
California Midwinter International Exposition of 1894
. Baron Makoto Hagiwara, a wealthy Japanese landscape designer, proposed the idea of converting the temporary exhibit into a permanent section of the park. He constructed the garden, its pavilions and tea house.The Hagiwara family lived in, maintained and enhanced the Japanese Tea Garden from 1895 until 1942 and the beginning of World War II, when they were forced to evict and relocate to concentration camps with other Americans of Japanese descent. Today, it remains the oldest public Japanese garden in the United States.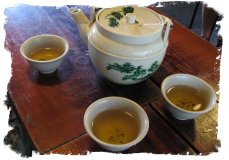 I couldn't resist purchasing a couple of Japanese wind chimes. The design is simplistic and the tone is faintly delicate...a Zen essential for any garden. A perfect way to cast off the chill of a foggy summer afternoon in San Francisco is a cup of piping hot tea. Even Vance was anxious to enjoy the warmth of this traditional beverage served in the tranquil setting of the Tea House. This treat will set you back about $3 per person and it's worth every penny.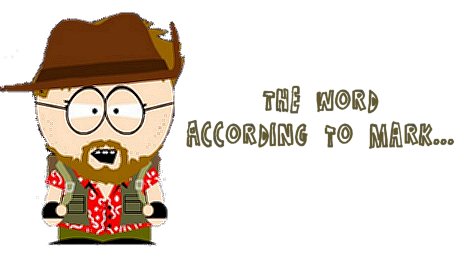 One of the things I love best about San Francisco is the sheer spectacle and entertainment that is seemingly everywhere in this crowded, urban setting. From marveling at the acrobatic leaps and turns of Kite Surfers on the bay, to watching an amateur but talented escape artist ply his trade in hopes of tips in front of the Cable Car crowd, nearly free entertainment abounds throughout the city.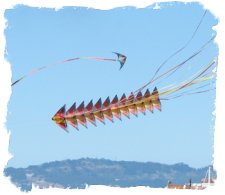 With this in mind, our best (to my mind) day in San Francisco was spent, as Denise describes above, simply walking along the waterfront, taking in whatever it had to offer. We made a full day of it, walking from Crissy Field near the Golden Gate Bridge down to Hyde Street, the traditional spot to catch a Cable Car ride. Along the way we enjoyed the sights of passing freighters in the bay, dozens of colorful kites soaring in complicated and showy maneuvers, and watched as the bay slowly turned golden as the afternoon shadows lengthened.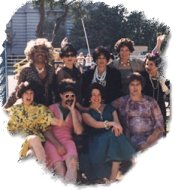 Living here, I remember weekend visits to Golden Gate Park, enjoying performances from such oddball groups as the 'Ethel Merman Memorial Choir', an all male group dressed up like old Ethel herself, belting out surprisingly good show tunes. You can find Bison in Golden Gate Park, as well as radio controlled model sailboats, groups of aging hippies singing Grateful Dead tunes and never ending soccer games with participants of every conceivable nationality and ethnic group. Eclectic is the best word I can find to describe the park.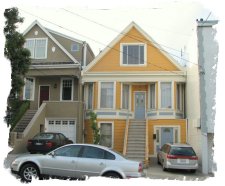 Away from the waterfront, San Francisco can seem a little forbidding to an outsider. Miles and miles of boxlike houses look the same, and it's hard to see the charm and the vibrancy that inhabit the neighborhoods. When Denise and I took Vance to see the house on Clipper Street (
yea, we found it this time, even though the color had changed to yellow!
), he seemed amazed that I could have possibly lived in that setting. It's a big change from our suburban homes in Atlanta, and our rural farmhouse in the North Carolina mountains.
I was a bit intimidated myself when I first moved to San Francisco, but eventually you come to understand the rhythm and life of the streets. San Francisco never sleeps - it's a city that I felt perfectly comfortable walking down the streets late at night. Even on a Sunday afternoon trip into the city on our last day here, the downtown shopping district is
packed -
people are everywhere. Living in a small town where the sidewalks roll up a 5 o'clock, this is quite a refreshing change. Vibrant is the word that best describes the setting.
Point Reyes National Seashore
After nearly two weeks in the Bay Area, we were beginning to miss our ranger programs! Looking on the National Park website, I found that nearby Point Reyes was offering an 'Earthquake Walk' in an hour, so we rapidly loaded up and headed for the coast.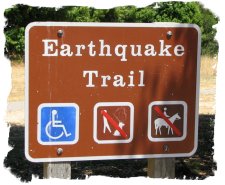 Point Reyes was thought for a long time to be the epicenter of the 1906 San Francisco earthquake. Horizontal slippages of up to 20 feet occurred along the San Andreas fault here. Only recently have seismologists decided that the epicenter was located offshore near Pacifica, southwest of San Francisco. Our ranger talk, along the 'Earthquake Trail', was an informative lesson on the nature and power of earthquakes.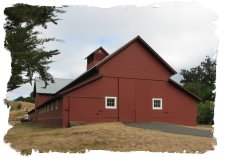 It's hard to imagine the ground under you shifting 20 feet in a few seconds, but that is exactly what occurred here in 1906. The park has restored an old fence that was 'split' during the earthquake to show you how much the ground moved. The gap in the fence is a sobering sight, and you wonder how anything built by man could survive such a jolt. But survive it does - a large barn that survived the earthquake sits just feet from the fault.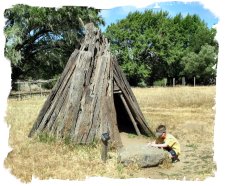 Rounding out the afternoon, Vance worked on a Junior Ranger program that was focused on the reconstructed 'Kule Loklo' Indian Village, former home of the Coast Miwok tribe. Afterwards, we drove out to Point Reyes itself, hoping to view the lighthouse. Unfortunately, the area was socked in with a heavy fog, but I enjoyed walking up to view the lightkeeper's station (now a small visitor center). Vance and Denise wanted to go somewhere for dinner and warm up at the same time. So we stopped for a nice meal in nearby Point Reyes Station, enjoying the music of a local guitarist.
Wine Country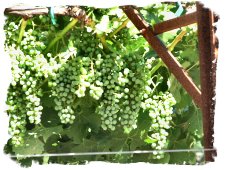 One of the perks of camping in Petaluma is its close proximity to Napa Valley and Sonoma. While warmer than San Francisco, the temperature during our visit was very pleasant and sunny. We made a brief foray into the Russian River vineyards while Darva was here, but it seemed a shame not to visit Sonoma when it was only about 20 mins away.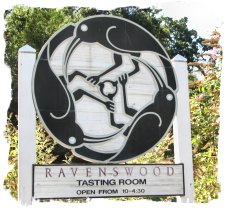 We made two stops - the
Sebastiani Winery
and an old favorite,
Ravenswood
. I've always associated Sebastiani with chardonnays, so I was somewhat surprised when we walked out of there with a zinfandel. Ravenswood is known for its Zinfandels, so of course, we came out of there with several chardonnays!
Afterwards at Vance's urging, we stopped at the lovely plaza in downtown Sonoma so he could play on the playground. Vance as always wanted a snack, so later we crossed the street and found a nice bakery. It seems like, despite how large or small the town , in California there is always a swell cafe, bakery, food market or coffee shop just around the corner. The Trail Boss says we need to get back to the woods soon and hike off some of our recent indulgences!!