Jr Ranger
Tuesday, October 10, 2006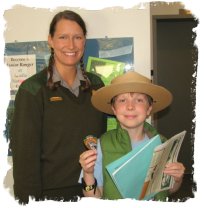 Vance received his Jr. Ranger badge today at Acadia National Park. We've lost count of how many he's earned, as we try to take advantage of the program wherever we find it. Almost every National Park, and many of the various other facilities run by the Park Service (National Historic Sites, Battlefields, etc) have Jr. Ranger programs. Some State Parks even offer programs.
If you have kids, it's a great program to take advantage of. Typically each site will have a Jr. Ranger booklet available in the park Visitors Center. Some are free, but usually it costs around $3. The usual program will require the aspiring Jr. Ranger to attend a couple of Ranger led programs, and also to complete several activity worksheets in the book.
Jr. Ranger Badges Earned:

New England Trip
Franklin Delano Roosevelt National Historic Site and Library


Acadia National Park

Salem Maritime Historic Site

Boston National Historic Park


Minutemen National Historical Park

Adams National Historic Park

Cape Cod National Seashore

New Bedford Whaling National Historic Park

Ellis Island National Monument

Statue of Liberty National Monument

General Grant National Memorial

Jr. Naturalist - Wellesley Island State Park, NY
Western U.S. Trip

Little Rock Central High National Historic Site
Hot Springs National Park

Carlsbad Caverns National Park

Guadalupe Mountains National Park

White Sands National Monument

New Mexico State Parks

Bandelier National Monument

Mesa Verde National Park

Black Canyon of the Gunnison National Park

Canyonlands National Park

Arches National Park

Capital Reef National Park

Bryce Canyon National Park

Zion National Park

Zion National Park "Explorer"

Zion Kolob Canyons National Park

Grand Canyon National Park (

Scorpion Level

)
Grand Canyon "

Discovery

"

Sequoia/Kings Canyon National Parks

Yosemite National Park

Muir Woods National Monument

Point Reyes National Seashore

Lassen

Volcanic

National Park

Lewis and Clark National and State Parks - Presidential Level

Olympic National Park

Mt. Saint Helens National Volcanic Monument

Mt. Rainier National Park

Glacier National Park

Yellowstone National Park

Grand Teton National Park

Little Bighorn Battlefield National Monument

Devils Tower National Monument

Wind Cave National Park

Mt Rushmore National Memorial

Badlands National Park

Jewel Cave National Monument


Crazy Horse Memorial "Jr Scout"

Minuteman Missile National Historic Site

Homestead National Monument of America

Brown vs. Board of Education National Historic Site

Harry S Truman National Historic Site

Other Locations
Great Smoky Mountains National Park
Martin Luther King National Historic Site
Crater Lake National Park
Redwood National and State Parks
National Mall and Memorial Parks
Mammoth Cave National Park
Abraham Lincoln Birthplace National Historic Site
Carl Sandburg National Historic Site

Kennesaw National Battlefield Park



Some parks are easier than others. I felt Acadia's was straightforward, and Vance had no difficulty with the assignments. A few parks have been downright hard, balanced by several that were almost trivially easy. For the most part, however, the programs are well tailored to the park in question. For example, at the F.D.R. Library and Historic Site, the program was setup in terms of becoming a member of the
Jr. Secret Service
– you were asked to follow maps, notice details about buildings, how you would react in certain situations, inteview people, etc.... Most of the 'typical' National Parks focus on environmental threats – acid rain, human traffic, etc…as well as plant and wildlife.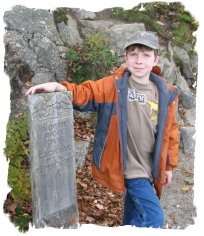 We really like the programs because it gives Vance a reason to become invested in each National Park, rather than just looking out the window from the car. He has to work at the assignments – such as finding particular displays in a nature museum, picking up trash in the park, and doing scavenger hunts. He has fun, usually requiring several days of effort on his part, but nothing that is overwhelming. He takes a sense of pride in the accomplishment.
The Rangers also play up the program. Before and after Ranger led programs, they usually make it point to ask if anyone is working on Jr. Ranger activities. Many parks make a little production out of awarding the badge, usually making an announcement over the intercom at the Visitors Center (Vance always gets a kick out of this).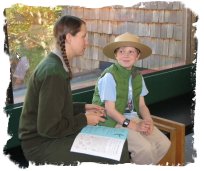 Today at Acadia, the Ranger actually came out and did a lengthy interview with Vance, asking him in detail about the various activities he did, and about his answers to the questions on the worksheets. It wasn't a grilling, but more a back and forth educational discussion. With us living so close to the Great Smoky Mountains National Park, Vance is very comfortable being around Rangers, so he carried on quite the discussion with Ranger Emily. She spent probably close to 30 mins with him today, letting him wear her hat all the while. They discussed everything from tide pools, to the locations of breeding pairs of Peregrine Falcons. This is the first park where the Ranger has done more than just check over the book, and while I'm sure it is time consuming for Ranger Emily, it was simply wonderful and very educational for Vance.
The award itself varies between parks - Acadia has a very nice patch with a Peregrine Falcon on it (Vance
really
liked this one, as he loves Peregrine Falcons). Other parks award plastic badges, some patches.
Somewhat ironically, he only finished the requirements for Jr. Ranger at the Smokies just before we left on this trip. We had gotten the booklet quite awhile ago (the Smokies book is rather elaborate as these booklets go), but for one reason or another we never really got focused on getting it done. Fortunately, Vance followed thru so we wouldn't have to explain why we had badges from everywhere except practically in our backyard! He was awarded the badge by one of our favorite rangers in the Smokies - Ranger Jay Moose.

Vance: I have gotten many Jr. Ranger badges over the past few years. The first national park I visited as a baby was Yosemite. My big brother Miles came with us and was the age I am now. Yosemite Falls is a beautiful waterfall. Some of the many national parks I've been to are St. Johns in the Caribbean, Crater Lakes and Redwood out west and Acadia in the east. My family and I live very close to the most visited park in the country, the Great Smoky Mountains.

You have to do a few ranger programs and a few book activities to become a Jr. Ranger. Most of the activities are easy. Mostly the rangers will teach you about natural history in the park.

My latest badge was at Acadia National Park. The rangers name was Ranger Emily. Since I love Peregrine Falcons, she gave me a Peregrine Falcon patch. Peregrine Falcons are on the endangered species list.