Girls Rule
Sunday, July 8 - Wednesday, July 11, 2007
San Francisco Bay Area, California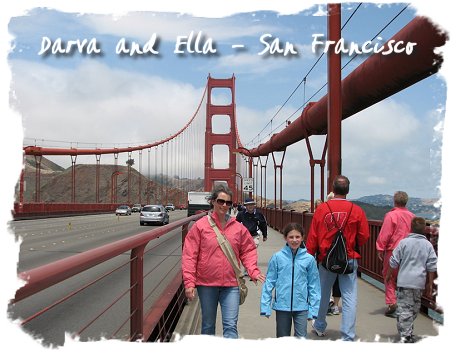 Darva's visit with us seemed to pass in a flash – I had all sorts of grand plans about what to see and do while she was here, but as usual with my planning, it was way too ambitious. However, we still managed to pack a good bit into a few days, including some nice meals and a few good bottles of wine along the way. It was also wonderful to have some adult conversation while Vance and Ella played around the campground.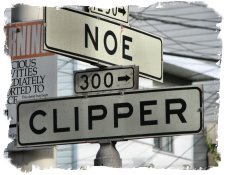 It's rather scary just how much I have forgotten in 15 years. For example, where I used to live! Darva asked to see where I had lived in San Francisco (112 Clipper Street, in the Noe Valley District). Things went downhill in a hurry as I got off the freeway at Caesar Chavez Ave, thoroughly confused. I was looking for Army Street, but the road had been renamed since I moved. I then proceeded basically to circle around where the house is without ever finding it. Consulting a map later, I realized to my chagrin that we'd passed within a couple of blocks several times. Sigh……nothing is forever, particularly your memory ;-(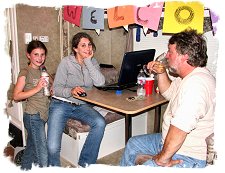 In any case, we moved beyond that embarrassing episode, and got Ella and Darva settled into their 'Kamping Kabin' at the Petaluma KOA. Darva was then able to get a first hand look at how we live on the road. People usually comment on how big and open the camper looks from the inside when they first see it, but after packing 4-5 people in it for a little while you begin to really realize that it is, after all, only 214 sq feet!
I'm sure deep down Darva suspects (
correctly
) that we're just a little crazy, and wonders how we avoid killing each other being this close in such tight quarters all the time. It's fairly remarkable to me just how little Denise and I argue when we are on the road – not that we've ever been a couple that fights a lot, but as with all couples we have our moments. Some how, some way it works….even though we are constantly around each other and live in a small, cramped space. Wish I could bottle it up and sell it!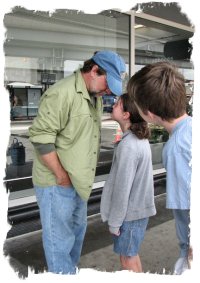 Now that Darva has arrived, it has been a bit deflating – Ella has focused her attention on her Mom, and no longer tells me every other minute what a great guy I am, how wonderful it is to be around me, etc…….NOT! In reality, Ella and I have a long running 'game' where she pretends she can hardly stand my presence, and I pretend I'm her very favorite person in the world. It's a joke we both enjoy, and of course we're quite fond of each other. As an example, while she was camping with us, she started keeping a 'to do' list on her bunk in the camper. When she wasn't looking, I'd sneak in and write something like 'Tell Uncle Mark he's the greatest', or 'Do something wonderful for Uncle Mark'. When she'd discover it, she'd get all indignant and scratch it off her list, then she and Vance would heap some good natured abuse on me for awhile. All the time I'm insisting that I'm really the best looking, smartest, and most wonderful relative she has. If nothing else, it kept us entertained. When she reads this, I'm sure she will be filled with a longing to return and join us again on the road, missing her Uncle Mark so bad she can hardly stand it…..
The next morning, it was time to set out on our Bay Area adventures. After the girls fortified themselves with morning coffee and cappuccino (it was that type of campground!), we began our touring with a visit to nearby Muir Woods National Monument. Muir Woods is near and dear to our hearts, as I proposed to Denise there (technically, in Mt Tamalpais State Park next door, but close enough…..). Fog shrouded, hilly and a deep green color, Muir Woods is a beautiful grove of Coastal Redwood trees located in a small canyon. The forest has always carried an air of mystery to me, with its lush ferns on the dark, shady creek sides. We've always enjoyed visits and hikes there, and I visited as often as I could when living in the area. I've been anxious for Vance to see the park, and was hoping we all could hike the trail that Denise and I became engaged on (the Steep Ravine Trail). However, for a variety of reasons (usually having to do with someone in the group being hungry!), we were unable to make the hike until after Darva and Ella left California.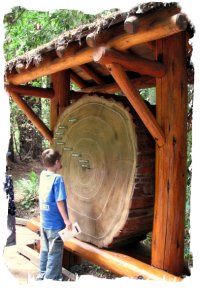 While at the park, Vance and Ella worked on an excellent Jr. Ranger program. It's interesting to contrast their two styles when working on the activities. Ella writes wonderful, in depth essays for questions that require written responses, whereas Vance will typically jot down the absolute minimum he can to get the point across. On the other hand, when it's a matter of digging thru data to find an answer (such as reading the signs on the nature trail, etc…), Vance really excels. I feel good about his growing ability to research material and find answers to questions; in no small part due to the amount of experience he's had working the Jr. Ranger activities over the past year. Once he's decided (or resigned) to the fact he has to work on it, he's proved adept at digging in and finding the information he needs with minimal help. While we haven't formally continued with 'schoolwork' over the summer, I've used Jr. Ranger activities as a way to keep him 'tuned up' with his educational work. So far, it seems to be working out, and should give us a running start on his 6th grade school year.
After finishing up at Muir Woods, I drove us around the Marin Headlands and Sausalito. We cut the touring short in order to eat and watch 'Ratatouille', which Vance and Ella had been eagerly awaiting. Ella wanted to see it with her Mom, so the timing was perfect.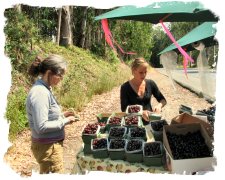 We started the next morning with breakfast and some light store browsing in Sebastopol, a small nearby town that a friend of a friend of Darva's lived in. After breakfast, we headed over to the coast (Bodaga Bay), first stopping to by some fresh cherries from a roadside stand. I've simply never had cherries like these – they are usually tart when I but them back east, but here……wow. I made a serious dent in a 2 pound bag all by myself (oink, oink).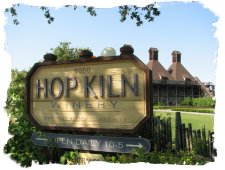 Having taken care of our Vitamin C intake for the day, we enjoyed a short pitstop at the beach, sticking our feet in the chilly Pacific Ocean water. It was far too cold for Vance and Ella to swim, so we continued up the coast, finally turning back east at the Russian River. After a somewhat humorous stop for lunch in Guerneville, a rather rough edged town, we drove back inland through the Russian River vineyards, stopping for a late day tasting at Hop Kiln winery (not one of my favorites, it turned out). Afterwards, we visited the rather toney village of Heardsville, (where a close friend of Darva's always talks about moving – see a pattern here?). There we visited the La Crema tasting room, and found some vintages much more to our liking.
I was anxious to get us into San Francisco, so the following morning we started with the Marin Headlands area. This is the spot you get those wonderful photos you always see looking *down* on the Golden Gate Bridge. The views as always were wonderful, but the wind! If I had to guess I'd say we were getting 50-60 mph gusts up there, and the kids had to struggle to stay on their feet. The headlands are riddled with old WWI and WWII era fortifications, and I was hoping to show Vance some of them, but with the wind we decided to move on after just a few minutes.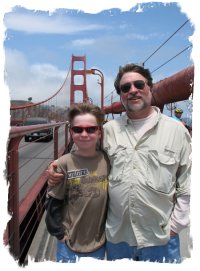 I'm of the firm opinion that every one should walk across the Golden Gate Bridge at least once in their life (after all, it's in 1000 Things To Do Before You Die), so on our final full day I herded a couple of reluctant kids onto the span down the hill. It was a great walk like always, and despite his initial complaints, Vance was proud of the accomplishment. I turned around at the midpoint and went back to fetch the truck while everyone else continued on the bridge. When I met back up with them at the park on the other side, Vance smugly told me 'sorry you didn't have as good a walk as we did!". Kids…..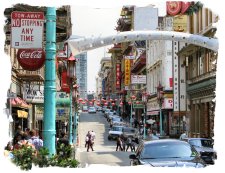 From there, we had a typical San Francisco tourist day – Lombard Street (it was no small challenge to get the truck down the curves without scrapping the sides, but we did it, twice….), Chinatown (where we had a really good Vietnamese lunch….go figure), rode the Cable Cars and of course stopped by Pier 39. I was hoping to show Ella and Vance the seals that are usually hanging out there, but they had headed south for the season, leaving only a few stragglers to man the piers. Whatever lingering disappointment the kids may have had rapidly disappeared when they spotted a bungee trampoline setup, and soon they were both turning flips in the air.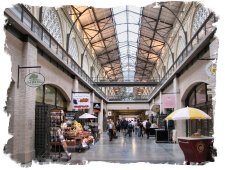 At this point Darva wanted to visit a new market she had heard about. Thinking it was only a couple of blocks away, we headed down the Embarcadero in search. As block after block passed, we began to wonder if the place really existed. Finally, about a mile and a half we finally reached the old Ferry Building at the foot of Market Street, which has been restored as a spectacular market and food court. (Interestingly enough, the was wass about the same distance as the earlier trek across the Golden Gate Bridge, so I'm convinced Darva was secretly getting her revenge ;-) The building was sitting empty and derelict when I lived here, so it was good to see it come back to life. Taking advantage of our find, Denise and Darva stocked up on yummies while Vance and I went to rescue the truck from the bowels of a garage in Chinatown.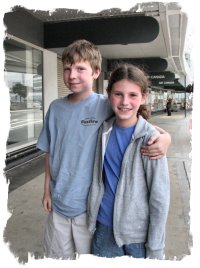 The end of Darva and Ella's visit came much, much too soon – the three of us were very reluctant to see them go. There were some long faces showing when we dropped them off at SFO for their flight back to Atlanta. We thoroughly enjoyed Ella's time with us – I know Denise enjoyed evening up the male/female ratio for a couple of weeks. Vance of course loved having someone to play and talk with. I hope if the opportunity arises, Ella will join us again – as much as it pains me to say it, I'm going to miss her out here. To show her how much, I will now sing for her our camping theme song: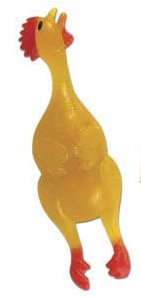 Bwak bwak bwak bwwwwaaaakk,
bwak bwak bwak bwak bwaaaaak!!
Bwak bwak bwak bwwwwaaaakk,
bwak bwak bwwwwaaaakk-bwak bwak, bwak bwak
Bwak bwak bwak bwwwwaaaakk,
bwak bwak bwak bwak bwaaaaak!!
(
Think Lady Madonna by the Beatles, and you'll figure it out soon enough….
)

Vance:
I enjoyed it when Ella and Aunt Darva were visiting. We stayed at a great KOA. Ella stayed in a cabin, we stayed in the RV. The day when Aunt Darva arrived, we ate at a famous sour dough bread restaurant.
On the next day we walked across the Golden Gate Bridge and went to Pier 39 so we could watch the sea lions. There was even a pup in the group. We got to see Ratatouille.
I ENJOYED THEIR VISIT VERY MUCH…