On our own again....
Wednesday, July 11 - Friday, July 13, 2007
San Francisco Bay Area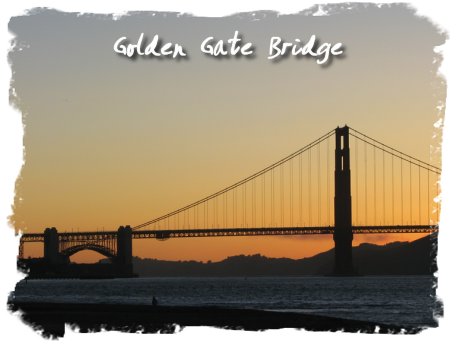 There is so much to do and see in the Bay Area - even after living here for 3 years I barely scratched the surface. Our original plan was to return to Yosemite the day after Darva and Ella left, but when the morning arrived we just didn't feel like we'd done the area justice. So we extended our stay for several days. Even though we had to move the camper to another site, it was worth it.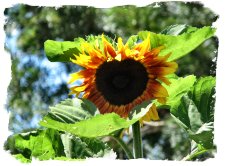 Then we extended our stay again....I think we like it here!
We've managed to pack in a lot of sightseeing in the last few days. Rather than split this into a lot of separate posts, I'll just try to highlight the different areas we've visited in a couple of posts.
Los Gatos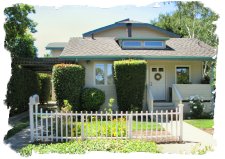 After dropping the girls off at the airport (SFO) for their flight back to Atlanta, we decided to ride down to
Los Gatos
so I could show Denise and Vance where I used to live. I resided in Los Gatos for nearly two years, first renting a house, then a small upstairs apartment in a restored building. Los Gatos was rebuilding when I moved there - located only 10 miles from the epicenter of the 1989
Loma Prieta earthquake
, it was hit hard. A good portion of the downtown district was damaged, with scaffolding around buildings a common sight. Several stately Victorian homes on the hillside overlooking the city were destroyed when they were literally bounced off of their foundations. One particularly sad case had bounced about 10 feet, and then the side that was no longer supported gave in, causing the structure to fold over on itself.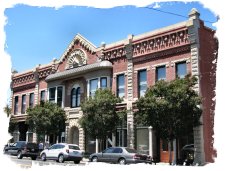 Rebuilding occurred rapidly - the apartment I later moved into was in a building (circa 1893) that was completely gutted, then seismically retrofitted with cables. Although the apartment was tiny and rather cramped, the building itself was quite handsome. I was living here when I first met Denise through an exchange of letters, so seeing it again was full of happy memories.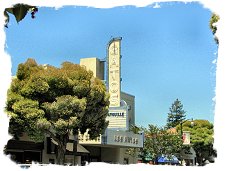 Today, Los Gatos is fully recovered from the quake damage. It was always a fancy little town, but in the 15 years since I lived here it's stepped up the ritzy scale several notches. I liked it better back then, when every other shop wasn't a high end art gallery or clothes store. But the general look of the town is the same - we enjoyed driving around on the hillsides looking at the different styles of architecture present. A favorite taqueria (Andale's) was still open, so we of course had to each lunch there.
Coastline
From Los Gatos it's a short jaunt over Hwy 17 to reach the Pacific coastline. It's a beautiful drive, with the Santa Cruz mountains sweeping down to meet the Pacific Ocean. Most of the coast is a long set of high palisades, with fields of artichokes, pumpkins and strawberries running right up to the edge.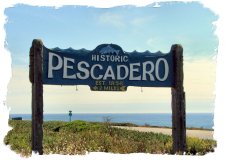 Speaking of artichokes, we took a short detour into the small town of Pescadero to see if our favorite coastal eating establishment was still there -
Duarte's Tavern
. We shouldn't have worried - Duarte's has been in business as a saloon and resturaunt since the 1890's. I took Denise out here on one of her visits to see me in San Fran, and she became as hooked as I was.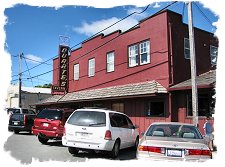 Located in the middle of the sprawling artichoke fields, Duarte's is probably the only place in the world where it economically feasible to serve artichoke soup. It's good - really good. Even after having 15 years to remember and embellish how good it was, we weren't disappointed. The rest of the menu is great also, but having just eaten lunch in Los Gatos, we were still pretty full. But not so full that we couldn't enjoy a huge slice of
Ollalieberry
pie, a hybrid fruit that is 2/3 blackberry and 1/3 raspberry.
This is a stop my trusty
'Hidden California'
book recommended, and I've been grateful ever since.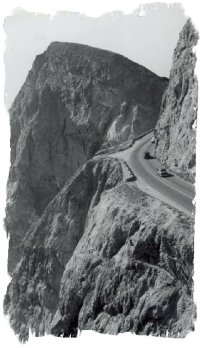 North of Half Moon Bay the road becomes considerably more rugged - just south of Pacifica it looks like it could slide down the hill into the ocean at any minute. In fact, the road is being rerouted inland at this point, which from a scenic standpoint, is a shame. The epicenter of the 1906 San Francisco earthquake was near this point, and to view the tortured rocks that line the hillsides, it's not hard to understand just how raw and changing this landscape is.
After attempting in vain to find a movie theatre in the South San Francisco area, we decided to head back to Petaluma. Vance has been waiting a year (since the first previews came out) to see the 'Transformers' movie, so I promised him we'd make every effort to catch it this evening. Denise wisely opted to see 'Evening' instead - lucky girl!


Marin Headlands
While Darva was here, we had attempted to visit the Marin Headlands Visitor Center, but it was closed. After I left San Francisco, the Presidio army base at the foot of the Golden Gate Bridge was decommissioned and turned over to the Park Service. This provided the catalyst for the creation of the
Golden Gate National Parks
. The GGNP is a collection of multiple parks and historic sites: Alcatraz, Muir Woods NM, Marin Headlands, Fort Point NHS, Presidio, Fort Mason, Cliff House, Crissy Field Center and Fort Funston. There are multiple new Visitor Centers, including the the Marin Headlands facility, located in a former army chapel building.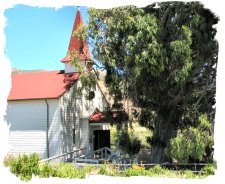 We returned to the Marin Headlands Visitor Center, a cute building that used to be a chapel when the headlands were a military base. After a tour of the exhibits, we found out about a tour of a restored Nike Missile site nearby. While not something you'd typically associate with a national park, this turned out to be one of the coolest tours we've done yet.
Nike and Hercules missiles were intended as last ditch air defense systems during the Cold War. The Nike, which had a range of 40 miles, would be shot at incoming bombers in order to prevent a nuclear attack. The missiles could be equipped with nuclear warheads themselves. While it's a scary thought of setting a nuke off only 40 miles out to sea, I guess that was considered a better alternative to having nukes dropped on the American mainland.
The tour took us around various buildings on the missile site, including a preserved communications and control trailer, full of 1960's era electronics. We were led through the assembly and fueling process for the missiles, then came the fun part.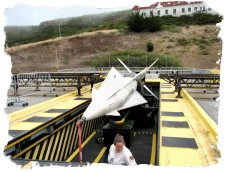 The tour guide disappeared down a set of stairs for a moment, then machinery noises started and a set of yellow and black doors swung downward, opening up to reveal a concrete pit. Soon afterwards, up rose a shining white missile on an elevator lift. The tour guide then invited us onto the lift, and lowered us back down into the underground hanger where the missiles were stored.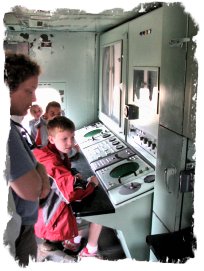 It was like something out of a James Bond movie. The site had been painstakingly restored by a set of volunteers, who had pumped water out of the hanger that had seeped in over the years, fixed the elevator and trap door machinery, and restored many of the Nike and Hercules missiles (sans warheads, of course).
The Nike system was replaced by Hercules, which had a range of 100 miles and was also nuclear capable. These systems were finally decommissioned as a result of the SALT I treaty. There were about 10 Nike sites located around the Bay area - this particular one was known as 'Battery Bravo'.
All in all it was quite a tour - much more than we expected. Even Denise, who was rather skeptical about taking the tour in the first place, was blown away.
Mt Tamalpais State Park
Wrapped around Muir Woods is
Mt. Tamalpais State Park
. Mt Tam, as it's usually called by locals, looms above the headlands area and the nearby town of Mill Valley. Although I usually tell people that Denise and I were engaged in Muir Woods because everyone seems to know where that is, the actual trail where I proposed is located just behind Muir Woods in the state park.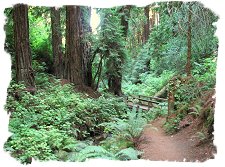 Starting at the top of the ridge at Pan Toll Ranger Station, the Steep Ravine Trail is a wonderful hike. The trail goes down - yes - a steep ravine, winding around tall and stately coastal redwood trees. The best description I can give the trail is it looks like a place the Keebler Elves would live while baking their cookies. Lush, green ferns are everywhere, and more often than not fog from the nearby Pacific Ocean lingers along the hillsides.
It's a magical place...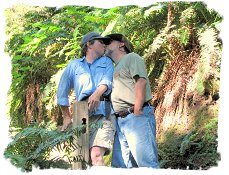 I proposed near the top of a
small waterfall
, with the help of some trolls, a monster cookie jar, and a magical set of glasses which Denise had to wear to read the proposal. Nervous enough proposing, I also had to worry if anyone else had messed with the 'props' I had planted along the trailside the day before. Fortunately, everything was as it should be, and even more fortunately, Denise said
Yes
! We celebrated with a bottle of Dom Perignon I had stashed under some ferns, and started our life together.
Today was not Vance's first trip on the Steep Ravine Trail - he 'hiked' it in a baby backpack in 1996 when he was 7 months old and Miles was 11. This time, of course, he could remember it and manage the trail under his own power. Loaded with another bottle of champagne, we set off down the trail to find 'our' spot. There, we had a toast, telling Vance he owed his entire existence to this spot!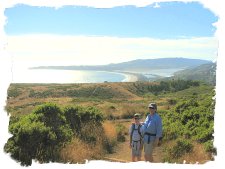 The trail descends until it runs out of the redwoods. At this point it pops out onto a golden California hillside, high above the ocean. Our destination, the town of Stinson Beach, lie 1.2 miles down the hill. At the bottom, Vance and Denise found a park near the beach to play at, and I turned around to hike back up to get the truck at the top. It took me a bit longer than I used to take climbing the hill, but I didn't do too bad.
Back at the trailhead, I got in the truck, started to back up.....then Friday the 13th struck. I had backed right into the bumper of an SUV. Urrrggggghh. I didn't do much to the other vehicle other than scratch the paint on the bumper a little bit, but it put a small dent into ours. Not really knowing what else to do, I left our card on the windshield with a note telling what happened and asking them to contact me. I then drove down the hill to pick up Denise and Vance. Passing by the parking lot on the way back, we stopped so Denise could see what happened. Denise noticed that there was a camping receipt taped to the inside of the windshield, so we got the number of the campsite from that and went looking for the owners of the car.
By this point it was getting quite dark - armed with only a small flashlight we bumbled around from one campsite to another, trying to find the right one. After checking almost all the campsites, we finally found the owners - a guy and two girls finishing up dinner.
I really hated to ruin their weekend with the news about their car, but they were incredibly cool about it. The guy repeatedly thanked us for coming up and telling them, and was so low key that they didn't even go down to check the damage at the time. We parted on great terms, and they called the next morning to tell us to not worry about it, that the damage wasn't enough to bother with. My lucky day!