Bear Country Jamboree
Monday, June 25/Friday June 29, 2007
Sequoia National Park, CA
Our visit to
Sequoia National Park
was bracketed around the excursions to Kings Canyon NP. Both parks are managed as a single unit, and the Grants Grove section of Kings Canyon NP is adjacent to Sequoia. Because of this, we split our visit up between both areas, visiting in no particular order.
Our strategy for camping on this trip is generally to find a campground within striking distance of landmarks we wish to visit. Sometimes we are able to get inside the parks, although now that it is summer, this is getting harder to do. In this case, we stayed at a mom and pop campground in Lemon Cove, advertised as only 15 miles from Sequoia. Denise will talk more about this choice later, but Lemon Cove proved to be the worst campground we've stayed in yet, little more than a 'trailer park' full of old, run-down permanent campers. This is exactly why we try to stay in KOA's when we can't find a public campground – you are assured of a decent level of consistency. However, we simply didn't have much other choice for camping in the area, so we just dealt with it.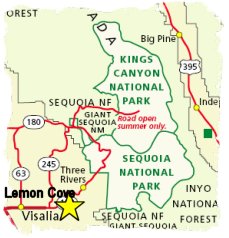 Usually our 'hub' approach to camping works out okay, but this time the layout of the parks made it difficult. For example, although the southern entrance to Sequoia was only about 15 mins away, the Giant Forest section, the first real area containing Sequoias, was over an hour into the park, up a very twisty road which climbed almost 6000 feet in 20 miles. To make matters worse, the road is under construction, and traffic is only allowed to pass in each direction once an hour. Neither Vance nor Ella has a cast iron stomach on twisty roads, so they were both looking a bit green by the time we finally got to the trees.
We tried several other routes over the next few days to reach the parks, mostly going around to the northern entrances (where Kings Canyon is located). I was finally able to find a route (
dropping down into the Central Valley, then coming in on Hwys 63 and 180
) that wasn't bad. The drive was quite a bit longer, but timewise about the same. However, having to drive well over an hour each way to get to the parks was a bit of a drag.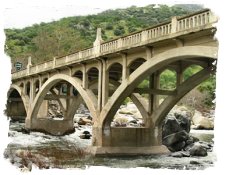 The long drives not withstanding, Sequoia is a great park. I'm not really sure why I didn't visit it more extensively when I lived in the Bay Area in the early 90's. One visit was with my Mom. The two of us paired up for a wonderful loop trip down the coast (Big Sur, San Simeon/Hearst Castle), and then cutting over to Sequoia/Kings Canyon. Looking for available lodging as it got dark, we found a cute little inn located in Three Rivers, just outside the southern entrance of the park. That evening, we were serenaded at dinner by a guitarist who normally worked at Disneyworld! The inn was perched over the junction of two of the three rivers that give the town it's name, and overlooked the 'Pumpkin Hollow Bridge', an ornate highway bridge. It was a great trip full of unexpected surprises.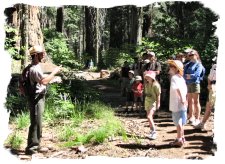 Back to the present – once the four of us arrived in the Giant Forest area, we immediately hooked up with a ranger walk around one of the groves. The young ranger was very enthusiastic, this being the first program he had given as a ranger. He did a great job, with Vance and Ella learning about the life cycle of the Giant Sequoias and what they require to grow. Surprisingly, the trees require fire to open their seeds – when the Park Service was suppressing fire in the park, there was little to no new growth.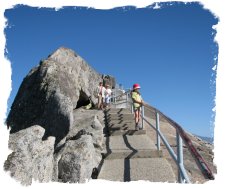 After our visit to Giant Forest, we took a short side trip to Moro Rock, a large, exposed granite knob. A pathway (
more accurately, a set of several hundred stairs hacked into it
) went to the top. From there, you are afforded a sweeping view of the western divide of the High Sierra. Glancing across the huge mountain range, you begin to get a feel for the vastness of the wilderness area contained in the parks.
In 47 years I've seen 4 bears in the wild – two in trees, one crossing in front of our car, and one crossing a trail in front of me. Today that was going to change. You can usually find a 'wildlife' spotting when you find a group of cars parked with a cluster of people with cameras. Today was no different, as we came across a crowd viewing a bear with two cubs.
The idiocy of people never ceases to amaze me. As we drove up, one woman was
flailing
her arms, yelling at her husband to position himself for a better (and closer) picture of the bears. Another couple stood on the road with their young child a short distance away. The bears at this time were only about 25-30 feet into the woods. I felt compelled to tell the flailing woman that bears could be aggressive when they felt their cubs were threatened, and could injure or kill people behaving the way she was at the moment. We stayed in the truck and edged down the road to a safer distance for photos, hoping I wasn't about to video a bear attack.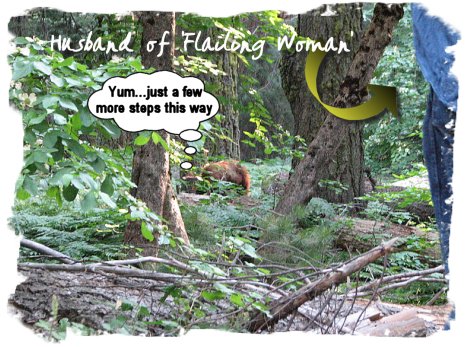 The cubs were cute – we had spotted this group briefly driving up to Moro Rock, and I was surprised they were still that close to the road on our return. Vance claimed to spot a third cub up in a tree. He's a peerless wildlife spotter, so I'll take his viewing at face value. Shortly after this, Denise looked to her right and spotted a huge bear (
shown in the picture at the top
) just feet from the road! Again, we edged down the road a bit for safety, then took our photos. We certainly had not anticipated seeing 4 bears (5 if you count Vance's tree climbing cub) in just a few mins.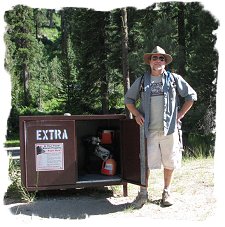 Amazingly enough, our bear sightings weren't over! A couple of days later we viewed a film on bears at the Lodgepole Visitor Center. I was amazed at how quick bears can move – frighteningly so. The parks have a big problem with bear/human interfaces, mainly in the campgrounds and picnic areas. All campgrounds, picnic areas and parking lots have food storage boxes available, and you are strongly warned not to leave any food, suntan lotion or bug spray in your car. After viewing the film showing bears effortlessly punching thru car windows, we made sure we put everything into the 'bear boxes' when we parked. Don't make the mistake of thinking your cheetos, ding dongs and peanut butter & jelly sandwiches are safe in the trunk of your vehicle. Bears will tear out back seats and glove compartments to get to your food!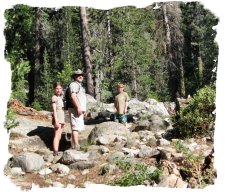 Our goal for the day was to hike the Tokopah Falls trail, a short 1.5 mile jaunt up to a set of nice cascades. After diligently unloading the contents of the truck into a bear box, we set off up the trail. The trail follows alongside the Marble Fork of the Kahweah River, set amidst soaring granite cliffs, and climbing next to a series of small waterfalls and pools. About a mile up we circled around some large boulders, and came across a couple sitting on a ledge above the creek. They quietly informed us there was a bear across the creek.
The bear was a couple of hundred feet up the creek on the other side. We watched for a moment, and then considered our options. Having just seen the bear film at the visitors center, I was in no mood to take any chances. The bear was working it's way up the creek, in the direction of the falls. Reluctantly Denise and I decided that discretion was the better part of valor, so we turned around. Warning several other parties coming up the trail, we headed back.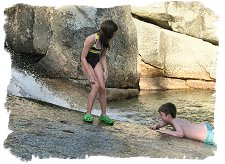 It was a hot afternoon (California was experiencing a heat wave), so we stopped and climbed down to one of the smaller falls. This turned out to be a popular spot, just above the campground. Vance and Ella had a great time splashing around in the pool and climbing over and around all the rocks in the area. As it started getting dark, we walked out through the campground.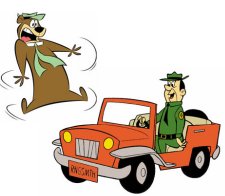 While there, the 'Bear Patrol' came through, a set of Rangers whose job it is to ensure that all the garbage cans and bear boxes are closed properly. The rangers will also challenge bears that approach the campgrounds, often shooting them with rubber bullets. It has been found that the traditional 'catch and relocate' method of dealing with bears simply doesn't work – the bears just come back. Now the Park Service aggressively 'harass' the bears, often by shooting them with the rubber pellets. The idea is to teach the animals that the 'easy' meal often found at campgrounds can be a painful experience, encouraging them to give up the practice.
On the long, dark, twisty drives back to the campground we filled the time by telling ghost stories. With a full moon, and the dark woods, it was a particularly effective setting. I was able to make up several on the spot, including one about a silver miner trapped underground due to an avalanche, a backpacker who while hitchhiking down the road fell off the back of the pickup truck – now haunting pickups that come down the road on full moons, and finally the story of a campground that inadvertently was built on an old graveyard, where an old lady reaches up thru the campers, trying to hug her dead preteen daughter. These stories must have been okay, because Vance and Ella begged me to tell them again the following nights when we were driving back!

Vance:
Sequoia NP has some of the oldest trees in the world. These trees are called the Giant Sequoia. Sequoias can live to be over 2,000 years old! Sadly, many of these trees were cut up into lots of waste during the big lumber rush in California. Luckily, the area is a NP today, so the Sequoia tree is protected.

I think the park is having problems with vandalism. On a ranger hike, we saw people getting off the trail and stepping on plants. Farther up the trail, I also saw where people had carved their names into a log.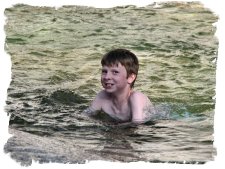 One day we were doing a hike to Tokopah Falls. But, about half a mile up, we saw a bear headed the way we were. Dad decided to turn around because he had food in his backpack. Instead, me and Ella played in a pool a little ways from where we started.


DAD, MOM AND ELLA SAW FIVE BEARS, BUT I VIEWED SIX BECAUSE I SPOTTED ANOTHER CUB HANGING IN A TREE!