All Creatures Great and Small
Saturday, June 31 - Friday, July 6, 2007
Wednesday, July 18 - Saturday, July 21, 2007

Groveland, California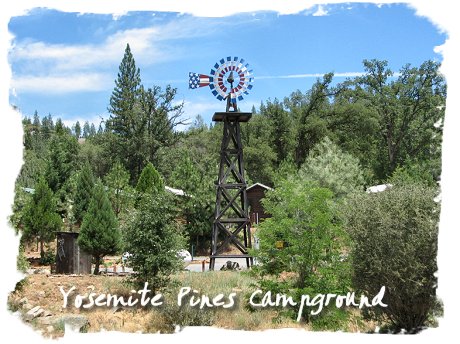 Pulling in, it was obvious the Yosemite Pines Campground was going to be a bit different from our Lemon Cove experience. Although we had a little difficulty getting a campsite long enough for the camper (the first site they assigned us was too short), we rapidly settled in. Across from us was a large group of Hispanic men of all ages – from little boys to senior citizens. They were having fun, with non-stop grilling of some really good smelling food, and constant singing with guitar. I wish I knew enough Spanish to invite myself over!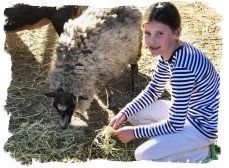 Vance and Ella were in heaven, waking up early each morning to be the first in line for the petting farm. They came to know all the animals name's and history – Little Quack being a favorite of Vance's. We now have several duck eggs in the camper refrigerator – not sure exactly what to do with them! Ella became smitten with a real life version of her beloved, Bluza. Mr. George is the caretaker for the animals and he's great with the kids, too. After several hours of letting youngsters of all ages help pet and feed the animals, he literally has to run them out of the farm so he can get to his other chores in the campground.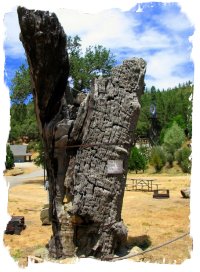 Right behind the too short campsite is the 'Hanging Tree'. Yes, it was for real – Groveland, CA where the campground is located was founded in 1849 during the Gold Rush. In order for justice to be served, a large tree down from one of the gold mines was pressed into service. Today, a plaque commemorates the tree, and parts of the trunk remain. Denise felt the campground was missing a golden opportunity (pardon the pun) by not telling ghost stories around the tree. In any case, Vance and Ella were fascinated by it, with Ella claiming she could see part of the old rope embedded in the tree trunk. Vance in particular liked it, due to the song 'Hanging Tree' on his Marty Robbins Gunfighter Ballads album that we're still listening to almost daily ;-(
Oh yea, the gold mine. There is one, just up the hill from the campground. I poked my head in a few feet into the tunnel, but decided not to go any further, not wanting to disturb any resting snakes, ghostly miners or cause a cave in! I couldn't entice the kids to make the trek in the heat, so no one saw it but me.
Our plan was to visit the various parts of Yosemite, then hike up the Mist Trail to Nevada Falls to scatter a portion of my Dad's ashes. We had good intentions, but were somewhat defeated by a heat wave. Temperatures during the day were topping 100 degrees, leading to some tired and weary kids. After a day in Yosemite Valley it was clear that neither one of them was really up for the hike to Nevada Falls. Not wanting everyone to get upset at each other on what should be a solemn occasion, Denise and I made the decision to put off the hike to Nevada Falls and come back to Yosemite after the San Francisco leg of our trip. This proved to be a good decision, as it was much cooler when we returned.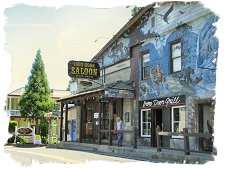 Groveland is a cute little town – it boasts the 'Iron Door Saloon', which claims to be the oldest continuously operating saloon in California. We had dinner there one evening, where from a picture on the wall I learned about Rainbow Pools, a local swimming hole. After asking around for directions, we stopped by Rainbow Pools a few days later on the way back from the park.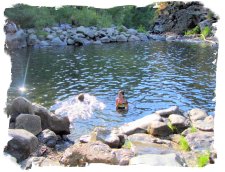 There are swimming holes, and then there are swimming holes. Rainbow Pool is highlighted with a 15 foot waterfall on one end, with a rock point projecting out over the water that is used for diving into the pool. Ella and Vance badly wanted to jump off the point (which was about 20 feet above the water), but fearing what my sister-in-law, Darva, would do to me if I let her, I refused. Instead, we played around in the cool water, attempting several times to swim up to the falls. There was a surprisingly strong current flowing from the waterfall, and each time Vance got tired. Whenever that happened, we just floated back to the rocks we started at, laughed, then plotted our next assault.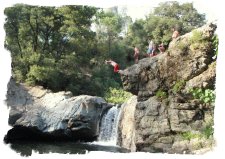 Watching the divers from the rock was a constant source of entertainment. One girl got up there, froze, and literally wouldn't move for about 15 mins. Others performed dives worthy of Olympic contenders, and of course we witnessed a few loud belly flops!

While the high country of the Sierra Nevada mountains heats up during the day.....nights are generally cool and refreshing. Hence the swimming pool at Yosemite Pines Campground is kept heated to 80 degrees. After testing the waters, Ella and Vance announced that it was too cold for swimming. They much preferred natural swimming holes while we were in this area. In fact, Ella declared Rainbow Pool as her very favorite on the entire trip! She's a natural born fish and I'm certain that if we had given her the go ahead, she would have jumped off the diving rock without a moment's hesitation.
After a day in the park, evenings provide lots of D.E.A.R. time
(Drop Everything And Read)
. Between the NP book stores at Sequoia, Kings Canyon and Yosemite the kids had picked up some great reads including a series called Mysteries in Our National Parks. The main characters in the books are Vance's and Ella's ages and the stories are about their hair raising adventures. The tales are full of excitement such as coming face-to-face with an enraged grizzly as told in
The Hunted

-

Mystery #5

.
Fur and Loathing in Yosemite
and
Eat, Drink and Be Hairy
has provided Vance with hours of laughter and pleasure. He loves humor and these comic books (a collection of Farley Cartoons set in Yosemite) by Phil Frank are right up his alley. With the absence of TV in our camper, reading is a wonderful form of entertainment and enrichment for all of us.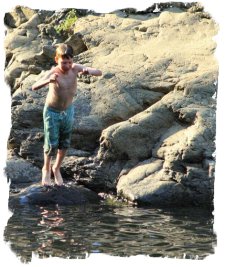 Vance:
Yosemite Pines was the second best campground I've ever been to. We camped there twice. They have a petting farm and a nice office and store. The employees wore guest first service shirts. Ella was with us on the first stay.

Near Yosemite there is a great swimming hole called Rainbow Pool. The pool was at least 10 feet deep. Many people were jumping off a pillar of rock called diving rock. I was relaxing in a little hot pool when a crayfish suddenly appeared. Luckily, I was not pinched.


GREAT CAMPGROUND, GREAT AREA!