Sneak Attacks!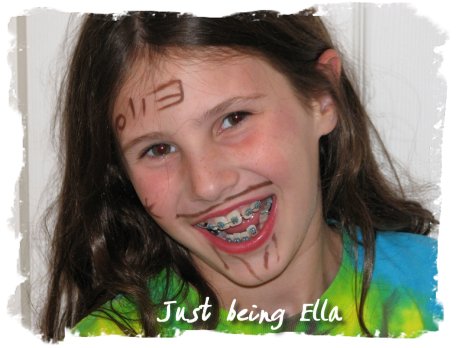 Ella loves to draw and paint, but since we're lean on artist supplies in the camper she decided to improvise. Pictures speak a thousand words, so I hope you enjoy her brush strokes and creative talent in the photo gallery!
teeheehee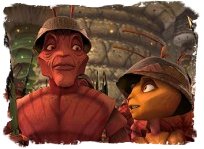 While Ella was plotting a sneak attack on Uncle Mark and Vance, little did we realize that our camper was about to be under siege. We were in town seeing a movie when the attack occurred. Returning to the camper, we discovered that
an
Army of Ants
had gotten into our tiny bathroom. But how???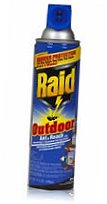 A quick check by Mark on the outside pinpointed the source of entry..... they were climbing up one of our rear support jacks. About that time Ella found ants in her bunk and they were making their way up to Vance's bed. On closer inspection, they seemed to be just about everywhere and in great numbers. This was more than an attack.....it was a full scale invasion. Mark headed for the nearest market to buy Raid to spray on the jack and something non-toxic (to humans) to get rid of them on the inside of the camper. Meanwhile, Ella and I managed to keep the ants out of the kitchen area and food pantry. Luckily, Mark was able to find some products in the small town nearby that eradicated the unwanted pests and things got back to normal in the camper!
As for Lemon Cove Campground, it was by far the worst campground we've stayed at on both of our extended trips. I really regretted that for Ella since part of the fun of this adventure is the whole camping experience. Basically, we expected the amenities to be clean and in good working order.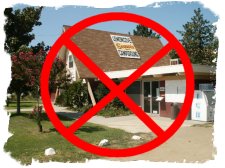 In a previous life, Lemon Cove may have been a KOA...the office/store had that A-frame look about it. It certainly had seen better days. The setting was fine, actually better than average and it had the infrastructure to be a really nice place. What it lacked was TLC and lots of elbow grease. Ella noticed that one of the full time residents had a very nice lawn and lots of yard art. Their camper was clean and neat. They were obviously the Joneses, but unfortunately no one else in the neighborhood was trying to keep up with them.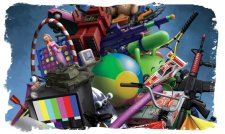 This is my theory-
most of us are pack rats by nature and if you try to settle down and stay in one place too long in an RV or a camper, chaos results. Too little space...too much stuff. It's amazing how tidy our own camper becomes on moving day. It's simply impractical to haul unnecessary things to a new location. When we cease being nomadic we begin to accumulate stuff. So much stuff that ultimately some of it ends up outside.....a fading and rotting eyesore on the landscape. This was clearly evident at Lemon Cove.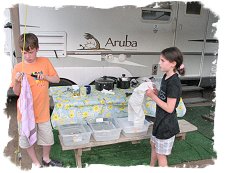 Appropriately, this post is about sneak attacks and
stuff
has a way of sneaking up on all of us! It monopolizes our time, it zaps our energy, it holds us back, it costs us money and it clutters our view. After being at Lemon Cove, we're eager to purge the camper, clean it, pack up and hit the road to Yosemite NP.
By the way, Ella really likes moving day and cheerfully pitches in to do her part. The process that's involved in transporting the camper from one campsite to the next appeals to her sense of order. She's a big help to me when she's not busy playing tricks on Uncle Mark and Vance!

Vance:
Lemon Cove

(the crap campground)
Lemon Cove was the worst campground so far. The men's restroom was halfway torn up. A torn shower stall was at the back of the room. The staff did not make one effort to fix the men's restroom, and the staff was mostly senior women.

A few days later, ants attacked the camper. They were coming up through the jacks. We sprayed everything, but they just kept coming.


REALLY, LEMON COVE WAS JUST A PIECE OF CRAP!