Adirondack Museum
Sunday, September 10, 2006


Have you ever had a strong inclination to go to a particular place and you don't know why? A subliminal image gets planted somewhere along the way and every now and then an inner voice whispers, "go there". Such has been my desire to visit the Adirondack region and having seen it…this is a place I want to revisit. The region is nicknamed, "the Venice of the Woods" and the best way to become intimate with its landscape is via a canoe. Late summer and early autumn is an ideal time of year to explore a few glacier-carved lakes and ponds as they reflect early hints of autumn. Mostly, I would want to sit back and enjoy the peace and serenity of a place that yearns to be wild. - denise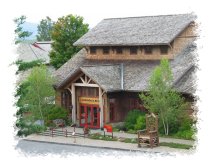 Capturing the spirit and the history of an area as large (6 million acres) and complex as the Adirondacks could be difficult, but the Adirondack Museum in Blue Mtn Lake, NY was equal to the task. This large museum was simply excellent, covering subjects related to the Adirondacks such as boats, history, logging, the Great Camps, etc….

Although to an outsider, you might first think the story of the Adirondacks would be the mountains, but really it's a story of water. The defining feature of the region is the numerous glacier carved lakes – some small, some not. Many are interconnected via waterways, and until the advent of the automobile, the majority of travel and commerce in the Adirondacks was by boat.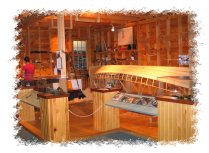 The first exhibit hall was dedicated to watercraft – mapping out the progression of boat construction in the Adirondacks from early birch bark canoes, progressing to the famous Adirondack 'Crew Boat', a cross between canoe and rowboat allowing one rower to carry an enormous amount of weight in freight and passengers at a steady pace. Included also are steamboats, the evolution of the small gas boat engine, and refinements in canoes (the aluminum canoe was invented when an executive of Grumman Aircraft vacationed in the Adirondacks, and after paddling around in a birch bark canoe that got heavier and heavier as the wood became waterlogged, realized the aluminum used on their aircraft would be particularly well suited for canoes.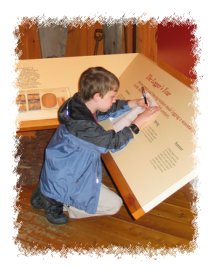 However, a room full of boats isn't likely to hold a young boy's attention for all that long, and this is where the museum really shined. Available in many of the exhibits was a 'Family Activity' worksheet. Each worksheet (and we did multiple ones during the day) was a list of questions that could only be answered by looking at the various exhibits. The questions were interesting enough (such as 'what medal did such and such brothers win at the Lake Placid Olympics), that Vance, once he got over his initial grumbling, eagerly went from display to display looking for the answers. By the time he had filled out each sheet, he had a thorough understanding of what that particular exhibit hall was covering.

Covering the museum would be a daunting task, but unlike any other museum we've been in up here, the exhibit halls are numbered in order, and the guide brochure gives you multiple 'trailways' to follow. For example: Interested in Adirondack art and artists? Visit exhibits 2,5 and 13. This simple but highly effective step brought order to what was a somewhat intimidating task. We started at #1 (the boating exhibit), and each at our own pace worked our way thru #22 (a re-creation of an outdoor children's camp, with rock climbing walls, snowshoes to try on, etc…). Vance and I long ago worked out a system where as long as we stay in the same general area of each other, he can wander around at will, and Denise usually goes thru the exhibits on her own. This allows us all to enjoy a museum at our own speed. Vance usually finds something he thinks is particularly cool (usually a video, or something humorous), and will hang around there so he can show me when I catch up.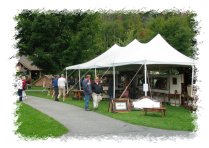 Of course, there is Adirondack style furniture and artwork, and we got two for the price of one. The weekend we visited, the museum was hosting their annual Rustic Fair. All over the museum grounds (it's scattered across 15 or so buildings) tents were set up where artisans and vendors displayed their creations. A couple of really good 'new-grass' bands were also playing, so it was a festive atmosphere indeed when we would pop in and out of exhibits.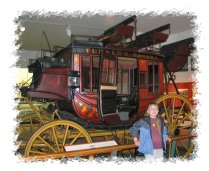 History isn't ignored by any means – the museum has restored the oldest surviving hotel in the region (it's a log structure), as well as several other structures that accurately reflect the architecture of the region (including an outhouse done in Adirondack style!). There was also a good exhibit on lifestyles in the Adirondacks region, and how they had changed over time from one of exploiting the natural resources (logging/mining) to a more tourism oriented economy.

In another post I talked a bit about the uniqueness of the Adirondack Park – a New York State Park containing both public and private land. The museum did an excellent job of highlighting both the good and bad behind the park – good from an ecological preservation sense, and bad from a property rights and economic development sense. There were numerous sections of the museum that highlighted viewpoints from both sides.

All and in, by the time we completed the museum (it took a full day), I had learned so much I felt like the Adirondacks were an old friend. Vance had completed 4 of the worksheets in the larger exhibits, so I was comfortable that he had paid attention to the displays. The museum is a must see for anyone who finds themselves in the Central Adirondack area.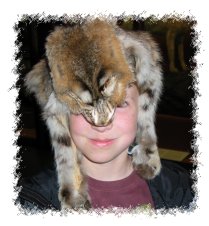 Vance: The museum had many amazing things. There was an outhouse and a hotel. One of the exhibits was about boats and boat motors. Next we saw an exhibit on art. In number 21 my Dad got some pictures on a train. I got to go up in a fire tower. The café had a nice view of Blue Mountain Lake.

There was a furniture fair outside where craftsmen were selling rustic furniture, including an old pool table.

My favorite exhibit was the woods and waters. Dad put a bobcat skin on my head. They had many animals in woods and waters that live in the Adirondack region. Finally, Dad got my picture in a bobsled, fishing, and in snowshoes.

AMAZING!