Shelburne Museum
Friday, September 15, 2006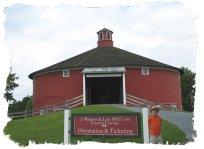 Located just south of Burlington, VT a couple of miles inland from Lake Chaplain, this large and rambling museum almost defies description. Vance and I were on our own for the day, Denise having decided to take a day off from 'sightseeing'. The Shelburne museum had been described as a multi-day affair in one of our travel guide books, so we decided to make it a 'field trip day' and spend the entire day at Shelburne.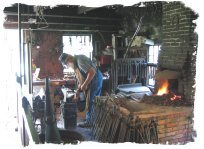 Wow….you can cover Shelburne in a day, but just barely - start early. Started by a wealthy patroness who collected, well, everything, Shelburne is spread across 40-50 buildings on a 47 acre campus. Each building houses one or more collections. Some are straightforward - art galleries, a working blacksmith shop from the early 1800's, an old schoolhouse. Other are more eclectic – a collection of turn of the century hatboxes, an entire railroad station complete with steam engine and passenger cars, a lighthouse formerly located on a reef on Lake Champlain. Then some are as fascinating as they are strange – a 520 foot long 'circus parade', which was the lifelong work of an artist who painstakingly carved the thousands of pieces in the parade, and housed in a specially constructed semicircular 'Circus Building'.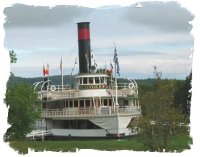 Then there is the steamship Ticonderoga. Beached in a the middle of a pasture, several miles inland from the lake, lies a beautifully restored steamship that plied the passenger trade on Lake Champlain. The ship was purchased for the museum, and hauled inland via a specially laid railroad, then restored over a period of years. It's a testament to a bygone era where travel was considered a high class activity (even if you were simply hauling your apple crop to market).

Both Vance and I loved the 'Ti', and felt it was worth the price of admission on its own. Inside the ship were numerous exhibits explaining everything from how the single piston 'walking beam' steam engine worked, to passenger accommodations. Docents were stationed around the ship to help explain the equipment, or the roles of those who worked there. Vance got to 'pilot' the ship, and ring the ship's bells signaling the engine room as to the proper speed and direction of the engines. There were several videos which had actual footage of the Ticonderoga in service, and these really helped bring the ship to life.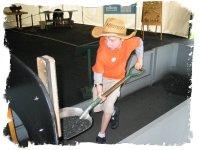 Just off the ship was an extremely well done hands on exhibit entitled 'All hands on deck'. Aimed at kids around Vance's age, the exhibit helped to demonstrate the use of pulleys and capstans to pull heavy loads, how to trim the ship (i.e. keep it from tilting over to one side) by pumping water to the other side, and Vance's favorite, a coal shoveling demonstration. In this, you were given a minute (as timed by an hourglass) to shovel the approx amount of coal that an fireman would have to shovel each min, hour after hour, in the Ticonderoga's boiler room. Needless to say, they were a different breed of men back then, and even then, the ship had a hard time keeping fireman on the job.

We spent the balance of the day working our way thru the different exhibits. Surprising us both, we particularly enjoyed a special exhibit called 'West of New Hampshire, East of Vermont" about the children's book author and illustrator Tasha Tudor. Vance, always in love with something dog related, was captivated by her book 'Corgieville', and watched a video about her lifestyle (she lives in a primitive manner, without electricity or modern conveniences). Vance also particularly enjoyed a tour thru a 1700's era house, where the gentleman who was conducting the tours thru the home had Vance rolling in laughter most of the time, over subjects such as how to bake bread in the brick ovens, and closing a door!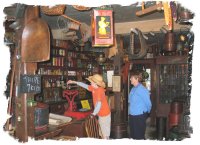 There are many working demonstrations – a print shop, weaving shop, a colonial home with cooking….Docents were available in most of the exhibits, and were very helpful with information. Many exhibits had 'family activities', which were child appropriate worksheets or activities to help explain more about the exhibit. For example, in the General Store, they had an 'apprenticeship program', where the aspiring store clerk would have to estimate the weights of several bags, and then see how accurate their guess was using a balance scale. There was also a 'family center' available that reputedly had all sorts of activities available, but we were so pressed for time that we didn't stop in.

By the end of the day the two of us had covered the museum, but it meant only giving a causal look at many of the exhibits – it would be easy to spend a couple of days at Shelburne. In many of the exhibits, you really didn't know what you would be seeing until you entered a building, and I felt the constant diversity and surprise helped keep Vance interested all day long.

Vance: Shelburne Museum is an old farm museum about the old days. The first section was about windvanes. Next we explored a ship called the Ticondaroga. The men who were coal shoveling had to shovel for 8 to 10 hours! Then I learned about the captain's controls. Next I shoveled some coal in a fake box, learned how the motor worked, and learned how to balance the ship.

A skilled blacksmith can make 900 nails in a day. He also made me a nail. Then we saw a exhibit on a artist named Tasha Tudor. She wrote a very cute book called Corgiville. Finally we went to an exhibit on Georgia O' Keefe, she was a very famous artist.

OLD FASHION!