Billings Farm and Museum
Tuesday, September 19, 2006
Perhaps one day I'll collect all of these writings about our wanderings into a book. Then hopefully, someone rich will read it and be influenced by our ideas and try something new. Better yet, maybe someone even richer will come along a few years later, obtain the rich person's estate through marriage. After living there for a few years, they will donate it to the National Park Service, creating the:
Tyson-Rich Person– Richer Person National Historic Park.

It could happen, right?It has occurred at least once, at the awkwardly named
Marsh-Billings-Rockefeller National Historic Park
outside Woodstock, VT. This is actually a combination of two sites: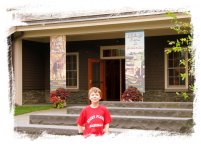 The Billings Farm and Museum, where Billings (a.k.a. the rich person), utilizing principles outlined by David Marsh in his book on sustainable agriculture, used the dairy farm as an experiment in Marsh's proposed practices.


The Billings-Rockefeller Mansion (later belonging to and donated to the NPS by Mary French and her husband, Lawrence Rockefeller, a.k.a. the richer person).

Typical farming practice in the 1870's consisted of farming a spot until the land gave out, and then moving on, a practice that somewhat made sense when you had a whole continent to fill up. David Marsh proposed a set of farming practices to enable continued and sustainable usage of the same land. Frederick Billings was wealthy enough to give it a try as a hobby, so he purchased a chunk of land outside Woodstock, VT, and started the Billings Dairy Farm. The farm was a success, and validated many of Marsh's theories, providing a model for the whole Vermont dairy industry that followed.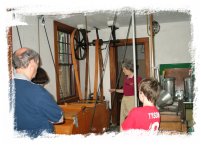 Because of the difficulties with refrigeration, dairy farming was only practical if the milk was converted into a form more readily stored, typically either cheese or butter. Billings Farm was a butter farm, and the rather extravagant 1890's farmhouse Billings constructed for his farm manager housed a full butter production facility in the basement. For its day, the farmhouse was a very modern home featuring such conveniences as hot and cold water, flushing toilets and gas lighting.
Lawrence Rockefeller married Mary French, a granddaughter of Frederick Billings. Although the farm's dairy herd had been scattered to the winds sometime after Billings' death, they began the restoration of the farm , later donating the property to the National Park Service. Although John D. Rockefeller was one of the foremost robber barons, his money ultimately did an enormous amount of good under the guidance of J.D. Rockefeller, Jr. and grandson Lawrence Rockefeller, providing funding for the purchase of numerous national parks (including the Great Smoky Mtns., Acadia, St. John's Island, etc….).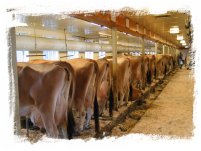 It was a rainy day, and having only a ½ day left after homeschool, we elected to visit just the farm and museum. The facility offers numerous demonstrations; shoeing a horse, taking care of sheep, churning butter, touring the farmhouse, and the highlight – the afternoon milking of the cows. With a little planning, it was possible to line up the programs so one started about the time another ended.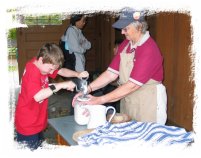 Billings Farm is now an operating dairy farm, following it's restoration around 20 years ago. Vance, with his love of animals, was in heaven. He particularly enjoyed visiting with the calves. We all got to taste butter that Vance helped to churn (although not for the full time it took to make it!).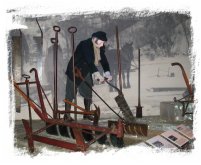 The museum portion in the Visitors Center was well done, explaining in detail how many agricultural tools were used. There was a great video on a craftsman in a water powered workshop (power provided by a waterwheel and leather pulleys to the tools) building a large water tub for cows. Another interesting video made in the 1940s was a documentary on ice harvesting, showing workers cutting ice from ponds for shipment to ice houses. Vermont had a flourishing ice industry, shipping ice as far as India for refrigeration.

We unfortunately ran a bit short of time in the Museum, but as there was a lot of overlap with what we had previously seen at the Shelburne Museum, we didn't mind rushing through some of the exhibits as much as we might have otherwise. Denise enjoyed the quilt exhibit showcasing new quilts made by local artisans…many of them quilted by hand instead of a machine.

Nearby Woodstock, VT is a really neat town. It's an upscale community, with many restaurants and galleries in the downtown area. A notable feature is the lack of power lines – Rockefeller donated the money to have the lines buried, and it is remarkable the difference it makes. This and the lack of large signs providea wide open feel to the village, and the historic nature of the buildings just leap out at you. An idea we think would be great for our hometown of Bryson City, downtown Woodstock features a "Town Crier" chalkboard providing the scoop on local events.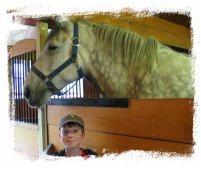 Vance: Billings Farm Museum is a old time fancy farm. First we saw a man putting new horseshoes on a horse. Then we went on a tour of the farmhouse. It was very fancy house, and had a butter factory in the basement. They even had a hot water bathtub! Then I churned some butter and saw a video on Lawrence Rockefeller. Next we saw a man teaching us about the horses food.
They get about 2 or 3 gallons of milk from each female cow. Finally we looked at the museum and all its artifacts.