F.D.R. Home and Presidential Library
Thursday – Friday, August 31 – September 1, 2006
"Are you here for the nature program?" This threw us off for a second, as we were walking into the visitor's center for a presidential library, but we're nothing but adaptable, so we agreed immediately. The group for the ranger led program turned out to be largely other homeschooolers, so we fit right in, and Vance immediately got introduced to the grounds of Franklin Roosevelt's home, Springwood.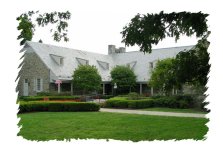 Vance has the National Parks Passport booklet and we try to remember to get it stamped every time we visit one of the sites in the booklet. When we realized that Franklin D. Roosevelt's historic home, Springwood, and his Presidential Library were literally in the path of our Hudson River valley tour……this destination was a must. Honestly, Mark and I thought we would spend just an afternoon there, but we quickly agreed to return the next day. Between the family home, the presidential library, a new visitor's center, the lovely grounds, Eleanor's cottage (Val-Kill) and FDR's cottage (Top Cottage) there is so much to see and enough reading to keep a speed reader going at a fast pace.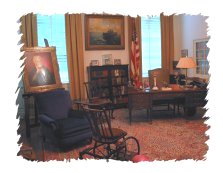 Regardless of your political persuasion, one can't help but admire FDR's foresight in establishing the first Presidential Library and setting a precedent for future presidential libraries. To be 60+ years old the library is extremely well done and in my limited experience in touring other Presidential libraries, it is thus far my favorite. FDR donated a portion of his estate for the creation of the library during his presidency so that alone lends a very unique atmosphere to the setting. The architecture is Colonial Dutch stonework and FDR intended it to last a long time. The library was built while he was still president so he conducted political business there and some of his fireside chats were broadcast from the library. The immense collection of personal items belonging to both FDR and Eleanor, as well as their political archives paint a vivid portrait of the Roosevelt family. The video captions by some of their grandchildren added a very human touch to the "larger than life" historical figures that we know as FDR & Eleanor. I particularly enjoyed reading the personal notes from Teddy Roosevelt to his niece, Eleanor, and FDR.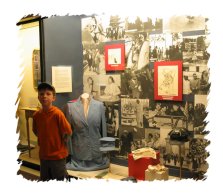 There is entire wing devoted to Eleanor. For a young girl who was deemed an "ugly duckling" by her own family, Eleanor ultimately became a beautiful swan who was known and loved throughout the entire world. She was an early feminist long before that term was widespread and more than that…..she was a champion for those in need on a national and global basis. In the early years, Eleanor is portrayed as a young wife and mother living very much in the shadows of FDR and his mother, Sara. It's evident that once she discovered her own personal direction in life…..there was no stopping her…..and the museum is a tribute to her numerous accomplishments earning her the title "First Lady of the World".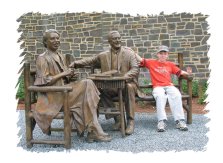 How did our 10 year old hold up beyond the initial passport stamp??? To our amazement, Vance learned a good deal about the era pertaining to the "Great Depression and WWII. He already knew about FDR and his battle with polio because of the "Little White House" in Warm Springs, GA. The opportunity to know more about FDR's and Eleanor's childhoods was a point of interest for Vance. Frankly, I have to credit the museum's staff for doing an exceptional job with the presentations…..everything from the music of the era, political cartoons, a mock-up of a early 1940's living room with an old radio broadcasting one of FDR's fireside chats to the American people really transported us back to a crucial time in history. And last, but not least, there were endearing photos of the family pet, Fala. I'll let Vance tell you more about this special presidential dog!

Vance: The FDR Presidential Library is a place on history. Franklin Delano Roosevelt was our 32nd President. First we went to learn about animals. The ranger showed us many animal skeletons. Then we toured his mansion called Springwood. His family lived in a very fancy house. I made a quick stop to his grave and said a prayer for him. He died during his fourth term.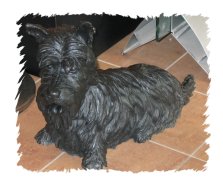 The next day we toured the presidential library. One exhibit was about a rocking horse named Mexico. Another exhibit I found was about his dog, Fala. Fala was a Scottish Terrier. They had an exhibit on World War II. The bombing of Pearl Harbor put a rush of pressure on the U.S! We built the atomic bomb because Germany was trying make one also! We fought Japan for 2 years before the atomic bombs. The atomic bombs name's are Fat Man and Little Boy. Finally, I completed my book projects and got a Jr. Ranger Badge reward.

HISTORY!
P.S Fala is buried with FDR and his wife Eleanor in the rose garden!
P.P.S FDR only wanted to see peace, and hopefully one day peace will come to the world from the Lord's hands.