Ben and Jerry's
Thursday, September 14, 2006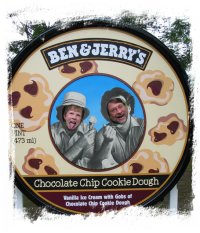 Start with a cow, mix in two liberal guys who hadn't succeeded in much anything else but had a good sense of humor. Spend $5 on a mail-order course on making ice cream. How could you not succeed?

If you are Ben and Jerry, well, succeed you did, along with 1 out of every 10 residents of Vermont, who purchased IPO stock under a little used Vermont law that allowed B&J to raise money inside of the state, rather than having to go public the traditional way. They love Ben and Jerry up here in Vermont, besides their well known philanthropy and support of local small farmers, quite a few Vermont residents made a buck or two on the stock. The factory tour is the state's #1 tourist attraction.

On a drizzly day, we scooted over to Waterbury, VT for the factory tour. The complex looks about what you'd expect – loud, bright colors with the famous black and white cow pattern. After a short wait, tours leave every 15 mins, consisting of a short video, and a description of the ice cream making and packaging process while overlooking the factory floor.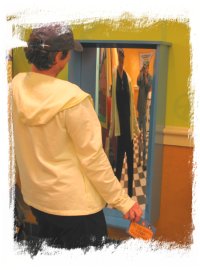 Music is blaring loudly on the factory floor. This is Ben and Jerry's, right? The home of the Cherry Garcia. What else would be playing but the Grateful Dead? Contemporary Jazz, that's what. That's what the employees wanted, and being Ben and Jerry's, that's what they get.

Part of the appeal of Ben and Jerry's is the good natured fun they poke at themselves. The short intro film is non-stop Ben and Jerry bashing in a good natured way. The tour guides seem to be enjoying themselves, despite probably having just 'herd' a group largely consisting of elderly tour bus ladies 'moo' for the 10,000th time. They have a 'Slim and Trim' mirror just past the ice cream sampling area. They encourage everyone to take as many samples of free ice cream as you want.

The genius of Ben and Jerry, despite their self proclaimed failings as 'normal' businessmen, is their unerring sense of good public relations. From the beginning, where their first ice cream shop hosted a honky tonk piano to entertain the crowds waiting in line, to the 'free cone days', they knew how to paint themselves as the good guys. The tour, and the displays in the waiting area, highlight the 'do-good' nature of the Ben and Jerry corporate culture.

My favorite part by far was the Flavor Graveyard. On a hillside behind the plant lies all the flavors that were marketed, but for whatever reason never caught on with the general public. Each flavor has a tombstone and a humorous verse about the reason for it's demise.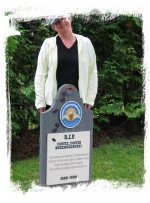 Peanuts, Popcorn!
Mix 'em in a pot!
Plop 'em in your ice cream
Well, maybe not…


Vance loved the tour (who wouldn't enjoy a tour that included free ice cream), and wanted to go back. He got to ring the cowbell to start the tour, and insisted on getting another ice cream ("for dessert"), even after we had just had a free sample.

Was it educational? Maybe - growing up as the son of someone who has started multiple small businesses, I thought it was good for Vance to see how two ordinary guys were able to succeed, probably despite themselves in many cases.


Vance: Ben And Jerry's, home of the Cherry Garcia with many funky flavors. Welcome to Ben and Jerry's ice cream factory. Our tour began at the tank room. It had over 2000 gallons of ice cream stored there!

Then we saw a video on Ben and Jerry's life and their business ideas! They started as a small business, then became several large factories. Next we saw the equipment they use to make the ice cream. We then we went down to a room and had samples of the new flavor, American Pie. Next we had of our own ice cream at the outside windows. Finally, we went and saw their flavor graveyard.

YOU SCREAM, WE SCREAM, WE ALL SCREAM FOR ICE CREAM!