All You Need is LOVE
Wednesday-Saturday June 20-24th, 2007

Las Vegas, Nevada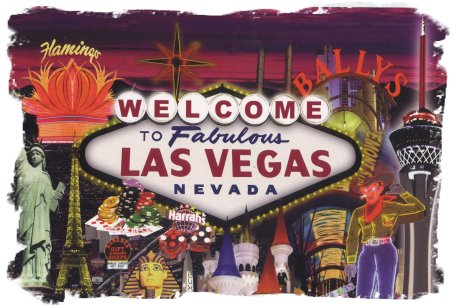 If I had to pick the one place on earth least likely for Denise and I to visit on our own accord, Las Vegas would probably be it. Neither of us enjoy gambling…the noise, smoke and bright garish colors drive Denise crazy, and the unbelievable heat!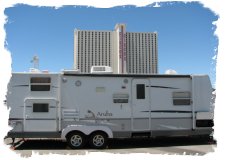 Daytime temperatures were around 105-110 degrees, with it 'cooling' to maybe 98 at night. Radiating from all the pavement and concrete buildings, outside the heat was oppressive and stifling. The 'campground' was a huge, paved parking lot bordering the dated Circus Circus casino. Hot, hot, hot…the little air conditioner in our camper was barely adequate to the task.
However, 3 things led us to Vegas…
Picking up our niece Ella at the airport
Visiting Hoover Dam
Attending a performance of 'Love', a Beatles themed show by Cirque Du Soleil

I know traveling like this is sometimes hard on Vance. Although there have been plenty of kids for him to play with in the campgrounds, the constant making and breaking of friendships as we or others pack up and move on is difficult for him. He's been literally counting the days until Ella joins us, and it will be a sad day when she goes back home when we reach San Francisco in a few weeks. They are much more like brother and sister than cousins, and get along great.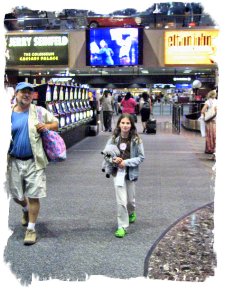 We picked up Ella at the airport. Prior to this there had been a flurry of calls cross country, as her flight was changed at the last minute. Somehow our wires had gotten crossed, and her original flight was scheduled to arrive at the same time as our 'Love' show! By the time this got realized, we were pulling the camper across vast wastelands of desert, far out of cell phone range.
When we pulled into Kingman, AZ to gas up, Denise checked our messages only to hear a series of increasingly panicky calls to see if we would reach Vegas in time to pick her up the this same evening! Fortunately we connected with Rick and Darva on the phone in time to get everything straightened out, and I was waiting by the gate when Ella, bleary eyed from the long, late flight, finally arrived.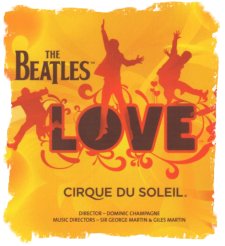 The highlight of our Vegas visit was '
Love'
. As I write this a week later, the kids are listening to the soundtrack of the show for perhaps the 20th time, which should give you an idea how much they enjoyed it. Unlike other Cirque Du Soleil shows which feature live music, the soundtrack for 'Love' is 100% remixed Beatles music. Created with the involvement of Sir George Martin, the Beatles original producer, it's simply wonderful.
The show was pure magic – it's a different style show from a typical Cirque Du Soleil performance. There was not as much emphasis on the acrobatics and contortion acts that Cirque Du Soleil is rightfully famous for, with more focus on dance numbers. But the circus acts are still there, they are just so tightly integrated with the production numbers that you have to pay close attention to even realize sometimes the difficulty of what is being presented.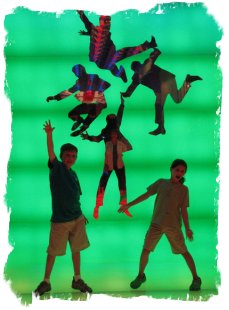 The costumes, staging, sets, music…..WOW. If you've ever seen a Cirque Du Soleil performance, you know what I'm talking about. If not, I'll never do it justice. If you are near Vegas, make a point to see this. Absolutely wonderful – we all would have gleefully sat thru the same performance again right afterwards if they would let us (or if we could have afforded it!). A big thanks to my sister-in-law, Darva for suggesting the show.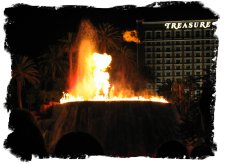 After the performance we walked down the strip a little bit to see the sights and the lights. 'Love' is located at the
Mirage casino
. The Mirage features a tropical volcano out front that erupts every hour on the hour.
It's an impressive sight, and you can pretty well sum up the whole tacky Vegas experience just by seeing it blow! The kids enjoyed it, although after just having walked out of a Cirque Du Soleil show their sense of the surreal was perhaps a bit overloaded.
The next day was spent touring Hoover Dam, which I'll talk about at greater length in another post. The high point (literally) was the hottest temperature we've recorded yet on the trip, a scorching 116 degrees on top of the dam.
Our 3rd day in Vegas was probably the most miserable of our entire trip. It was so hot that none of us could summon enough energy to go or do anything, so we hung around the camper most of the day like lethargic lizards, trying to cool off.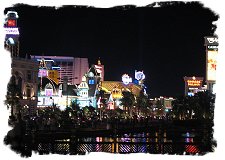 We finally sallied forth in the evening in search of food and to let Ella and Vance buy a few souvenirs. We walked thru a couple more casinos (Ballys, Paris Las Vegas), rode the monorail, viewed the lights, and then headed back to the camper. We were a pretty sorry lot – it isn't as if there isn't plenty to do or see in Vegas, we just couldn't work up any enthusiasm for any of it. Vance and Ella couldn't even be persuaded to go swimming. We felt like we were trapped in one of the rings of Dante's inferno and the fiery flames of hell had defeated us!!!
All that misery and not one penny had been lost to a slot machine…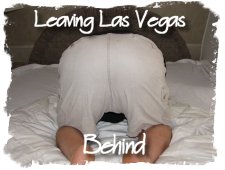 Things perked up the next morning as we were 'Leaving Las Vegas'. With the sight of the casinos fading in the rear view mirror, old Beatles favorites blaring on the stereo, and the landscape of the Mojave Desert spreading forth around us, we were happy again. The cool, high Sierra Nevada Mountains of California beckon in the distance, promising more National Park adventures.

Vance:
Las Vegas was horrible. I was miserable in the heat. But we did see a good Beatles 'LOVE' show. After the show, we watched the mirage volcano erupt. Our campground didn't give us much freedom. We are now introducing my cousin Ella on the blog. She came in late on the first night.

The KOA was smack dead in the middle of town. Really it was just concrete and had bad policies. Another thing was all the bad casino air.


REALLY, VEGAS IS JUST AN AWFUL PLACE.