Facing Limits
Monday, June 11, 2007
Zion National Park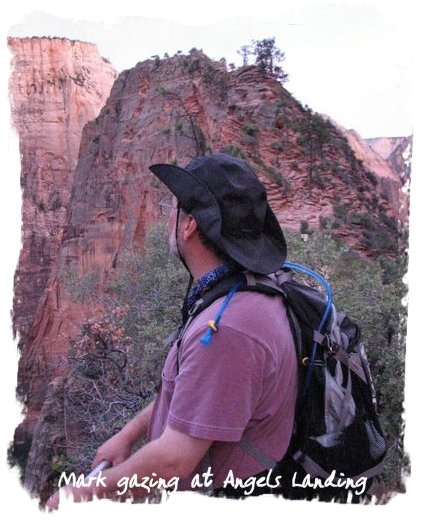 When I was in my early thirties living in the San Francisco area, my Dad came out to spend a couple of weeks with me. We made a grand tour of Northern California, going gold panning in the Sierra Nevada Mtns, hiking to the top of Mt. Lassen (a sorta dormant volcano that last erupted in 1917), touring wine country, Tahoe and finally Yosemite National Park.
We spent several days in the park, and shared a memorable afternoon making the long, steep hike to view Vernal and Nevada Falls. Vernal is the lower and smaller of the two waterfalls, with a drop of 317 feet, while Nevada Falls is a massive cascade of over 594 feet, high on the granite escarpment.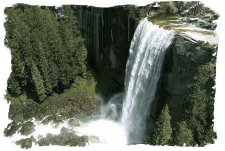 The trail is such that there are a number of switchbacks very close to Vernal
Falls – it is a wet, cold and steep part of the trail. It was on this section that Daddy gave out – shivering from the cold mist blowing off the falls.
We paused a few minutes for Daddy to catch his breath, then I coaxed him up the remaining few switchbacks to get us above the falls and into the warm sunshine. After resting and getting warm, he perked back up, and we continued the hike up to Nevada Falls, still 1000 feet or so above us.
This episode, while minor, was a tectonic shift in our relationship, at least from my perspective. I idolized my Dad, and regardless of his current age, I always regarded him as that strong, indestructible Scout Leader I knew from my youth. His faltering shook me to my core, and forced me to face up to a hard and unpleasant truth – my father was aging. In fact, I realized that I was now the age that he was when I formed this image of him – early thirties. Daddy was now in his fifties, and like it or not, I for the first time realized he wasn't immortal.
That thought scared me then, and it continued to scare me right up to the point when he eventually died - 17 years and quite a few hikes and adventures later.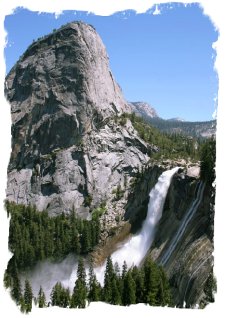 Somewhat ironically, at least from my viewpoint: Daddy, who was cremated, specifically asked in his will for a portion of his ashes to be scattered from Nevada Falls. We're planning on reaching Yosemite in a few weeks, and Denise, Vance, me and Daddy will take one last hike up Nevada Falls together.
I was rather surprised at Daddy's choice, although I can't argue with the location – it was, as he stated, his favorite place on earth, and it is also one of mine.
I don't know if Daddy sensed my feelings that day, because I never spoke of it with him. However, we always shared a strange sense of telepathy between us, and I suspect on some level he felt the same changing of the guard that I did. It wasn't something I wanted or asked for, and it disturbed me deeply when it happened. But it was, as I finally came to grips with, just part of life. I think Daddy understood this, and that is part of why he picked Nevada Falls for his final resting place.
The reason I mention all of this is because today I had to face a similar limit, and strangely enough, Daddy was along for the ride.
Denise and I visited Zion National Park in 1993 over a long Memorial Day weekend. We packed several plastic crates full of camping equipment, and cashed in some frequent flyer points to fly out here. We loved Zion, and spent the weekend cramming in as many hikes as we possibly could.
One of these hikes was the Angels Landing trail. Early in the year, I had been talking to a fellow passenger on a long plane flight, and she told me of this unbelievable trail in Zion that had scared her half to death. No pathway, just these narrow foot and toe holds! Only a chain to hold onto in places!! Narrow ridgelines only 3 feet wide with 1000 foot drops on each side!!! I listened tolerantly, all the while thinking 'it couldn't be that bad'.
It was.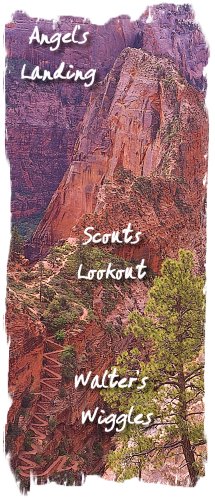 Denise and I, with that sense of immortality that comes with being young and in love, encouraged each other up and back down what was a terrifying trail. It was worth it – Angels Landing itself is exactly what you would expect it to look like – a small platform on top of a high, high pinnacle, overlooking a deep, colorful canyon. On three sides sheer rock cliffs fall away to the canyon floor close to 1500 feet below, and on the fourth, a narrow ridge, only barely wide enough for the trail to cross. I've rarely seen anything as dramatic or beautiful.
It was a great hike, one of our absolute favorites. Denise says I was nearly giddy when we got to the top, repeating over and over how much I loved her (how could I not, after following me up THAT trail)! God was in his heavens, and all was right with the world.
Fast forward to today. 14 years have whizzed by, our 11 year old son is with us, and I'm probably 40 pounds heavier. Both Denise and I had been anticipating hiking the Angel's Landing trail once again. However, after a little consideration, we decided there was no way we could take Vance all the way to the summit. Leaving him alone at the campsite was not an option, so if we hiked the Angel we would each have to do it solo.
The plan we settled on was for me to start the hike early afternoon, with Denise and Vance following on a portion of the trail with a Ranger led evening hike. The idea was that I would have enough time to do the hairy last half mile up to Angels Landing by myself, then come back down and wait for them to arrive at Scouts Lookout. Even the hike up to the Lookout is aggressive – it's 2 miles climbing 1000 ft, with the actual climbs coming on a series of very steep switchbacks, a 19% grade in places.
The hike up was uneventful, although I did have to stop and huff and puff a few times, particularly on the final climb called 'Walters Wiggles', a series of 26 consecutive switchbacks hacked into the side of a cliff. I reached Scouts Landing, had a snack, enjoyed the sweeping view and rested a bit - preparing to make the final push up to Angels Landing.
You might think I'm exaggerating how extreme this half mile section of trail is, but I'm not. The Angels Landing trail claimed 2 lives this past week – one heart attack, and another man tripped and fell 1000 feet to his death on the same stretch of trail I was now entering. It was a bad week for Zion – another man died 'canyoneering', which is a term for climbing/rappelling in the many side canyons. Another female climber tired and fell 100 feet, fortunately suffering only a severe concussion. This level of carnage isn't usual for the park – it averages one fatality a season, but the rugged terrain demands respect, and small mistakes can easily become fatal ones.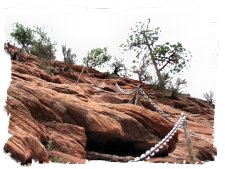 As I started up the so called trail, actually a set of footholds hacked into rock with chains to cling to, I just didn't feel right about it. After spending about 15 mins nervously covering the first 200 feet or so, I found myself on my hands and knees on a narrow ridge, with cliffs falling away on both sides. To my surprise, I found I was shaking like a leaf, and frightened. I didn't want to go on. I was scared to go on. So I stayed there for a couple of minutes, and then turned around. Very carefully, I worked my way back down to Scouts Landing – moving much slower than the trail really called for.
I sat and thought awhile once I got back to the safety of the lookout. A few years back, I would have pushed forward, ignoring my fear, driven by the need to make it to the top. But I found now I didn't have to go there today – there was no view that was worth me taking a chance, given how nervous I had become. I expected to feel shamed, or even embarrassed. Surprisingly, I only felt relief and satisfaction of having made the right decision. The sheer drop offs had defeated me. I had faced my limit. But I didn't mind – it was the right thing to do.
…and Daddy was along for the ride. As I discussed in several of my New England posts, he also specified that he wished for other portions of his ashes to be scattered 'in our favorite spots'. As he told me, that way he knew we'd visit sometime ;-) I had decided to scatter some ashes at Angels Landing, so I was carrying him up with me. Interestingly enough, I had been thinking about the incident with him at Yosemite shortly before I started up the final climb. I don't think that was a complete coincidence – I was there when he met his limit, and he was here when I met mine.
As far as Angels Landing? I found I just didn't need to reach it again. That spot would forever remain mine and Denise's - a magical place from a magical time. That was as it should be, I came to realize.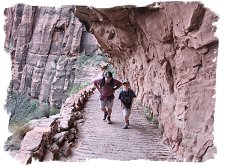 I slowly walked down the trail, stopping several times to sit for awhile and admire the deep, rich, changing colors of Zion Canyon as the sun lowered on the horizon. Nearly at the bottom of the trail I ran into Vance and Denise coming up with the Ranger led group. I decided to join them, and hiked back up with the group to Scouts Lookout, turning it in to a pretty hefty workout for the day.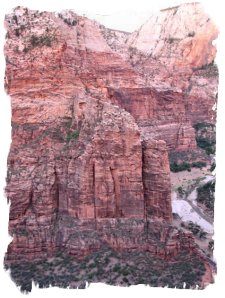 Vance moaned and groaned for the first big climb, but when we reached Walter's Wiggles, he surprised us all. He zoomed up the 26 zig-zags, finding a second gear that none of the rest of us possessed. I had to yell up to him, telling him to stop when he hit the sandy area at the top. We all enjoyed the wonderful views, and I didn't even mind when he loudly informed the whole group that, 'my Dad chickened out on the Angel's Landing section' ! It was an ambitious hike for Vance, the most strenuous we've attempted, and we were all proud of how well he did.
Descending in near darkness, we saw 2 large owls in a tree located in a cool, narrow hanging canyon. I love ending hikes as the light is fading, and we reached the valley floor just as the final daylight gave way to a starry night. A good ending to an interesting day.