Once in a Blue Moon
Thursday- Saturday May 31st- June 2nd, 2007
Arches National Park
Canyonlands National Park
Dead Horse Point State Park

It stands to reason that there are others like us on the road –families taking extensive trips while homeschooling. We bumped into a few homeschool families early in the trip, usually taking 2-3 week excursions (sneaking them in before the summer vacation season got underway). But despite searching on the internet, and the fact we've been on the road nearly 5 months between our two trips, we'd yet to meet anyone who was traveling on the scale that we are with children.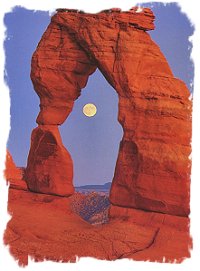 However, once in a Blue Moon (
literally!
) orbits intersect, and we found ourselves answering a knock on our camper door to meet the delightful Rines family. Vance had hooked up with their 3 boys at the Moab, Utah KOA where we were staying, and when their parents found out Vance was homeschooled and on an extended trip, they came over to introduce themselves.
The Rines (Jamie, Michelle, Andrew, Nathaniel and William) are on an even more extensive trip than us. Jamie, who is a doctor, has taken a year off from his practice to travel. The 5 of them have been traveling around the world! They have visited France, Italy, Greece, Egypt, Israel, India, Japan and Hawaii. They are now on the last leg of their trip, crossing the US in a popup camper. We visited their hometown of Bath, Maine during our New England trip, particularly enjoying the
Maine Maritime Museum
and a boat cruise on the Kennebec River.
The Rines are blogging their trip (like us), use
BrainPop
for school (like us) and their anniversary was 2 days before ours (June 2nd & June 4th). While in Oregon they visited one of our all time favorite family vacation spots –
Out and About Treesort
, a unique experience where you actually bunk in treehouses. Both Denise and Jamie came across the same article several years ago featuring the
Treesort
in a family vacation magazine and the rest is history! It was great fun to share our travel adventures and compare notes about our boys.
It's well worth a few minutes to
visit their website
, for another take on an extended family homeschool adventure. We've been checking their website whenever we have internet access to see how their trip is progressing and what they're up to.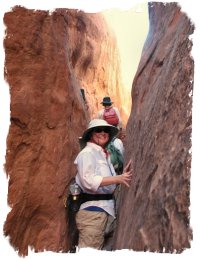 Vance was inseparable from the Rines boys over the next several days. Michelle and Jamie were very gracious in allowing him to play in their camper, dining with them, and watching him play at the swimming pool with their boys. They were able to join us for a ranger led hike thru the Fiery Furnace section of
Arches NP
. The boys enjoyed this greatly, as the hike takes you through a maze of small and brightly colored slot canyons. We hiked up, over, through and around rocks, scrambling and climbing the whole while.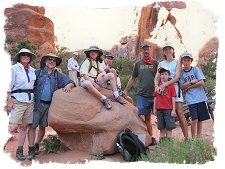 After the hike we spent a very pleasant evening dining with the Rines in Moab, and the three of us were truly sorry to see them go when they pulled out to head for Colorado the next morning. Hopefully they'll decide to vacation in the Smokies sometime soon and come visit us!
We spent another full day in Arches, visiting the famous (and fragile) Landscape Arch. We also hiked up to a viewpoint of the famous Delicate Arch, the unofficial state symbol of Utah (
pictured up top with the moon
). Denise and I would have enjoyed exploring more of the park on foot, but Vance was balking quite a bit at this point about hiking. Without the Rines boys, our treks were more a chore rather than an adventure for Vance.
Arches is full of arches
, over 2800 of them at last count, with more being discovered all the time. To qualify as an arch there must be 3 feet of daylight or more under the archway – this definition leads to some unexpected finds. An arch must also not be the product of flowing water – archways formed in this fashion are natural bridges. Landscape Arch at one point was considered the longest arch in the world, although it appears to be eclipsed by a huge arch recently discovered in a remote section of China.
Canyonlands by Night
This was a strange one.
Canyonlands by Night
offers dinner and a boat tour up the Colorado River. Dinner itself was enjoyable, a cowboy Dutch Oven affair. We talked at length with a couple working at the KOA we were staying at, and got the low down on how campground hosting works. Then we all got into a large pontoon boat, and started up the river.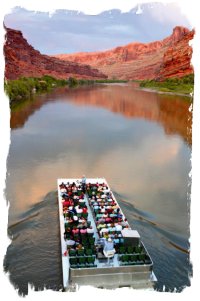 The ride was pretty, the river bordered by red rock canyon walls. The tour going up was mostly a description of various 'shapes' and 'pictures' on the canyon walls - a woman's face, a cliff top the shape of a dragon, that sort of thing.
Once it got dark, the boat turned around, and the 'Sound and Light Show' started. The best I can describe it is a soundtrack playing in the boat, alternating somewhere in a musical genre between "I'm Proud to be an American" and Native American chants.! A voice over gave some history of that region of the Colorado – Native American, Morman settlers, Uranium miners, etc….
On the highway beside the river a vehicle with very large spotlights slowly drove, shining the bright white lights on the canyon walls.
It was about the most dorky thing I've ever seen……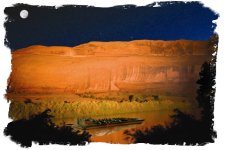 However, after awhile the light display began to grow on me. Despite the somewhat interesting soundtrack selections, the lights on the canyon walls were pretty, and the slow drift down the river was mesmerizing. Towards the end we were rewarded with a nearly full moonrise over the red canyon walls, which was undeniably pretty.
I can't say I'd recommend
Canyonlands by Night
, but in an odd way I enjoyed it.
Canyonlands for Real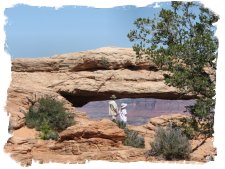 We spent a half day swinging thru the "Islands in the Sky" section of nearby
Canyonlands National Park
. Canyonlands has very little in the way of development – it is primarily a backcountry park. We took a short (and hot) hike to Mesa Arch, which sits right on the edge of a large drop, framing views of some mesas and mountain ranges.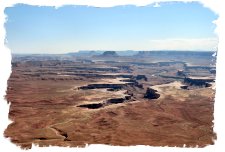 I think to really experience Canyonlands you have to get out and hike, mountain bike or 4WD the park. It's a huge park, with what looks like some wonderful sections full of twisty slot canyons and weird formations. However, from the paved roads you can only stare at this from a distance. It's pretty, but somewhat abstract. There is a 100 mile 'White Rim Trail' for high clearance 4WD drive vehicles (Moab is full of places to rent jeeps!), that takes several days to drive, giving you some idea of how rugged the area is. Canyonlands was the last portion of the United States to be mapped.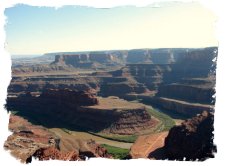 Much more accessible is the awesome
Dead Horse Point State Park
just a few miles down the road from Canyonlands. Dead Horse point is an unbelievable view of the Colorado River and its canyon from a high overlook. We weren't there long, but the memory of that view will stay with us for a long time. If you are pressed for time, I'd skip Canyonlands in favor of Dead Horse Point.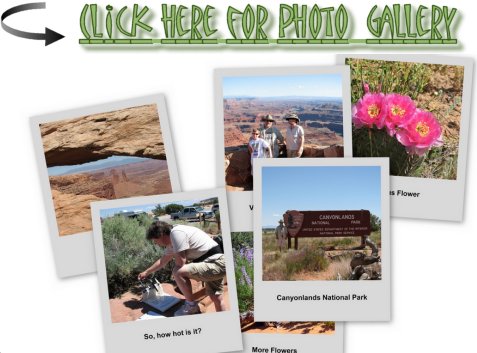 Pictures for Canyonlands and Dead Horse Point are here.

Vance:

Arches NP is named for its arches. One arch is called Landscape Arch. It is a rival to the biggest arch in the world at Zion NP. We also met a family (the Rines) who were traveling around the world! Back to Arches, we did a hike into the Fiery Furnace. It is named for the colors at sunset, not heat.
Another arch is Delicate Arch. It is on the Utah license plate. We also hiked with the Rines family in the Fiery Furnace. We made good friends with them. I was sad when they left.
THE PARK NAMED A FORMATION BALANCED ROCK BECAUSE THE ROCK IS BALANCED AT THE TOP!