Mesa Verde - Finally!!
Tuesday, Wednesday and Saturday, May 22nd, 23rd and 26th, 2007
Mesa Verde National Park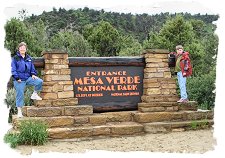 I can hardly believe that I'm finally going to see Mesa Verde. I've been wanting to see these cliff dwellings since I was Vance's age ~ suffice it to say that was a very long time ago.
A few posts back
I reminisced about my family vacation to the San Juan Mountains in the 1960's. During that trip I had a special desire to visit Mesa Verde because I had studied the Anazasi people in school. We were so close.....how could we pass up the opportunity to actually see where the Anazasi people lived and the place from which they had mysteriously disappeared.
As it turned out, we didn't make it to Mesa Verde. When my Granddaddy couldn't bear the chilly Colorado weather all roads pointed south to Carlsbad Caverns. My disappointment must have been apparent because I remember my Grandmother having talks with me about why we needed to head for New Mexico without delay or any detours.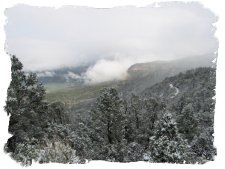 Fast forward to today
. Upon entering the Park, we're greeted by high winds, blowing snow and freezing temperatures. The thought of heading back to sunny, warm New Mexico crosses my mind a time or two. Fortunately, the roads were passable and we made a quick visit to the Visitor's Center. Numerous others who only had one day to see the Park decided to brave the elements and tour the cliff dwellings. Not us! We wimped out and headed back to our camper to crank up the furnace full blast. Thank goodness there's electricity at this site!
Given the events of our day I could easily understand how miserable my Granddaddy must have been on that long ago trip. Camping isn't much fun if you're physically uncomfortable. The wisdom of my Grandmother's words drifted back to me over the decades.
Day 2 for Mesa Verde:
There's a saying about Colorado, if you don't like the weather...wait 5 minutes and it'll change. This theory holds up somewhat for our second attempt to visit the Park which is met with more snow that changes to light rain at the Museum and the Spruce Tree House dwelling.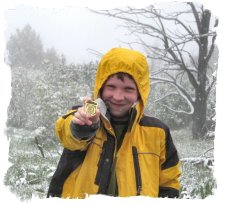 We didn't mind a little hike in the rain because the cliff house was completely dry. Spruce Tree House is the third largest dwelling in the Park. All in all, today was an enjoyable visit. We learned a lot at the museum and Vance earned another Jr. Ranger Badge. Laughing and joking, we declared that neither rain, sleet, hail or snow will keep Vance from earning his badges!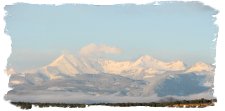 As we left the Park, the clouds began to break up revealing some blue sky and sunshine. Back at the campsite we enjoyed watching the sunset cast a wonderful, warm glow on the surrounding mountains. The extended forecast predicts warmer temps and clear weather ~ we're happy campers.
There's another old saying...the third time is the charm!
For our last day in the area we head back to Mesa Verde. It's Memorial Day Weekend and we're hoping to get tickets for the ranger guided tours of the Cliff Palace and Balcony House. We're not alone.....lots of other holiday travelers have the same idea. Fortunately, we get signed up for both tours and have plenty of time to enjoy a picnic in the Park. With clear skies overhead and pleasant temperatures it's a perfect day to tour the other areas of the Park that we didn't see during our first 2 visits.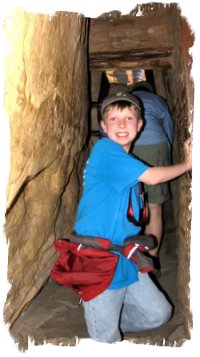 A quick word about the Cliff Palace and Balcony House tours. If you visit Mesa Verde and you're pushed for time put these tours at the top of your priority list. You'll come away with a better understanding of just how difficult it was to access the cliff dwellings. Inaccessibility rendered them more fortress-like in order to protect stashes of food and resources.
One current theory is that a prolonged drought and diminishing resources may have contributed to raiding among the Ancestral Puebloan people. The cliff houses at Mesa Verde had only been built 70-100 years prior to the abandonment of the dwellings. There are ruins all over the top of the mesa that predate the cliff dwellings and these structures served as adequate habitats prior to the drought. Thus the ruins we see today may have been a last ditch effort by the Anasazi to survive in an area that was becoming increasingly hostile and uninhabitable.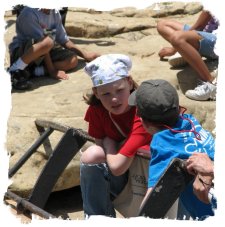 Vance hooked up with another homeschooler on both tours and they had great time climbing the ladders, squeezing through small passages and crawling through the rock tunnel. For me, it was like being a kid again. Viewing and touring the cliff dwellings exceeded all my childhood imaginings about the Anasazi people and this sacred place they left behind ~ the place we call Mesa Verde.

Vance:

Mesa Verde has much natural wildlife like Mule Deer. The visitor center was 15 miles up the road. Amazingly, it was snowing the first day we were there. Rock falls are a constant problem today. The visitor center and museum at the park had a lot of historical items, pictures and dioramas.
Today, there are some sites that have been excavated already. The main tribe who lived at Mesa Verde was the Anasazi. The final day we took a tour of the Anasazi villages, Cliff Palace and Balcony House.
THE BALCONY HOUSE TOUR IS GREAT FOR EAGER TOURISTS!