Daggett Lake Campground
Saturday, September 9, 2006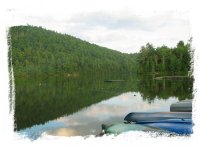 Daggett Lake is the 2nd commercial campground we've stayed in (the others have all been State Parks). Although the NY State Park campgrounds have all been excellent, this has been our favorite campsite so far. Part of it is the setting – the Adirondacks are lovely, and our campsite is only a few steps from Daggett Lake, a 100+ acre lake nestled into one of the glacier carved valleys so predominate in this area. Both Denise and I prefer the Adirondacks to the Catskills – I can't quite put my finger on exactly why – maybe the lakes. We've rapidly established a new tradition of ending each of our days here sitting by the lake watching the valley gradually turn deeper shades of gold.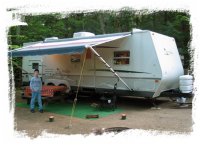 The other reason is that Daggett Lake is a great example of what a campground can be when the owners really care. Our previous stop, Rip Van Winkle campground in Saguarties, NY, was in a nice setting, located in a 150 acre land trust along Platteskill Creek. Although the campground was perfectly adequate, it could have been a lot better if the owners took a little more pride in the facilities. Junked campers at the entrance, trash spilling out of the dumpsters, trash cans that didn't get emptied when full in the bathrooms, a snarky attitude in their camp rules writeup – nothing major, but it all added up to give us a negative impression of what could have been a really nice campground.

In contrast, the lady at the office here (Daggett Lake Campground, Warrensburg, NY) greeted us like she had known us for years, and we wound up carrying on a fairly lengthy conversation with her. One of the owners (Tom) dropped by, and offered (actually, insisted, but in a low key way) to help direct me backing the camper in (although I've gotten pretty good at it, I never turn down another set of eyes in the back, and the road thru the campground was rather twisty). He passed it off with a joke ("I've done this a 1000 times, and I hate to see my guests start off yelling at each other trying to back in…").

The bathrooms aren't fancy, but are spotless. For some reason, Vance now likes to go up to the bathrooms whenever we get to a new campground and report on how 'clean' they are. This one got his highest rating!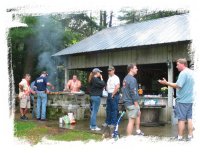 This afternoon the campground hosted its annual "Lew-Wow". Lew is a longtime seasonal camper who for years has been doing a cookout, spending the afternoon grilling BBQ chicken, beef and pork for the other campers. The lakeside pavilion is all decked out in Hawaiian decorations, and another seasonal camper provided DJ services and Karoke (I usually exit stage left when Karoke cranks up, but it was all in good fun ;-)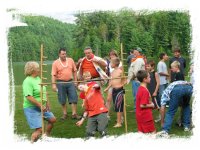 It was a fun afternoon, and a throwback to going to camp in the summer. There were the family oriented contests (sack race, balloon pop race, hula hoop passing, limbo dancing, etc….) that kept everyone entertained for hours. Then the Karoke cranked up, and it's just quieted down in the last few mins (10:30pm or so). A few of the singers were actually quite good, so it wasn't the misery it could have been ;-(

We've become aware that the seasonal camping is a lot more common than we initially supposed. As with other campgrounds we've visited, we talked with multiple families that have been coming here for years on end. Many families live nearby, within a hour or two drive, and leave a camper parked here all summer, largely for use on weekends and holidays. From their perspective, it's a lot cheaper than buying a vacation home and it's become a family tradition to come here every year. The kids all know each other, the owners (Tom and Pam Near) know everyone, and it's seems like a decent alternative if you have the temperament to live in a camper for a little while. Not that we have any immediate plans to camp in one area for any extended amount of time, but if we did, we hope we could find a campground as nice as Daggett Lake.

The Lew-Wow is the wrap-up to the season – the campground closes on Columbus Day. A lot of the campers (including the owners) relocate to the south for the winter – Florida, North Carolina, and Georgia.

Vance made some friends almost immediately – another boy had a deck of Yu-gi-oh cards, and so they bonded instantly. Vance is a pretty decent Yu-gi-oh player – he beats me probably 75% of the times we play, and I'm not horrible at it. He loves to trade cards with other people, so he got off to a good start this afternoon. After a lot of playing and running around, he finished up the afternoon by swimming in the lake.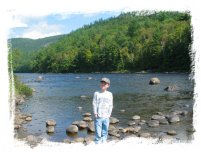 A few notes about the area - we are again close to the shores of the Hudson River, only this time it is the upper Hudson. This is a region of whitewater rafting - the Hudson in the spring, when runoff is high, is full of Class IV and V rapids. Below Albany, the Hudson is for all practical purposes at sea level, and is technically a tidal estuary, in that the tides effect the direction of water flow - this is why the Erie Canal starts just above Albany.

Of historical interest, Teddy Roosevelt was vacationing in the area on a several day camping trip to climb Mt. Marcy, the highest peak in the Andirondacks, when he received the news that President McKinley was dying. The notification came from a local guide who was sent on a 20 mile journey (on Friday the 13th no less) to find the Vice President. Roosevelt made what amounted to a forced march to North Creek, which is only a few miles from the campground, where he then took a series of in the middle of the night high speed carriage rides, finally catching a train to Buffalo, where he was sworn in as President after McKinley's death. Considering what we've learned about the conditions of the roads of that era, the carriage rides must have been harrowing indeed.

Vance:
Daggett
Lake
was one of our campgrounds. There were many chipmunks to be seen. It was kind of a get in touch with nature place. I convinced my Dad to drive 45 minutes so I could go to a Game Stop. The game I bought was Dragon Ball Z: Supersonic Warriors 2. Later that day there was Hawaiian party called the Lew-Wow. I also got a picture with two dogs named Reina and Rambo. One boy found a baby snapping turtle. They were also singing lots of music. I asked for "She's A Brick House"!
There were also many competitions. Finally on leaving day I stopped by to see the manager's dogs. Their names were Zack and Kokanee.
DOGGY!