Northeast Kingdom
Friday, September 22, 2006
We've seen a lot of covered bridges in this state, but we've yet to see Clint Eastwood out taking a picture of one, or Meryl Streep admiring him doing so ;-)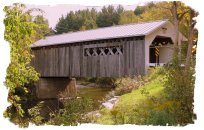 But we have admired the bridges. Vermont has 109 covered bridges, and we've managed to see probably 20% of them by now. After awhile you almost get where you can sense where one will be, and by slowing down around a curve, or poking down a dirt road, you are rewarded more often than not. If left to my own devices, I'd go find them all, but Vance really isn't all that interested, and Denise starts to drift off after the 3rd or fourth one in a day, so I have to pace my quest.

Today we drove around northern Vermont, which is called the 'Northeast Kingdom'. It's a beautiful and sparsely settled section of the state. Rural farms are nestled between the Green Mountains covered with maple, birch and aspen trees just a few days from the peak of their fall glory. The next village over can usually be spotted several miles off by the church steeple poking up above the trees, providing photo opportunity after photo opportunity.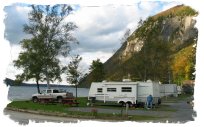 Our campground is right at the southern end of Lake Willoughby, about 15 miles south of the Canadian border. It's a dramatic sight – for our North Carolina neighbors, imagine Whiteside Mtn near Cashiers or Looking Glass Rock near Brevard with a lake at the bottom, and you'll get a pretty good idea of the setting. While beautiful, last evening we learned the hard way how our campground ("White Caps") got it's name – a wicked storm brewed up, and the wind gets funneled down the lake between the huge granite bluffs of Mt. Pisgah and Mt. Hor. For a couple of hours, the trailer rocked as rain and wind slashed against it. We rode out Tropical Storms Francis and Ivan in the camper a couple of years ago at the farm, but with the trailer turned parallel to the wind. Last night, broadside to the wind coming off the lake between those two hills, it was borderline frightening. However, we woke up this morning to a beautiful fall day and the lake was smooth as glass. The owner of the campground apparently is used to wind, as he said he didn't hear a thing ;-)

Because the weather is forecast to turn sour over the weekend, we choose to have a 'Fun Friday' and head out early, pushing school out to Saturday (such are the advantages of homeschooling). Without any real good idea of where to go, we set out up around the lake and headed west.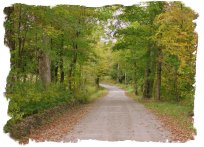 We've always felt the trick to really getting a feel for an area is to head down back roads. The dirt roads in Vermont tend to be pretty good roads, often smoother than the state highways, and a lot less bone-jarring. We found a lovely covered bridge a couple of days ago by wandering down a dirt road, and I went looking for some likely candidates today.

Fortunately, the Vermont State map shows quite a number of unpaved routes, so we drove down a few as the day progressed. The first, Hwy 58, crossed Hazen Notch as a dirt road (notch being what we'd call a gap in the south). This was a pretty drive, with a good deal of leaf color and many rustic farms. After we came back down off the hill and back onto pavement, we were beginning to get a bit hungry, so we stopped at an interesting looking establishment in the village of Montgomery Center (Vermont has a quaint habit of having the same name for multiple towns – all within 5 or 10 miles of each other, so you'll typically have something like 'North Montgomery', 'South Montgomery', sometimes an 'East' and 'West Montgomery', a 'Montgomery Center', and sometimes a 'Montgomery Union' for good measure. This can be confusing when trying to figure out where you are at any given time, because the villages themselves don't always distinguish if they are the North, South, East, West, Center or Union version…. Maybe there is some secret code I haven't figured out, but if the intent is to confuse us outsiders, they have succeeded brilliantly!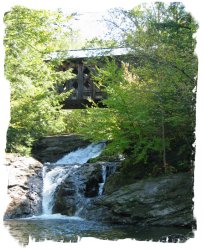 While eating, we picked up a brochure describing the 7 covered bridges in Montgomery County, all built by a set of brothers between 1860-1890. This was good enough for me – we now had a mission! We found one almost immediately, but the second one took a bit longer. Not only do the good folks in Vermont name multiple villages the same thing, they also name multiple roads the same thing (although having lived in Atlanta with it's 47 different versions of Peachtree St, Rd, Lane, etc….I'm not sure why this should bother me ;-) Anyway, we turned down West Hill Road (unpaved) on the left side of the bridge, following the directions on the brochure. Mistake, should have turned down West Hill Road (paved) on the right side of the bridge. Silly me. After a fruitless but pretty drive down another lovely dirt road, we circled back, and finally found the 'Creamery Bridge', which was located over a waterfall. This one was closed to traffic, and needs to be restored, but what a beautiful location. The rocky road leading up to it was both curvy and rough, and probably gave a reasonably accurate illustration of what roads were like when it was built. Vance and I had a great time playing around in the creek and adding to an existing set of rock pile sculptures others had left below the falls.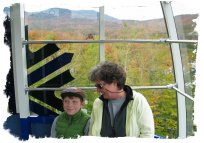 Another bridge or two later, we set off north for Jay's Peak, a ski resort in the area. We had heard the sky tram might be running during leaf season, and it was. The top of Jay's Peak is around 4200 ft, and you can see into Canada, New Hampshire and New York, including Lake Champlain. It was a nice ride up, and there was lots of color in the leaves. This is the second time we've gone up to a peak over 4000 ft, and there was the wonderful scent of Christmas trees both times.

Interesting side note – the real estate prices in this area seem cheap, at least compared to where we live. Larger tracts of mtn land can be had for less than $1000/acre, and the historic homes in several of the villages we went thru near the ski resort were very reasonable. Of course, the winters are brutal, and it is a very rural setting.

After the ride up the peak we went in search of 'Big Falls'. Down yet another dirt road, this turned out to be a large waterfall that was impossible to see, short of risking life and limb climbing out on some rocks. We were able to get some pretty pictures above and below the falls. On the way out, we found yet another covered bridge (a rumpled looking red one). We ended the evening by dining at "Hidden Country', a funky little restaurant that had been recommended to us by the campground owners (down yet another dirt road!)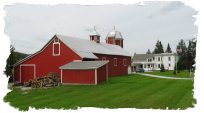 I like to describe the way we travel as 'going as the way opens'. We're often 'lost' – not lost in not knowing where we are, but lost in not being where we were aiming to get. Often this is because we don't always have a clear destination in mind, or if we do, we don't really know how to get there in the first place. While this could seem frustrating, usually it's not, because so often we discover something neat while 'lost', that makes the side trip worthwhile.

Today was a good 'lost' day….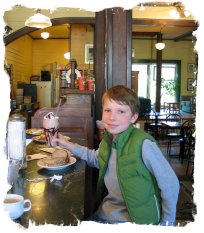 Vance:

Coming Soon