It's All About the Lakes!
Monday, Aug. 13 - Tues., Aug. 14, 2007
Northern Olympic Peninsula, WA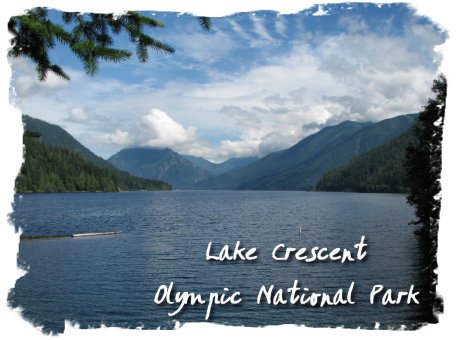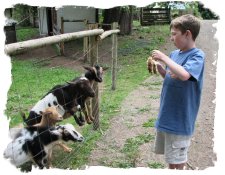 We have blue skies and sunshine, so this afternoon is perfect for a visit to Lake Crescent. On the way, we stop at a little cafe for lunch, and Vance spots some goats in the backyard. In short order, the kitchen staff loads him up with bread, and he has a fine time feeding the goats. Vance loves animals. He's always delighted when one of our adventures allows him to get up close and personal with them.
Lake Crescent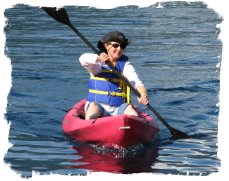 Today I wasn't satisfied to merely gaze at Lake Crescent or just take a scenic drive around it. I wanted to get in a boat and on the lake. Better yet, let's kayak! I had missed the Chetco River float in Oregon and this was my chance to play catchup. Wow - I'm hooked. Paddling is a wonderful way to enjoy the beauty of this stunning lake that was carved by glaciers during the last ice age. Lake Crescent is nestled among the mountains creating a fjord setting that many compare to the scenery seen farther north in Alaska. It's one of the deepest lakes in Washington and its waters are a brilliant teal blue color. We understand that the lake is home to two unique species of fish, the
Beardslee trout
and the
Crescenti trout
.
Marymere Falls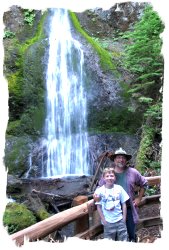 Back on land, we decide to enjoy an easy hike to nearby Marymere Falls. It's a lovely stroll through the rainforest to this delightful cascade. The lushness of this trail is so pleasurable and otherworldly that you really don't need a waterfall as the reward for your effort. However, we've never been known to turn down a waterfall.
We arrived just a little late to visit the old fashioned ranger station at Storm King, but enjoyed our hike, starting out by passing through a lengthy culvert which ran under Hwy 101. The hike was short, and we soon came upon the 90 foot waterfall, which fans out to a pretty horsetail shape.
Lake Crescent Lodge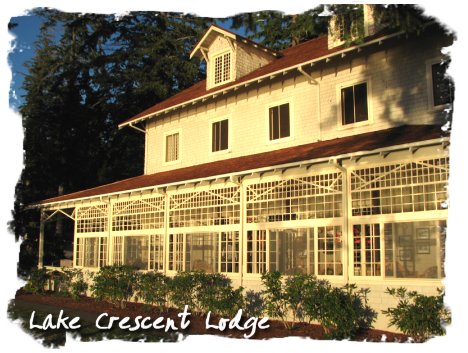 Initially we thought we would still have time this evening to drive up to Hurricane Ridge and enjoy the views under clear skies. While leaving the trail, we see a sign for
Lake Crescent Lodge
...what the heck, we're here...let's check it out. That was an excellent decision. The lodge is located in the middle section of the lake, perched right on the bank, providing an enchanting place to sit and leisurely enjoy a glass of wine! Vance has quickly gained an appreciation for National Park Lodges and suggests that we take the camper back to Petaluma, CA and check into this Lodge for the rest of our trip. While we're not willing to do that, we are happy to bag Hurricane Ridge in exchange for a relaxing end to our day.....just watching the sunset over the sparkling waters of Lake Crescent.
Hurricane Ridge

Next morning we awake to more sunshine and blue skies. We're on a Pacific NW fair weather roll. The Olympic Mountains are in view from our campground so we decide to head for Hurricane Ridge. Just because the weather is clear for now.....there's no guarantee it will stay that way all day. Along the way we stopped to view snow-capped Mt. Baker to the north in the Cascade Mountain range. At the top, the ridge is abuzz with lots of other visitors.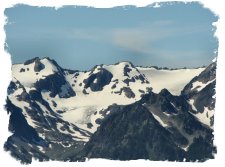 The air is crisp and cool today, and the sunshine is glorious. That's not always the case up here. Over 75 mile an hour winds can hammer this ridge, hence the name "Hurricane". The 30-35
feet
of annual snowfall melts slowly...affording us some stunning alpine scenery and wildflowers in late summer. We revel in the views and enjoy a short hike near the Visitor's Center. I really want us to get off the beaten path and head for P J Lake so we grab a quick snack and off we go.
P J Lake

We have to travel a narrow unpaved road to get to the trailhead. No problem - we love the roads less-traveled, and the views of the Olympic Mtns. are gorgeous. The trailhead is well marked and it's a short hike - less than 2 miles roundtrip. How hard can that be? Let's do it.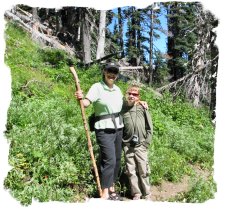 A wooden walking stick is leaning against the trail sign, so I grabbed it purely on a whim. We left our metal walking sticks in the truck. That proved to be a mistake because this little trail goes
straight down
into a ravine. It is narrow with very few switchbacks.....a real toe cruncher in every sense of the word. I can read Mark's thoughts. Where did she come up with this hike? I don't have to read Vance's mind - he is vocalizing his displeasure -
loud and clear.
I just keep reminding them that a Ranger instructed an elderly couple to do this hike on a rainy, cloudy day! Truthfully, I wouldn't even consider doing this hike with the threat of rain...it's steep enough when the trail is hard and dry. If you have bad knees or weak ankles, forget it.
Be advised that rangers in the western parks typically don't baby the visitors. They expect people to know their limitations and to use wise judgment when setting out for hikes, boating trips and other adventures in the park system.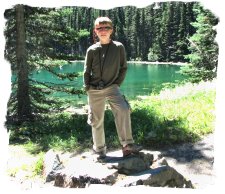 At last we reach tiny, subalpine P J Lake. While it is not as pretty as I had imagined, it is teeming with fish. They're literally jumping out of the lake to catch insects that are flying low over the water. The color of the lake is a milkly emerald green hue due to glacial melt. We relax and take in the quiet solitude of this place. That's the wonderful benefit of getting just a few miles into the backcountry in most National Parks. You usually have the place all to yourself. Too bad we don't have any fishing gear with us! In fact, we later learn that the trail was blazed by fisherman. That may explain why it's so steep...they were in a big hurry to get to P J Lake and start reeling in the fish.
Speaking of steepness, now we have to go up that trail. None of us of are looking forward to it. As it turns out, going up proves to be a lot easier than going down and before you know it we're at the top. Whew, that was one mighty short, steep hike. Now I know why someone wisely and graciously left the walking stick at the trailhead. Maybe it was the older couple from a few days prior. Anyway, I'm happy to extend the courtesy to the next fellow hiker who's ambitious enough to go in search of P J Lake!
A touch of Provence on the the Peninsula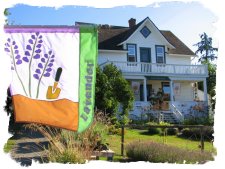 We're camped near
Sequim
and this region is known for the heady aroma of its lavender farms. After a late lunch we head for
Cedarbrook Herb and Lavender Farm
. I know Mark will enjoy this excursion because he loves growing herbs. Vance will probably balk, especially after our strenuous little trek to P J Lake.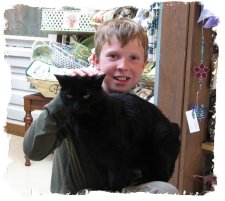 Our enjoyment of this experience is secured when Vance discovers the resident house cats! Minnie, the prima donna feline, could not be bothered. It was her nap time. Vinnie, however, became rather attached to Vance. This amusement allows Mark and I ample time to shop and tour the grounds. We would enjoy visiting other farms in the area, but we don't want to push the envelope with Vance. We have yet another botanical spree in store for us tomorrow
(in another country)
!
Speaking of other countries, we are craving Thai food and I've read good reviews for
Khu Larb
in
Port Townsend
. Before dinner, we luck out and find a lovely little historic park and Vance joins some local kids for some playtime. The park is right on the water and Mark and I enjoy watching boats sail into the harbor with Mt. Baker in the distance. Yum, our Thai dinner was delicious and well worth the drive to the most northeastern point on the Peninsula.

Vance:

We moved but still stayed on the Olympic Peninsula, this time on the north side. To start off we have Crescent Lake Lodge. It is a lodge with cute cottages facing toward the lake. It looked pretty nice. Earlier today, we kayaked on the other side of the lake. Dad and I did a two man kayak and mom got a pink kayak. After the kayak trip, we hiked to pretty Marymere Falls.

Up in Sequim, pronounced Skwim, there are some lavender farms. Lavender has a wonderful scent. I'm sure you would like the smell too. A funny book in the gift shop was called "Fifty ways to kill a slug". I cracked up reading it.

Hurricane Ridge was probably my favorite part of the park. I liked it because of the wildlife. It was fogged in the first day, then cleared up a few days later. On the clear day
one deer
went down and shortly used the sidewalk. Some people were breaking the rules by getting off the walk and into a meadow.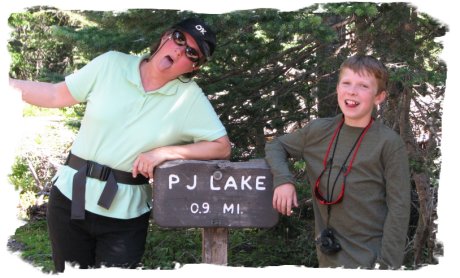 At Hurricane Ridge we did a hike to PJ Lake. It was very steep. I didn't like the hike at all, very tiring, very boring and like I said, very steep. Weirdly, we came up faster than we went down.