The Gift that keeps on Giving
Wednesday, May 9th, 2007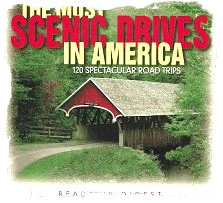 Some years ago for Christmas, my Dad gave us a Readers Digest compilation of '
The Most Scenic Drives in America
'. It sat on our coffee table for a year or two, but whenever we would take a trip, it would travel with us. Contained in it are a variety of drives for all regions of the country, usually enough to fill a full day.
We simply don't leave the camper without it now – it's our standard reference of first resort when we pull into a new region. We use other travel books extensively, particularly the 'Hidden' series (Hidden California, Hidden New England, etc….). On this trip so far, we're relied heavily on the excellent
Frommers American Southwest
and
Frommers National Parks of the American West
. However, we always pull out the trusty Readers Digest book first when looking for what to do in a new destination, or where to go next.
What a great book. I've lost count of how many times we've taken at least part of one of these drives when we wanted to get a feel for a region – to experience it. Often on these drives, we stumble across the most unexpected pleasures – the country graveyard with a famous personage buried in it, the unexpected vista, the wild canyon, the quintessential New England mill. Sometimes just the sheer joy of traveling through a beautiful area is all Denise and I need for a fulfilling day, although poor Vance has had to sometimes display the patience of an elephant while his parents haul him around the lightly traveled back roads of our nation.
We're a little weird in that we don't really mind sightseeing in the rain. Often you get a bonus for braving the elements, most often manifested in viewing short lived waterfalls, watching lightning displays in the distance, or the deep rich color of freshly wet rock formations. Many times we get lucky, gaining sunshine at unexpected moments, or simply flirting with the rain on and off all day, thus gaining back a day on the road that might otherwise have been lost to the weather.
On an overcast day with rain clouds in every direction, we grabbed the book and decided on driving the 'Lincoln Loop', a drive through Central New Mexico. This is a fairly representative drive of those in the book, and highlights of the trip included:
• A rapid climb from the desert floor to a cool alpine mountain village (
Cloudcroft
), reaching an altitude of over 9,000 feet. The temperature dropped from nearly 85 degrees when we started to the mid-30's at the top.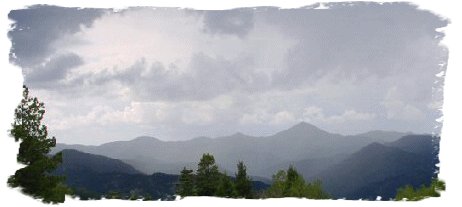 • A long, moist drive through the
Mescalero Apache Indian Reservation
, green from the rain, forested from the high altitude. During this drive, we passed by the site of several large forest fires, and were able to see the forest being to regenerate itself after the burn. Denise also spotted what we believe was a wolf, or else a very large and well fed coyote.
• We passed thru a belt of snow, interestingly enough several thousand feet below our highest elevations.
• A side trip we passed up (
on a cloudy day it didn't make much sense
!) to the
Solar National Observatory
. Here you can take tours of the telescopes, and on clear days you can view sunspots and other solar eruptions.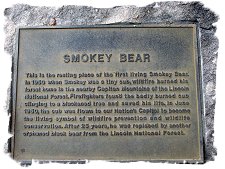 • An unexpected stop at the
Smokey Bear Historical Park
, near the spot where the original Smokey Bear was found as an orphan, and where he is now buried. Vance, somewhat to his surprise and initial regret, got to work on another Jr. Ranger Program, learning about Smokey Bear, and current thinking around the use of fire in forest management.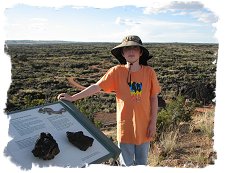 • Descending from the mountains, we visited the '
Valley of Fire
', a large (several hundred square miles) lava flow spread across the desert floor. There, we found a very nice campground and nature trail, provided by the BLM (Bureau of Land Management, a federal organization you don't see much of in the east, but is all over the western states).
• We passed up the
Three Rivers Petroglyph Site
because it was getting late in the day, and we knew we would be passing it again on our next travel (moving the camper) day. The site contains over 20,000 petroglyphs.
All in all, a pretty good variety for a few hours drive.
The book has never let us down, and unlike other guide books we've tried to rely on, the directions have been rock solid. We've never regretted one of these drives.
Thanks Daddy. Years later we are still enjoying your gift.