The High Road to Taos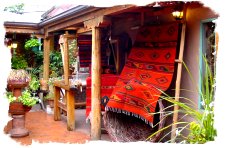 Thursday, May 2, 2007
'
The High Road to Taos
' sounds like a movie, doesn't it? As it is, there are several routes to Taos, New Mexico from the Santa Fe area. We of course chose the long, narrow, twisty 'High Road', largely based on the breathless descriptions given to it in travel magazines and by the locals.
Talk about marketing hype! Don't get me wrong, it was a pretty drive, but it was a pretty drive in an area with tons of spectacular drives. I'm not sure what all the buzz about the High Road is (actually a series of highways that take a circular route to Taos). If you find yourself headed toward Taos, save yourself some time and gas and take the wide open flat routes!
Part of my distaste for the route probably comes from the fact that the travel mag description we were using to follow the route was shaky in its directions at best, negligent at worst, leaving out one entire 15 mile hwy! Being as the only map of the area we had at the time didn't show the local roads in sufficient detail, we had to guess (correctly it turned out) on several occasions which way to go. However, as noted in previous posts, navigating blind is something we do often, so we weren't unduly upset by the bad directions.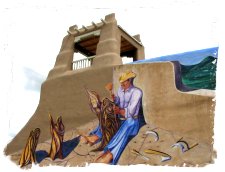 Taos (
rhymes with 'House'
) itself is a small artists community/ski resort at the foothills of some very large mountains. In winter, it would be a spectacular setting. We would have liked it better probably if we hadn't just come from Santa Fe, but with a busy highway coming right through the middle of the town and lots of traffic noise, it just didn't have the charm of Santa Fe. We walked around a little, ate a mediocre lunch at the only place we could find open, then spent some time at a gallery with a bunch of really cool wind sculptures.
I'm being a bit harsh. It's a neat town. We just liked Santa Fe a lot better.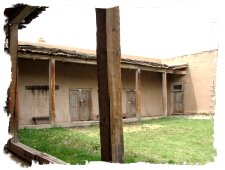 A short distance out of town was the
Martinez Hacienda
, which we enjoyed a lot more. The hacienda, a large, fortress like structure built around two open courtyards (no outside windows) is one of the few remaining New
Mexico style, late Spanish Colonial period, "Great Houses" remaining in the American Southwest. Each of the rooms opens up to the courtyards in the middle. There were exhibits on weaving, religious carvings, trading, blacksmith, as well as the rooms used for ordinary living - kitchens, bedrooms, etc....

Some of the adobe wall sections were left unplastered, which gave us an opportunity to see how true adobe was done (mud bricks, mud plaster). Touring the hacienda gave us a good idea how the upper class lived on large ranches in the New Mexico area.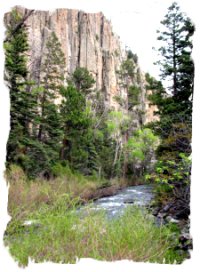 Leaving the Taos area, we headed east on US 64. This rapidly entered a mountainous area, eventually dropping down into a very pretty canyon. We finally popped out in Cimarron, NM. Although not much more than a dusty collection of closed stores, Cimarron had a reputation for gunfights and lawlessness in the wild, wild west days. At the St. James Hotel (still there), at least 26 murders occurred!

Cimarron uses the tagline of 'Where the Rockies meet the Great Plains'. It's an apt description - the mountains stop, and the plains stretch on, mostly flat, as far as the eye can see. After driving for hours across twisty mountain roads, it was a bit of a relief to get back to some flat, level roads ;-)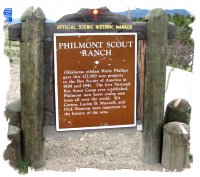 Finally, located just outside of Cimarron is the Philmont Scout Ranch. One of my few regrets from my scouting career was never making it to Philmont, so this was a big thrill. Philmont is huge, close to 140,000 acres. Typically older scouts come to spend an extended time camping in the rugged mountain wilderness areas encompassed by the ranch. The Boy Scouts also offer leadership training camps at Philmont. It's a very pretty setting, and maybe Vance and I can return one day to camp.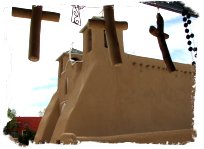 Whenever we're day tripping or setting out on a scenic drive, I try to line up points of interest along the way. Tops on my list for Taos was the fortresslike
San Francisco de Asis Church
, just south of town. From the front it looks very much like other adobe-buttressed churches of the area.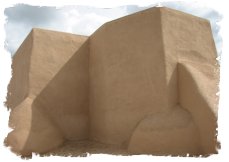 It is actually the back of the church that has captured the discerning eye of Georgia O'Keeffe and other artists. In fact, it's a bit surreal to walk from the front of the church to the back ~ I felt like I was in a time warp. The front of the church speaks of antiquity and history. The back of the church looks modern and contemporary in form. It was a real treat to see this church after having visited the Georgia O'Keeffe Museum a few days earlier in Santa Fe.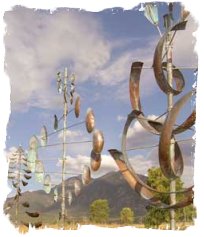 As a whole, Mark and I are bit too pragmatic to be shoppers. However, one gallery with super cool wind sculptures caught our eye and ate up a good chunk of our time. Mesmerized by the unique and magical movement of each piece, somehow we walked away without any damage to our wallets! Oh, but we were so tempted. I daydream about owning a whirly gig boutique. Who knows, if my geeky & handy husband can come up with some wonderful designs and start cranking them out ~ I'll be happy to be the marketing end of the deal. We get lots of wind in North Carolina and our farm would make a wonderful studio/gallery!
It's easy to dream big ~ ~ ~ out here in the
Wild, Wild West
~ ~ ~