A 1960s Family Road Trip

I visited Carlsbad Cavern when I was about Vance's age, and it was by default. Let me explain.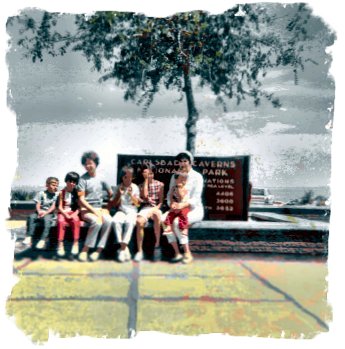 It was early June 1966 and my Uncle J.D. (
a bachelor
!) loaded up my Mom, her 6 children (of which I'm the oldest) and my Grandmother and Granddaddy Modisette. Our purpose was the 'great American road trip'. The destination was the San Juan Mountains of southern Colorado. Uncle J.D. was taking us camping ~ real camping with canvas tents, sleeping bags, Coleman stoves and lanterns, etc.
Somehow we made it 'clear across Texas', passed through northern New Mexico and into Colorado via one car and my uncle's pick-up truck with a camper cover to protect our gear. We didn't have the luxury of a station wagon or a minivan. With six kids, we must have been packed in like sardines. I can't even imagine how many bathroom stops we made on the way to Colorado and J.D. must have had the patience of a saint to put up with 6 kids worth of, "
Are we there, yet?
"
By now you're wondering what all this has to do with Carlsbad Caverns, New Mexico. Unlike East Texas in early June, it was
cold
in Colorado. We were having snowball fights in summer...how radical. Naively, my Mom and Grandmother, used to the hot East Texas weather, had only packed shorts and sleeveless tops for the kids. We brought along inexpensive floats thinking we would play in the mountain creeks. Wrong! Not one of us could brave dipping a big toe in the frigid water - much less an arm or a leg. Night time temps were dropping near or below freezing, and we shivered like Popsicles in our sleeping bags.
But you know the old saying ~ kids don't care how cold it is! We were having the time of our lives...everyone...except Granddaddy. He got cold and he couldn't get warm no matter how long he sat by the campfire or how many layers of clothes he put on. He was chilled to the bone. So out of concern for his dad, Uncle J.D. loaded us all up (again) and we headed to a warmer place.....the desert.
You guessed it - Carlsbad Caverns. It was more than warm. It was hot, as in chili pepper hot! I don't think Granddaddy went down into the cave. He probably sat outside the visitor's center ~ happy as lizard on a warm rock, basking in the desert sun.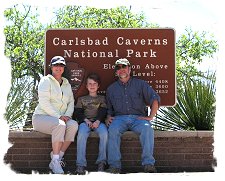 Truthfully, it doesn't look like much has changed at Carlsbad Caverns NP since our visit in the mid 1960s. I'm glad I got to see it before the renovation that will begin this summer. I mainly remembered touring the Big Room, and seeing the Bottomless Pit. It captured Vance's attention the way it did mine when I was his age. However, Vance is more astute than I was.....I came away believing that if you fell into the pit you would fall forever in its black void. Vance left knowing it had a bottom!
I do know this. There was no bottom or limit to the patience and love given to me and my siblings by our Mom, our Grandparents and especially Uncle J.D. He was the person we counted on to get us to Colorado and back home safely. I'm sure he sacrificed personal vacation time and finances to afford my family a memorable summer trip. Above all, he opened my young eyes to the possibility and wonder of seeing new places. For that ~ I will always be grateful.
Thank you, Uncle J.D.
Love, 'Nee-Cee