A Literary Journey II - The Robert Frost Farm
Friday, September 29, 2006


Two roads diverged in a wood, and I –
I took the one less-traveled by,
And that has made all the difference. – Robert Frost


I can think of no better metaphor for our trip, or for that matter, our current lifestyle. We like to think that we've taken a step out of the mainstream. Working ever longer hours - to pay for things we didn't have time to use, in houses with space we didn't need…. somewhere along the line, we decided such a lifestyle just didn't make a lot of sense for us. So we took that road less traveled, and now find ourselves at The Frost Place - A Center for Poetry and the Arts, in the hills outside Franconia, NH.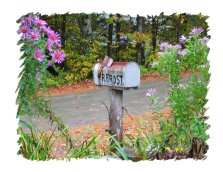 After unexpectedly finding Frost's gravesite at the "Old First Church" in Bennington, Vermont, his farm in New Hampshire was a must see when we found ourselves in the area. Frost and his young family lived for 5 years at the farm, and vacationed there for many years afterwards. Here he composed some of his best known works – 'The Road not Taken' (quoted above), and his famous 'Stopping by Woods on a Snowy Evening', a poem paraphrased by President Kennedy eulogizing Frost after his death.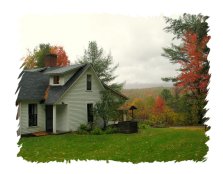 The location is a simple farmhouse and barn, the original site being approximately 50 acres. Frost supposedly badgered the owner of the farm into selling it to him, liking the view of the White Mtn's. We've visited on a rainy, overcast day, but even with the mountain ridges shrouded in fog, the view is spectacular. Frost raised chickens and tinkered around at farming, but mostly took long, speculative walks around the countryside, walks that provided material for many of his poems. What the locals must have made of their famous and outspoken San Francisco poet neighbor would make for an interesting discussion ;-)

Frost experienced a lot of tragedy in his life, outliving his wife and all but one of his children. The resulting sadness makes it's way into some of his poetry. Upon his wife's death, he had intended to scatter her ashes at the farm, but the current owner was not agreeable, and Frost later decided on burial plots in Bennington, VT.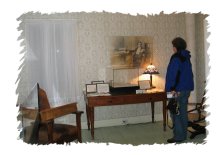 We had a nice time – the barn has been converted into a small museum, with a video on Frost's life. The current curator of the site was very friendly, and explained how the town of Franconia sponsors a poet each year to spend the summer in residence living at Frost's farm. The interior of his home, which in many ways reminded us of our own farmhouse, has memento's of Frost's life – Christmas cards he created, information on Frost's life, and of course, some of his poetry.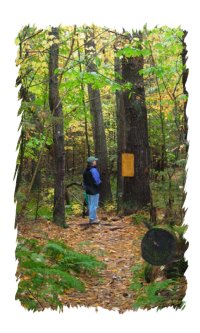 The highlight of the visit was a walk down the 'Poetry Trail'. The trail is a rambling pathway thru the woods behind the farmhouse, an area that Frost frequented on his walks. Posted along the trail were numerous examples of Frost's poems. Vance chose not to join us for the walk – it was a cold, wet, miserable day, and my imagination wasn't up to the challenge of convincing a 10 year old boy why he should walk in the woods in the rain reading poetry ;-) He stayed behind talking about Pink Panther cartoons with the very patient curator, while we enjoyed a stroll thru the wet but lovely New Hampshire woods. It was easy to relate to Frost's feelings as he describes a long ramble thru the woods in search of the summer's last flower, the song of a bird,
or pausing to watch the snow settle in a neighbor's wood.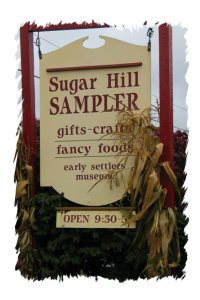 Inspired to take 'the road less traveled' we took several dirt back roads over to the small village of Sugar Hill, to the 'Sugar Hill Sampler', a store and museum recommended to us by our campground hosts. Located in a large red barn, the store was fun, and the small museum was a gem.

A collection of family remembrances, the museum somehow managed to be extremely interesting while only talking about the store owners family history. One section, which was heartrending, concerned a cousin who was shot down piloting a B-17 over Germany in WWII. The family did not receive an official notification of death for a year, and it was 5 years after he died before they finally received his remains for burial. Reading thru the letters sent by military officials to the family during this time period was a deeply moving experience, as the heartache and frustration comes through in full force.