Sitting Bull Falls
Thursday, May 3, 2007
Finishing up early at Carlsbad Caverns, we took a side trip to visit Sitting Bull Falls. Located on the back side of the Guadalupe Mountain range, the falls were touted as an 'undiscovered gem'. After about an hour drive down a twisty, dusty road, surrounded by oil and gas wells (and dodging a few cows on the road) we arrived at the recreation area.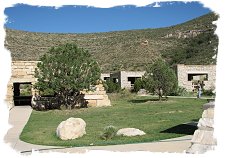 What a surprise. Out in the middle of nowhere (we saw maybe 3 houses on the 40 mile drive out to the falls, and passed only 2 cars), we pull into a wonderfully groomed facility. Tucked into a medium sized canyon, the picnic area contained rock shelters constructed by the CCC in the 1940's.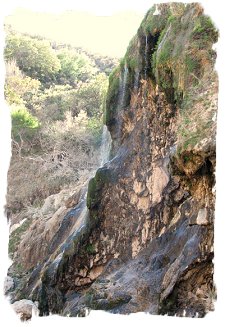 Around the corner, up a short pathway, was the falls. To someone from the east like myself, the falls were completely improbable. A small, spring fed creek poured over the side of the canyon wall, forming a small, green oasis at the bottom. The lush vegetation and pools of clear, green tinted water was at complete odds with the surrounding area.
The creek, which flows out of springs just a short distance above the falls, disappears completely less than a ¼ mile below. The ground is so porous that many streams out here simply soak into the ground and disappear (we also saw this phenomena in McKittrick Canyon in Guadalupe Mtn NP).
We had a wonderful time just hanging out. It's way out of the way, but if you are ever in this area, it's a great side trip.