The Hike From Hail
Guadalupe Mountains National Park
Wednesday, Saturday May 2nd & 5th, 2007
Anxious to get out of the camper after a wild and somewhat frightening night of thunderstorms and 60 mph+ wind gusts, we were ready to get outside. Carefully checking the weather reports the next morning, we found that going southward to Guadalupe Mtns NP looked good:
• Only a
30% chance of rain
, according to the Ranger at the Guadalupe Mtns NP Visitor Center
• Outdoor activity index =
Good
, according to Weather.com
Sounded like a plan.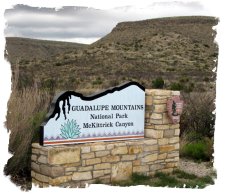 Guadalupe Mtns National Park is located in West Texas, immediately south of the New Mexico border and about another 30 miles southwest of Carlsbad Caverns. In order to 'see' the park, you have to hike – there are not any roads that go for any appreciable distances inside the park boundaries, and none that actually go up into the mountains themselves. There are a wealth of easily accessible hiking trails, however, and one in particular, the McKittrick Canyon hike, was our goal for the day. McKittrick Canyon, a cool oasis in the middle of the Chihuahuan Desert, is often referred to as the
"prettiest spot in Texas".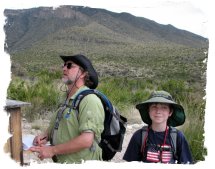 We arrived at the small, unmanned Visitor Station at the trailhead during a light rain, which almost immediately blew over. There was no thunder – rain, we can deal with, but lightning of course is another issue. So we signed the backcountry hike registration log (
you sign in/out so the Park Service has a way of knowing you are missing if you don't show up)
, put on our day packs and set out up the canyon.
McKittrick is beautiful, although it didn't seem all that different from many other western canyons. During the fall, it is touted for its blaze of color, being full of maples, which are unknown otherwise in the desert regions. The trail followed along a small stream, which disappeared into the ground not far from the mouth of the canyon. It was a relatively easy hike. Vance initially complained about the distance, but soon got into the spirit of things.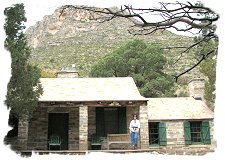 We hiked up to a point where the canyon splits, the site of the 'Pratt Lodge'. The lodge, a small and sturdy stone cabin was constructed by Wallace Pratt, a geologist who fell in love with the canyon while doing oil exploration in the area. Pratt later donated over 5000 acres containing most of the canyon to the National Park Service.
It was a nice hike, a little over 2 ½ miles up to the cabin. There, in a nicely shaded area, we had our snacks and admired the dramatic views of the soaring canyon walls. It started to cloud up again and look a little menacing, so we decided we should start making our way back to the truck. There was a little thunder rumbling in the distance, but not close enough to give much of a second thought.
We were about to get a big lesson on West Texas thunderstorms.
About ten minutes down the trail, the first raindrops began to fall. I almost always carry our GoreTex raincoats with us when we hike, so out they came. We've done plenty of hikes in the rain before, so this was no big deal. However, inside of a couple of mins the far off rumble of thunder got a lot closer (by counting the seconds between the lightning flash and the sound of thunder). I wasn't hugely concerned about the lightning – after all, we were in the bottom of a canyon, and I figured it would more than likely strike on the rim. However, I was concerned enough that it was time to get away from trees and huddle down low somewhere.
So we sat down on a couple of rocks, and pulled a small poncho pressed into duty as a tarp over our heads, and prepared to wait it out.
It got rather wild with the wind, rain and lighting strikes higher up, but then……thunk. Thunk. THunk. THUNK! BONK!! WHACK!!! Ouch! Ooooph! OUCH!! YOW! WHAT THE ???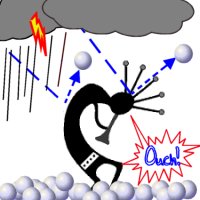 Denise stated the obvious…."I think it's hail"
For the next 15-20 mins we got pelted with marble sized hail, with an occasional ¾ incher thrown in to give us a good whack. Vance was pretty rattled, so Denise and I formed a bit of a human pyramid over him to protect him from the hail stones. While it wasn't the absolute most uncomfortable experience I've been thru, it isn't something I'd want to do again.
Here I've got to sing the praises of my wife. Getting pelted by hailstones and torrential rain in a remote West Texas canyon isn't every woman's cup of tea, but Denise was a trooper with a capital 'T". The entire time she was smiling, making jokes, laughing off the occasional painful whack from a bigger than normal hail stone and helping keep Vance calm. It made me realize, yet again, just how lucky I am with my choice in a spouse.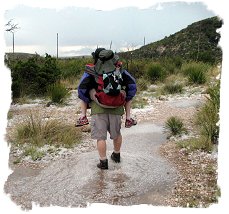 Finally, the rain, hail and lightning let up, and all was well in Tysonland - except that our trail was now a small river! While Denise and I had waterproof boots (at least waterproof up to the point that water flows over the top of them!), we ruefully contemplated that Vance was wearing his only set of shoes and they were about to get soaking wet.
The solution was for me to carry Vance piggyback on the stretches of the trail that were underwater, which was most of it. Vance, having recovered from his harrowing experience, was now having the time of his life. Each time the trail dipped down to a low point, the pack mule (me) would pull up, and Vance would climb aboard, exhorting the ole mule down the waterlogged trail.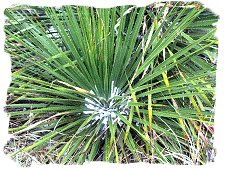 The ground was covered about an inch deep initially with hail, although it began to melt off rapidly. We got a good lesson on how desert plants survive, because most of them had big pile of hail at their bases that the long blades had gathered in.
One of the precepts I've tried to follow in my life is to learn from mistakes, and this one provided a golden opportunity for what became Vance's school lesson of the day – risk management. After telling him why it's so important to stay calm when in uncomfortable or risky situations, we talked at length about how to manage risk by balancing risk/reward. In this situation, we had two potentially dangerous issues to deal with – the lightning, and the hail.
We could have easily reduced the impact of the hail by moving under some of the trees in the canyon. However, the lightning provided the greater risk – getting hit by hail was painful, but unless the hailstones got bigger, it wasn't going to seriously hurt us. On the other hand, a lightning strike was potentially fatal. So in this situation, it was better to endure the discomfort of the hail stones in order to minimize our risk of being struck by lightning, which is why we huddled down low in the middle of an open area.
On the other hand, hail stones can reach the size of softballs in western thunderstorms. Everything is bigger in Texas, right? Fortunately, these didn't, but if they had increased to golf ball size or larger, we would have been in danger of serious injury. At that point, the greater risk of harm would have been from the hailstones, and we would have needed to seek shelter under a tree of bush, even at increasing our risk of a lightning strike.
Sometimes our school lessons literally come out of thin air.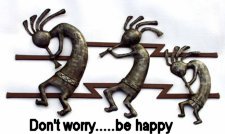 Once back safe and sound at the trailhead, we had enough clothes scattered around in the truck from previous expeditions that we all were able to dry off and warm up. Fortunately, the restrooms were open!
We drove over to the main Visitor Center to check into the Jr. Ranger program. Driving into the parking lot – you guessed it – we got caught in another violent hail storm. Even sitting in the truck it was still frightening, and was a wonder we'd just sat thru the previous one with no more protection than a rain tarp!
Back at the ranch (actually, the Visitor Center), we found out we were under a Tornado watch, the ranger just back from alerting the campers in the campground. Lovely…..so much for the 'Good' outdoor activity day promised us by the Weather Channel!
Once inside the visitor center, the staff seemed to be expecting us. Some hikers we had met along the canyon trail earlier had made it back to shelter just as the hail storm hit and figured we were caught in a '
hail of a predicament
' with a child! They thoughtfully alerted the rangers at the main visitor center out of concern for our safety. We bumped into them the next day at Carlsbad Caverns, where they were quite relieved to find out we were none the worse for wear.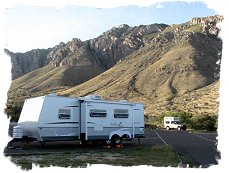 Bruises from hail stones aside, we really liked Guadalupe, and decided to
pull the camper down from Carlsbad
once we finished up with our cave tours scheduled for the next day. The views of the mountains surrounding the campground were dramatic, and it was a nice change from the commercial campgrounds we had stayed in. There was a steady stream of hikers coming to and from the trail heads in the campground. Denise and I enjoyed a couple of moonlight strolls from the campground to the Visitors Center, savoring the cool desert air.
We spent another day doing several shorter hikes (dry, this time!) and working on Vance's Jr. Ranger program for the park. I'll often substitute Jr. Ranger activities for regular schoolwork, if it's a good, comprehensive program, which most are. Vance usually receives a good dose of natural history, geology, regular history, and sometimes some science out of his Jr. Ranger programs. This time, we learned about desert plants on a 1 mile nature trail, visited a preserved ranch (the Frijole Ranch), the ruins of a stagecoach line and hiked up a small canyon to the source of a large spring, which formed a cool, desert oasis.

Vance:
Guadalupe Mountains NP is beautiful. The first day we came there we did a 2.3 mile hike to an old lodge called Pratt Cabin. Going up and coming back altogether was 4.6 miles. It took a little more time than we anticipated. We got caught in a terrible hailstorm. Luckily we had some dry clothes in the truck when we got back. Some people we met on the trail got worried about us and called the park ranger.

A few days later we returned to camp in the park. We set out on another hike for my junior ranger. But right away some sunscreen got in my right eye and we had to abort the mission. After my eye was better, my Dad said we should get back to the plan. The park has a very nice visitor center. I earned a patch and a badge.


THIS MIGHT NOT SOUND RIGHT, BUT THAR'S SPRINGS IN THEM HILLS!