Farewell to my Father
Sunday, September 3, 2006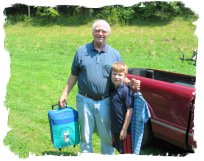 My father and Vance's granddaddy, Donald Lee Tyson, passed away last year, suffering from pulmonary fibrosis. Daddy and I were extremely close, and Vance enjoyed a wonderful relationship with his Granddaddy. It's been sad but interesting to watch as Vance has come to better understand the finality of death as he's matured. While Vance handled the immediate aftermath of Daddy's passing just fine, I've noticed he mentions the loss of his Granddaddy more frequently lately. He's remarked on numerous occasions how much he wishes Grandaddy was still with us, or how much he might have enjoyed some of the things we have been doing lately.

As referenced in a previous post, I spent a good deal of time in my early childhood in the Hudson River Valley due to my father's job with IBM. I have very much enjoyed showing the area to Vance, and he has been quite interested in places I lived or visited as a child, and things that me, his Pat-Pat and Granddaddy did, worked or visited in this area.

Daddy was cremated, and his wishes for the scattering of his ashes were unique. Myself, my two siblings and my stepmother all received a portion of his ashes, with instructions to 'scatter them in our favorite places in the world'. He also put one additional portion in my care, to be scattered at the top of Nevada Falls in Yosemite National Park – the site of a memorable hike that the two of us took while I lived in San Francisco.

I've given a lot of thought as to the location to carry out his wishes, and what I've come up with is something that I think would please him. It's sort of a grand tour – rather than one place, I've decided to scatter his ashes in multiple locations, each in a location that I have fond memories of us together, or where I knew he enjoyed. I've scattered some at our mountain farm, a location I know he loved. I've scattered some along the Panhandle of Florida, an area he loved to fish in with my Grandfather Humphries, and the location of the earliest vacation I can remember. I buried some of his ashes along with my Grandmother Tyson (his mom), when she died earlier this year.

I decided to scatter some of his ashes in the Hudson River Valley. It's an area, as described in a previous post, that has always captured my fascination. It's also where I have some of my earliest memories of Daddy. In a decision I'm not sure anyone but me will understand, I choose to scatter a few of his ashes in front of the IBM plant in Poughkeepsie. Daddy was a 30 year veteran of IBM, and I worked for them for 11 years, starting with a summer job that Daddy got for me as a favor from a friend of a friend. It's a common bond that the two of us shared – a language of our own, a corporate identity, and the IBM that we both worked for was like a huge family. We communicated for years via email on the IBM VM system, long before the internet existed to make email commonplace. In one of the steps I'm the most proud of, Daddy taught himself to program, and had an entire second career as a technical writer and programmer. Although we both ultimately left IBM, the paternalistic IBM we both knew was a wonderful place to work.

Daddy held some resentment at IBM in his later years over what he felt was ill treatment over his retirement, but the company that he started with and worked for the bulk of his career was a different IBM from the one he retired from. It was a company where everyone wore a coat and tie. It was a company that took serious its corporate creed of 'Service to the Individual, Service to the Customer, Service to the Company', in that order. It was a company that provided country clubs for its employees, with playgrounds, sporting facilities and zoos. If someone in your family was hospitalized, your manager visited them in the hospital. In short, the company of Thomas Watson Senior and Jr. cared about its employees, and Daddy was proud to be one of them.

I choose Poughkeepsie because it is where I remember best living while Daddy was in training. I have fond memories of the area, and I believe this is where my Dad was at his happiest. This is the area where he and my mom really started raising their family. It's the area where he started what turned out to be a 30 year career with IBM, and most of his IBM 'war stories' were based here. It's an area that he would tell me about over and over as I grew up. It felt right to me to leave a little bit of him here.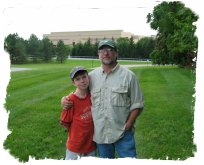 The actually scattering took place with a little less ceremony and a little more stealth than one might think warranted for such an occasion…but I think Daddy would have gotten a good chuckle out of it. Security around IBM plants has always been tight, but like everywhere after 9/11, it's even tighter now. All around the plant are signs with dire warnings against trespassing. Although I've had years of experience navigating my way around IBM management and security, and figured I could talk my way out of any potential trouble if we were stopped, I figured this was a case where asking forgiveness rather than permission was called for.

So armed with the ashes, Vance and I (he's participated in all the ash scatterings) walked around the edge of the property until we agreed on a nice spot, hopped the fence, and scattered a little bit of Daddy around a maple tree. After a moment of silence, we hopped back over the fence and were on our way. Vance thought it was quite the adventure, and felt it was pretty cool that his Granddaddy had worked there when I was a little boy.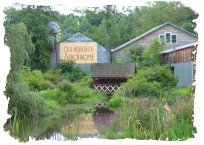 One other location, and this was a much easier decision, was at the Old Rhinebeck Aerodrome. Daddy loved the whole idea of the Aerodrome, where WWI era planes are restored and flown, and he mentioned it repeatedly over the years. I know he spent as much time there as he could while stationed in NY with IBM. Rhinebeck is the location of a good deal of model airplane flying, a hobby I believe Daddy may have picked up there. In any case, he loved the old planes, and in hindsight I'm sorry I didn't think to bring him up to see Rhinebeck again before he died.

I've got a great memory of going there as a child, and I wanted Vance to share in a similar memory, so we went two days in a row in order to see one of the air shows. Knowing how much Daddy loved the place, we scattered a few of his ashes near the reviewing stand, right in front of all the action.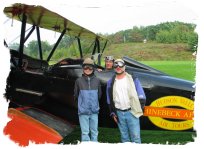 At Denise's suggestion, we also took a bi-plane ride in a wonderful old American Standard. With Vance and me sitting upfront, we scattered a few more of his Granddaddy's ashes a little before sunset as we passed over the Hudson River, just upstream of the bridge that connects Kingston to Rhinebeck. I felt this was an appropriate location, as we lived in Kingston for a period, a place I also have fond memories of. The flight was beautiful as well as exhilarating, and it's something I know Daddy would have loved.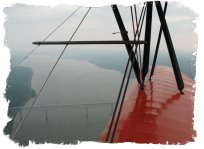 Although these would seem to be sad occasions, they aren't. I've found that our little ceremonies are a way to pay homage to the many, many good memories I have of Daddy, which is all that remains of him now. If anything, we are committing Daddy back to earth in a spirit of fun and adventure, which is how my parents taught me to face the world, and is an attitude that I hope to instill in Vance. I'm proud of how well my son has dealt with the loss of a beloved Grandparent. Vance continues to demonstrate a sense of loss, but at the same time he has shown curiosity about his Granddaddy's life, has retained his own sense of good memories, and has helped me bid my Daddy goodbye in a series of memorials to shared adventures.