Childhood Memories
Saturday, September 2, 2006
There are few places that have held more fascination in my memories than the Hudson River Valley. I spent a good bit of my pre-school years living for multiple short periods of time in the upstate New York area, most often in one of the IBM towns along the Hudson. My father was a Customer Engineer for IBM, and whenever IBM came out with a new mainframe computer or subsystem, Daddy would be assigned to classes at one of the numerous New York IBM sites to learn how to debug and fix the system.

Endicott, Poughkeepsie, Kingston – until I started first grade, we would normally join Daddy, as training usually lasted for several months. I learned how to talk while living in New York, the side effect being I speak very rapidly, with a southern accent, which is a rather unique combination ;-) During our time along the Hudson, I was fed a steady diet of Rip Van Winkle, tales of the Headless Horseman, and the rolling thunder…. which of course was nothing to be afraid of, only the sounds of the little men bowling up in the Catskills. The dark beauty of the area, along with the mysterious nature of the Hudson as it snakes its way thru the Highlands made quite an impression on my 4 year old memory.

40+ years later I've returned to the area for the first time to see if those memories by a little boy match the present day reality. This is always somewhat of a risky venture – I risked perhaps losing some of the magic that my memories possessed. The apartment that backed up to an airport could be nothing more than a figment of my imagination. The "Hudson Bridge" that I remember badgering my parents again and again to drive me over could be a small, sad affair. The Hudson itself could be nothing more than another big river lined with factories, its fabled wildness only a few miles north of New York City a figment of an overzealous travel writers pen.

Fortunately, it was none of this. It was everything that I remembered. Remarkably so.

This leg of the trip was intended to be cross between visiting the Catskills, with a day or two spent along the Hudson. It turned out to be almost the opposite, with almost all of our time spent on sights along the river. We camped at a private campground outside of Saugerties, NY, only 5 miles from Woodstock. I was pretty surprised by this, because my parents had never mentioned how close we had lived to Woodstock, although in fairness, when we lived up here, it was several years prior to the famous festival. Woodstock, btw, has done well by its fame – it is now a rather fashionable little town full of funky restaurants and galleries, with just a faint whiff of its hippy past to give it flavor.

Saugerties had been the location of several of Daddy's stories about his early adventures with IBM, and according to my mom we lived there for a short time, so I was curious to see it. It's a strange town – it has a seedy edge that inhabits many towns up here that are past their prime…but at the same time, there is one area just off downtown that is filled with galleries and eateries. It almost seems out of place.

Anyhow, our first day out we drove down to Poughkeepsie as this is the town I remembered the most of. Rounding the corner past the toll booth for the Mid-Hudson Bridge….there it was. My bridge…..a lovely, graceful suspension bridge spanning the Hudson.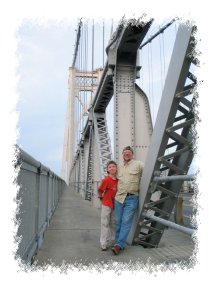 A little background is in order. This bridge had reached almost near mythological status in my mind. During our time in Poughkeepsie, I would plead with my parents, pretty well any time we got in a car, to drive me across 'the Hudson Bridge'. I loved that bridge, and it sparked a fascination with suspension bridges that I've kept to this day. It's a fascination that once led me to build a 30 foot long copy of the Golden Gate bridge out of Tinkertoys and Hot Wheels track across our foyer, living room and dining room ( I have to admire my mother's patience….!) I'll drive far out of my way to see a suspension bridge, and in fact, drove quite a bit up and down the Hudson this week checking out all of the bridges crossing the river to ensure that the Mid-Hudson (renamed the F.D.R. Memorial Bridge) was indeed 'my bridge'.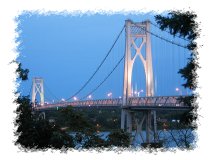 Denise, thank goodness, was game, and helped me locate a side road where we could park the car and walk the span. I thought I remembered the bridge as green, and it was grey, but in all other respects it was exactly as I remembered it. It was getting dark as we made the return trip across the bridge…and then the green lights came on the cables and the towers. All of a sudden a memory of the bridge, at night, in the fog and rain came thru, with the bridge lit up in green. My vision was complete.

Next on the list was our old apartment. I really didn't expect to find it, or even recognize it if we did….but armed with nothing more than a memory of staring out the back at an airport and a vague recollection of what the building looked like, off we went.

We first swung by the IBM site (I was curious to see it again, as I had no real memories of it), and upon exiting the plant area, saw one of those signs indicating the direction of the airport. Denise encouraged me to give it a whirl, and we headed down the highway. I figured once we found the airport, I'd just circle it and see if anything looked familiar.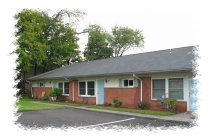 Amazingly enough, almost as soon as we found the airport, I found the apartment. I later called my mom to verify the location, and 40 years later it still had the same name (Skyview Apartments). I remember my 4th birthday, my first encounter with a bully, playing in the snow drifts, and the day that JFK was shot, all at that apartment.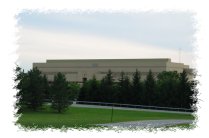 I had always regarded Poughkeepsie as just another small town with an IBM plant stuck on the side of it. I was pleasantly surprised to find it was home to Vasser, the Culinary Institute of America, home of Samuel Morse (the inventor of Morse code), and right next door was Hyde Park, home of F.D.R and the site of his presidential library. We spent the better part of two days at the Roosevelt site, which I'll describe in more detail in a later posting.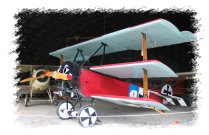 Anyway, another memory I've always treasured was of a magical day spent at the 'Old Rhinebeck Aerodrome'. At Rhinebeck is a collection of restored, World War I vintage aircraft…..that fly. Spads, Fokker Triplanes, you name it, it's there. You really have to see Rhinebeck to really appreciate it – the hangers, buildings, auto's are all in period – to go there is to step back into 1917. What I remembered of it was the airplanes flying (think Snoopy and the Red Baron), and playing inside an old tank. Amazingly enough, the tank was still there.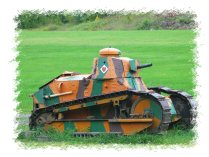 The Aerodrome, which is located outside of Rhinebeck, NY (across the river from Kingston), has an air show every Sat and Sun. We went out on Saturday, but the weather was too bad for them to fly, so we had to content ourselves with walking thru their museum (largely of aircraft in various stages of restoration), and along the airfield. Fortunately the weather was much better on Sunday, and we returned to see the show (more in another post about Rhinebeck).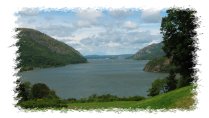 Finally, we drove down the Hudson to the Highlands area. This area is largely known as the location of West Point, and it is simply spectacular. It's hard to image that you can only be 30-40 miles north of New York City but be in a rugged, largely undeveloped area, but you can. From the aptly named Storm King Mtn looming over West Point, to the Bear Mtn bridge (another wonderful suspension bridge), the Hudson in this area is every bit as mysterious and rugged as I remembered. It's easy to imagine the headless horseman coming up behind you in one of the deep, dark glens.

One final childhood mystery resolved – one of the IBM sites up here is East Fishkill. The name always fascinated and worried me as a child, as I couldn't imagine why anyone would want to live somewhere where they killed all the fish! Now that I'm a little older and wiser, I've realized that 'kill' is the Dutch word for creek or river, so in reality my fears for our aquatic friends were unfounded….Fishkill is literally 'Fish Creek'. Along the same line, the Catskills are the anglicized version of Kaatskill. No cats were harmed in the writing of this essay ;-)