On the road again....
Sunday, April 22, 2007
We had so much fun last time, we're doing it again. This time, we are heading out west, and hope to travel until mid-September. It's a fitting bookend to our school year – we started Vance's 5th grade year during our New England trip, and will end it (and probably start 6th grade) on this trip.
We're only about 3 weeks late leaving on this trip, having planned on taking off around the first of April. This is a huge improvement over our New England trip, where we had hoped to set out the beginning of May, but actually pulled out in the middle of August! A variety of things conspire to keep you home - inertia, 'one last' social engagement, the never ending chores associated with being a homeowner, the car inspection that isn't due for 4 months that will be expired before we get back, etc..... It all adds up, and 'leaving in a couple of days' becomes weeks or months later. All in all, we didn't do that bad this time.
Unlike the New England trip, where we planned out most of our campground stays ahead of time, we are going to try to wing it on this trip. The plan was to get as far as Nashville the first day, then figure out what we left at home, stock up and fix anything that broke (there is always something that comes loose the first day – this time it was a shelf in the pantry and a storage bag rack in Vance's closet). Oh, and a stubborn exterior hatch that wouldn't open due to a loose screw. Denise finally got it open by tearing a paper plate in half and slipping it under the hatch to lift up the latch! Such is the carefree and happy life of a camping family :-)
It's a cloudy Monday in Nashville, Tennessee, where we are parked in a campground just down the road from the Opryland Hotel. Nothing terribly scenic about the location, but it was easy to get in, set up, and set everything to rights.
Come tomorrow morning, we will either turn left, right, or go straight. Nashville is a good jumping off point – we can go left, take the Natchez Trace and swing thru Texas; go straight to get to New Mexico/Colorado; or turn right and head for the Black Hills/Yellowstone, etc…Weather is a determining factor, trying to strike a decent balance between it being too cold or too hot (snow this time of year is a big consideration in the Rockies). We're leaning toward going straight at the moment – toward Little Rock, Oklahoma City, and then into New Mexico, where we will start touring in earnest.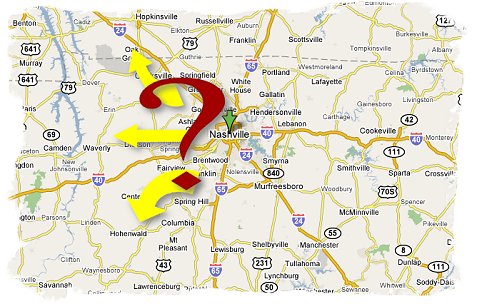 We are changing our strategy a little bit in regards to camping for this trip. We went to a lot of trouble in New England to pick out campgrounds in spectacular settings, and for the most part, we succeeded. The only problem was that we spent very little time in the campgrounds themselves, mainly using the camper as a rolling base camp on wheels, not as somewhere to hang out. The tradeoff (lack of electricity, water, toilet facilities, etc…) sometimes just wasn't worth it from a convenience factor. It dawned on me about mid-way thru the New England trip that I was looking at the camper in the wrong way – it was a portable home, but we weren't really "camping". Camping to me is pitching a tent in some remote location, or next to a lake/ocean/etc…and spending time there enjoying it – not pulling in next to a bunch of other large RV's. What we are doing for the most part is hauling around a place to stay somewhere in the general vicinity of cool stuff to see.
So anyway, while on the previous trip I rather turned my nose up at the KOA's, Good Sam Parks, etc….this time (at least for now) we're going to embrace them, to leave more time for what we really came to do, which is to see the west. Rather than spend our time recharging batteries, filling water tanks, backing the camper into tiny spots, we're going to do it the easy way unless there is a spot we just want to hang out in and enjoy. Besides summer is fast approaching and Vance will want to be
where the kids are!
Stay tuned….