The Hermitage
Monday, April 23, 2007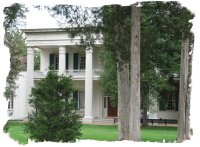 This afternoon we took a visit to the historic home of our 7
th
President, Andrew Jackson. 'The Hermitage' is just outside of
Nashville
. Judging from the variety of license plates in the parking lot this site is on the 'must see' list for visitors to the country music capital of the world. The Hermitage is owned by the state of
Tennessee
and is managed by the Ladies Hermitage Association.
Depending on what historian you read, Jackson was either a homicidal maniac, or the first and hugely popular "People's President".
A self made man, Jackson was orphaned during the Revolutionary war. He rapidly rose thru the political ranks after reading law, but his real fame came from his victory over the British in the Battle of New Orleans, a fight that ironically took place after the war of 1812 had been officially ended by treaty. Jackson actually won the popular vote for president in 1824, but eventually lost to John Quincy Adams when neither candidate received a majority in the Electoral College vote, and the outcome was determined by the House of Representatives. Jackson won handily in 1828 and served two terms.
Jackson was a man of contradictions – a brutal fighter and leader, he could turn on friend and foe (as he did to the southern Creek and Cherokee Indians who helped him against a faction of the Creek Indians). He was a man who participated in over 100 duels, although only one in which his opponent was fatally wounded. Childless, he raised 19 children, adopting a nephew as his namesake, Andrew Jackson, Jr. The center of attention in any setting, he doted on a shy and highly religious wife, Rachel. A highly successful Indian fighter, he preferred the removal of the Indians to western lands by treaty rather than military force. A slave owner who preferred not to split slave families, he would offer rewards for flogging runaways nearly to death. A man who rose to the Presidency, who preferred to be called General (which is how he is listed on his tombstone). A man, who after defeating the Creek Indians in a brutal campaign, would bring an orphaned Creek Indian boy into his home to be treated as one of his children.
When the Jackson's purchased the property for the Hermitage, they owned 8 slaves, and as a measure of Jackson's success as a cotton farmer, he owned over 100 slaves at his death. The property at one time consisted of over 1000 acres, 300 of which were kept in cotton. The main house and several of the cabins still exist, with a tour offered thru the main house. You can view the bedroom and bed that Jackson died in, and see his tomb in the garden beside the house.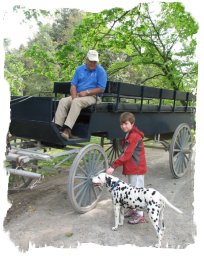 We first took a 'wagon tour' of the property, which focused on how the slaves lived. It was a pretty ride around the property. Vance enjoyed getting to know the driver's Dalmatian named Coach!
'The Hermitage' is beautifully restored and the furnishings are original. The gardens are well tended and true to their original design right down to the edger bricks that were placed there by the Jackson family.
We've seen quite a few presidential gravesites, and there is always an added dimension when a president is buried at their home. Jackson and his wife, Rachael are buried in a family plot in the garden beside the house. Rachel tragically died two months before Jackson was inaugurated as president. Jackson had the tomb designed for her, and after his return to The Hermitage would visit her grave every evening at sunset.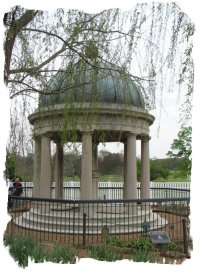 Another resident of the graveyard was 'Uncle Alfred', one of Jackson's slaves who lived to be nearly 100 years old. After Jackson's death, Alfred became the first tour guide on the property, a position he held for years. He is buried next to the Jackson's tomb.
One path on the grounds was dubbed the 'War Road'. A historical society brought a tree from each battlefield where Jackson had fought, and planted them along a walkway. Of course many of the trees are no longer there, but the ones that remain are huge.
All in all the Hermitage was a nice find. There was a 'Presidential Backpack' for the kids, which contained a set of activites to work thru. Being a little pressed for time, we didn't follow thru with this, but it looked like a nice program.

A quick note on the parking lot. On our last trip, I was struck by how often we saw a Toyata Prius in parking lots whereever we went. At the time, you didn't see a Prius very often in our neck of the woods. However, it seemed like no matter how far out in the middle of nowhere we might be, when we parked, there was a Prius sitting there. The trend appears to be continuing on this trip - there were 3 of them in the Hermitage parking lot! Always makes me feel a little guilty pulling up in our big diesel truck ;-(


Vance:

The Hermitage was the home of Andrew Jackson, the seventh president of the United States. Jackson was a big farmer. He rarely got to stay home. He never had any children of his own, but he adopted one helped raise 19 children at the Hermitage. Jackson is famous for winning the battle of New Orleans in the War of 1812.
He had a slave named Uncle Alfred. Alfred was 98 years old when he died in 1901! He is buried near General and Mrs. Jackson. He preferred having General written on his grave instead of president.
A PRESIDENT'S HOME IS A SPECIAL PLACE!