Fryeburg Agricultural Fair
Monday, October 2, 2006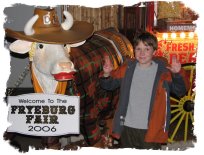 I had carefully selected a campground in southern New Hampshire, mainly due to its nearness to the Deerfield fair, touted as one of the largest in the state. When we decided to stay a few extra days at Crawford Notch, this option went out the window. Fortunately, the Fryeburg Agricultural Fair, one of Maine's largest, was right across the state line, only 30-40 miles from the campground.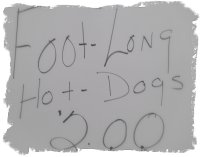 I love fairs – my dad and mom belonged to the Jaycees and Jaycettes when I was young, and each year we'd sell foot long hotdogs at the Jaycee booth at the fair. For a 10 year old, it felt all grown-up and important hanging around the food booth. A couple of years later, the Jaycees purchased a new fairground and ran the fair themselves. For a wonderful week each year me and my brother would all but live at the fairgrounds.
This was my first real introduction to a different and strange culture. Most of the 'Carnies' were Cajun, and with their traveling lifestyle, were about as close to a modern day gypsy as you are likely to find. The Carnies had a strong code of ethics – while their ethics looked nothing like yours and mine – within their set of rules they were honest to a fault. For example – on a basketball toss – the hoop might only be a couple of millimeters larger than the basketball itself – but – and this was important, it was bigger. Should a Carny rig a game so that it was impossible to win, just out and out cheat a customer, or steal money…..they'd be gone the next day. We tried not to ask too much about what happened to them.
Although a rough looking and living set of characters, they 'adopted' me and my brother, and our parents for the most part let us roam free throughout the fairgrounds during fair weeks. Nothing bad was going to happen to us, as we were under the personal protection of the baddest folks in town. They treated us like crown princes. It was wonderful.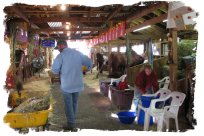 Fryeburg is a huge fair, much larger than the Athens, Ga. fair I grew up with. It is foremost an agricultural fair – building after building is filled with livestock, horses, poultry, and even a building full of rabbits! Of course, the midway was filled with rides and food booths. I feel bad sometimes for Vance's sake – the iron stomach I had as a kid as completely abandoned me, and one good whirling ride is usually enough to do me in. However, he's now getting old enough to ride stuff on his own, so we happily watch him twirl and spin and shake to his hearts content.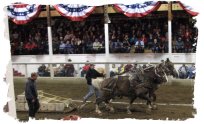 Being an agricultural fair, the animal contests were a big deal, and draw a large crowd. We viewed the Draft Horse pull. Each team of 2 horses pulled a sled containing large concrete blocks. The starting weight was 3000lbs. Each team had to pull the weights 12 feet to advance to the next round, and got 2 chances to pull. It was a lot of fun to watch the huge horses strain to pull the weights. The winning team topped out at 8200 lbs.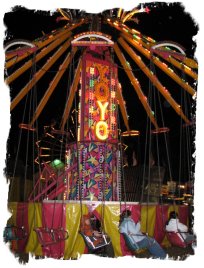 What was amazing, particularly for a Monday afternoon, was how many people were there. This is not a heavily settled area, but it seemed every resident of both Maine and New Hampshire was there! There is quite the cottage industry in turning front lawns into parking lots along the highway fronting the fairgrounds, and there were hundreds of RV's and campers.
Fryeburg is a pretty setting – the fall foliage was in full effect, and the fairgrounds are settled in a valley surrounded by mountains. We had quite the enjoyable afternoon and evening.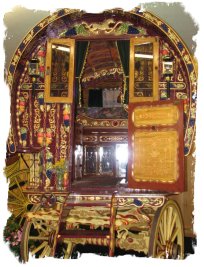 Vance: The Fryeburg Fair was very interesting. We started out by checking out a old fashioned camper and the present model. Then we went and bought some tickets and started out by riding a glider ride called Cliff Hanger! Next I went up in a titanic slide.
We saw a museum on horse drawn carriages. I really enjoyed seeing the fancy Gypsy wagon. Later we went around looking at some cows and other farm animals. Sometimes we even saw some calves and little baby piglets.
Near the end of the night we saw a Draft Horse pull competition. The last two horses teams tried to pull 8,200 pounds, but only one would triumph. One ride that I went on went back and forth and flung me to the left. Finally, I went on the Yoyo swing and then headed out.