Down to the Sea in Ships
Wednesday, october 4 – Sunday, October 8, 2006
We've been camping just outside of Acadia National Park for nearly a week, and it feels like we've barely stepped foot in the park yet. Part of this has to do with the fact that both Denise and I have been fighting a nasty cold, which has curtailed our activities somewhat. But we have stayed busy – just not in the park. Most of what we have done has involved water. Camping on an island (Mt. Desert Island), it seemed like the thing to do....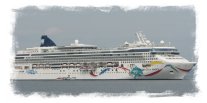 Whale watching is a big business up here, although we've been assured that it's past the peak viewing season. Almost daily a cruise ship drops anchor in Bar Harbor, and disgorges several thousand passengers, most whom, it seems, immediately head over to one of the multiple whale watching cruises.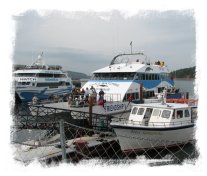 The whale watching boats are large catamarans that hold upwards of 350 people. These boats are water jet powered, like giant jet skis. This has several advantages – first, they are fast, cruising at over 30 knots to where the whales hang out, over 30 miles offshore. Second, the lack of propellers mean they can get closer to the whales without fear of propeller damage to either whale or boat. There were quite maneuverable (literally piloted by joystick!), and half the fun was speeding up and chasing after a whale when one was spotted.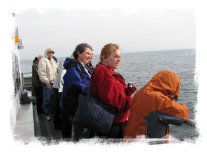 It was a cold, blustery day, so until a whale was spotted, we spent most of our time inside. The ride out was bumpy – at 100 feet or so long, the craft bounced around a good bit when up to speed in the Atlantic swells.
We got to see a good bit of a finback whale, although in short bursts. The whale would be sighted (usually by it's blow), the boat would zip out close to where they thought the whale was headed, and for a few seconds before it dived again you could see it's head on the surface.
After about 30 mins or so shadowing the whale, we headed back in short. I went up on the bow with Vance, which was quite exhilarating – 30+ knots is pretty fast when you are zooming across the water, and although the fog had set in, we had a fine view of several islands, a lighthouse, and a lot of seals.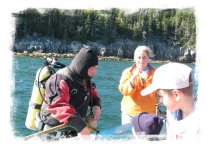 For a complete change of pace, Vance and I (Denise not feeling well) went on the delightfully wacky 'Dive In Theater'. Hosted by Diver Ed, his wife Captain Evil (she was anything but), and a side complement of dog, Mini-Ed #58 (a small plastic toy diver) and their daughter (Seafairing Gypsy Chloe), the several hour trip was a hoot from start to finish.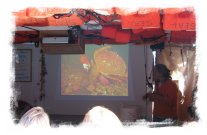 It's rare that an event completely exceeds your expectations. Diver Ed is just a goofball, in the mold of the late Steve Irwin. The gist of the trip, which is aimed at children, is Diver Ed and Mini-Ed make a scuba dive, which you view thru the excellent video equipment he takes down with him. During the dive he collects various specimen to bring up to the boat. All the while he's in the water, he's joking around, and Mini-Ed has a series of misadventures usually involving dancing crabs or menacing lobsters. It's perfectly attuned to the kids, right up to allowing the children to push Diver Ed off the back of the boat to start the dive., or over inflating his suit when he climbs back on board so he resembles the Michelin Man. Prominently displayed up front are the 57 previous Mini-Ed's that have come to some form of grief at the hands of a marauding sea monster.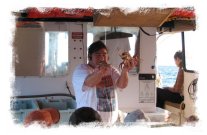 As interesting as viewing the dive on the video monitor is, the real fun starts when Diver Ed climbs back aboard. For the next hour, he imparts a wealth of information about the creatures he brings back on board, in a manner that has the kids howling in laughter. He kisses crabs, squirts the crowd with the water inside a sea cucumber, and imitates a Sea Star spitting out its stomach in order to eat a large prey. It's strangely effective - during a Ranger Naturalist program at the park a few evenings later, I realized just how comprehensive his talk was. Despite the detailed nature of the program, I didn't hear a lot that I hadn't already learned from the Diver Ed trip.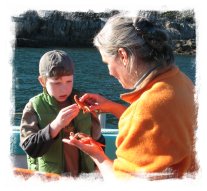 Complimenting Diver Ed's antics, his wife (Captain Evil), who is as soft-spoken as he is boisterous, circles among the kids who have migrated towards the back of the boat, Vance was one of these, although I suspect his reluctance to get up close and personal with the dozens of sea creatures crawling being bandied about was because he didn't want to get wet. She would bring back sea stars, lobsters, scallops and crabs, and in a low key way was able to connect with the kids who weren't participating in the madness up front, either due to shyness or slight touches of seasickness.
I don't know what we paid to do this, but it was worth every penny. If you find yourself near Bar Harbor, Maine, this is a must do, even if you don't have kids along. It's worth it just to watch the children that are aboard.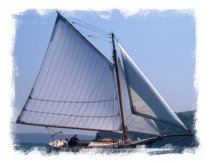 Rounding out our watery adventures, we found ourselves on the other side of the island. On a lovely day, we took a 2 hour sailing cruise on the Friendship Sloop 'Surprise'. The Surprise started life as a lobster boat, as it could be easily handed by a single person with it's gaff rig. Although a stout little boat, it moved gracefully thru the water. Several Friendship Class sloops have been restored in the area, and present a pretty sight sailing around the bay.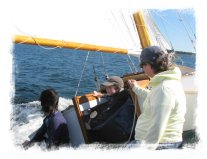 I hadn't realized that Denise had never been sailing, so this was a big adventure for her. I grew up sailing small boats on Lake Hartwell, but haven't crossed the deck of a sailboat in many years, so it was a treat for me also. It was a peaceful and calm voyage as we proceeded across Southeast Harbor at a good clip. It was a perfect day for sailing, enhanced by the historic sailboat.

I'll have to admit, I had selected the boat from several possible ones due to its name. I'm a huge fan of the Patrick O'Brian seafaring novels (the movie Master and Commander was adapted from several of the books), and the Surprise is the name of the frigate that appears in many of the books. I was intrigued enough by the name, and the class of boat (the Friendship Class Sloop is about 40 feet long with the distinctive gaff rig) to select this cruise out of many available. Turns out the name had been with the boat long before the novels, but the captain was familar with them also.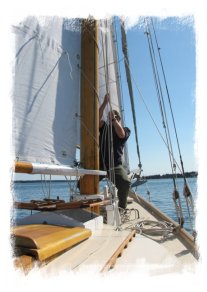 Our captain was a good natured former plumber who had decided spending his time on the water beat fixing toilets. Despite the short season (approximately 2 ½ months), he must be doing okay sailing people around the bay, because he also owns a lobster boat and a 70 foot restored sailing schooner!
I'm not real sure how Vance liked the voyage, at least while were on it. Hoping to avoid the touch of seasickness he experienced on a previous boat ride, I had given him a Dramamine before we left. Unfortunately, this put him into a bit of a fog – he was uncharacteristically quiet and withdrawn during most of the voyage. Toward the end he snapped out of it, but next time – ½ a pill!

Vance: This is three things in one viewpoint. First we went out on a whale watch cruise. We mostly saw Finback whales. One of the whales went so fast they said it was cruising. Sometimes we saw it shoot water out of its spout. Near the end of the cruise we rode
past Mt. Desert Rock Island and there were seals all over the place.

A few days later we went on a diver cruise. The kids and I got to help push Diver Ed off the boat. Diver Ed took a camera down to the bottom of the water and we saw what he caught. I got to hold a blood star. Then Diver Ed dumped the creatures back into the water and then we headed back. I enjoyed it because Diver Ed was very funny, but I got a headache from seasickness and the boat rocking. They also brought their puppy which was black and fluffy; it was only 6 months old.

I learned that Sea Cucumbers can grow back their guts. As a defense mechanism, they puke out their guts and hopefully the predator will eat the guts and go away.

Later we went on a sail boat cruise. The dock was behind a pretty hotel called the Claremont. Surprise was the name of the boat and it was a Friendship Salute. We had to turn a few times and the boat would rock to the other side. I even got to steer the boat. Later we saw some boats having a race. Finally, we got a few pictures then headed home.