A Woman's Perspective
Friday, August 25, 2006
After waking up in the middle of a pond this morning I thought it was 'high' time for a female's perspective on the joys and spoils of camping. I often encounter women who say their husbands want to buy a camper and enjoy the great outdoors...but...they're just not willing to submit…..they prefer the comfort and convenience of hotels. They usually divulge this information with a tinge of guilt….let's face it….most wives like to keep their husbands happy!

Watkins Glen State Park is a popular camping destination with beautiful trails in the Gorge as well as lots of playgrounds and an oversized swimming pool. The campsites are heavily wooded…..all this in the midst of wine country in the Finger Lakes region of New York. So by now, you're thinking…..what's her problem???

I'll be the first to admit that I often err on the side of caution to the point of paralysis. The first thing I noticed about our campsite was that it needed several loads of gravel. My second thought was the park is more ideally suited for tent camping. As we all know conditions are not always ideal when you're camping. However, we set up camp and enjoyed a very pleasant evening, and went to bed intending to get an early start sightseeing.

Our previous two campgrounds had been exceptional, and you have to figure the law of averages will catch up with you sooner or later. Sometime during the night it started raining heavily, and I awoke (at 5am!) fearful that our awning was retaining too much water. Mark (reluctantly would be an understatement...) went outside in the pouring rain in his pajamas to check. After telling me 'there was no way' there was water on the tarp…..minutes later I heard the sound of a rushing waterfall. After Mark had lowered the awning for proper drainage, he climbed back in bed and we snuggled up, happy and content that we were sleeping in a camper and not in a tent on a chilly, rainy night.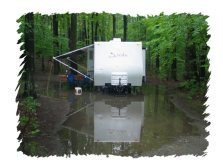 Alas, morning! I opened the camper door and discovered our campsite was now waterfront! Our picnic table, our chairs, our brand new tacky green outdoor carpet and even our sandals were floating in a small pond with our camper in the middle of the entire muddy mess. Our firewood was now driftwood. Our truck was even surrounded by water. I did what any sane female camper would do at this point…..in a very urgent tone, I called out my husband's name….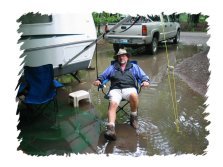 There's something about Mark that makes him really excel under adverse conditions. I attribute this character strength to his old Boy Scout years. He has the ability to laugh and crack jokes while sloshing around in the muck…..he's a lot like his Dad in this respect. In short, he quickly mustered to the task of getting us to a dry campsite. The picnic table became a bridge to ford the moat and I was able to snap some pictures and finally laugh about our situation along with all those tent campers who were chuckling on their way to the bathhouse near our site. Those tent campers (by the way) stayed high and dry while we were the ones who got swamped!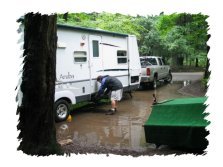 After a hour and a half spent with a very nice lady at the campground office who really wanted to help us, but was on only her second day at the job (in other words, she was having some major problems understanding how to use the reservation computer system), Mark got us assigned to another campsite….only to find someone else camping on it when he went there! Fortunately one of the rangers drove by, and they collectively figured out the other campers had setup in the wrong spot…so back to the office for yet another transfer, this time into the campsite the other campers were supposed to be in.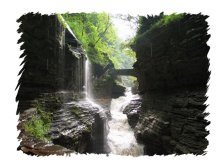 But as they say, good things come to those who persevere. Tonight has been another pleasant evening in our new campsite after a day of hiking in the gorge. Last night's ample rainfall turned Watkins Glen Gorge into a spectacular setting of raging cascades and waterfalls. It reminded us of our honeymoon in Austria and some of the gorges that we hiked in that country. Vance has teamed up with other kids on the playground so all is well in his world. He wants to going swimming tomorrow after we tour the Corning Glass Museum.

Oh, by the way, a word for all those who might wonder if camping is worth the extra effort. The answer is yes. Yes, indeed!