Hauling (M)ass…
Sat, Aug 19, 2006
We've hit the road. Really…..
We're here on a grey, foggy night, on the shore of Lake Ontario (Four Mile Creek SP), about 15 miles north of Niagara Falls. 1pm yesterday we were pulling out of Bryson City, NC. We decided to get up here as fast as was reasonably possible so that we'd have plenty of time to explore the area before our next stop, which is in the Finger Lakes region of New York. 800 miles in 2 days. We won't do this again until it's time to head home – the rest of the trip will follow what we call the 2-2-2 rule – stay at least 2 days, don't drive more than 200 miles, and try to pull in by 2pm. We are going to try hard to follow those guidelines from here out….
Today was a long drive – not so much the distance, but both the terrain and the weather. Most of the drive, with the exception of the last 200 miles or so, was in the mountains. About the time the road flattened out, the sky's unloaded, and from about Pittsburg onward it rained - hard. Fortunately it let up around Buffalo, so we didn't have to setup in the rain.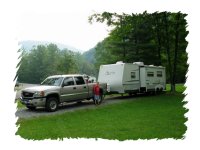 We decided to wing it the first night as far as finding a campground, and true to form, we lucked out – about 20 miles into West Virginia we found a wonderful campground at Camp Creek State Park, only a couple of miles off of I-77. Couldn't have worked out better….we got there around 8pm, so we had enough light to get settled in. Vance and I walked up to what he called 'an old-timey' playground, and played up there until it got too dark.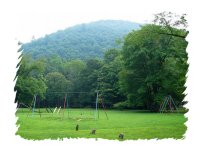 According to the campground host, there were a couple of nice waterfalls just a short hike from the campground, but we simply didn't have enough daylight to take them in. What we did see was bats – lots of them. Occasionally we will see one or two at the farm right around twilight, but over the playground there were at least 10 of them flying around.

If you ever find yourself in southern WV and need a campground, this one should do you nicely.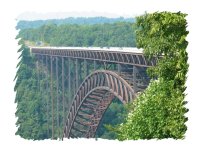 On the way up today, we passed over the New River Gorge on US 19 (as an aside, US 19 runs thru Nantahala Gorge very close to our farm, so finding it up this way was like bumping into an old friend unexpectedly…) There is a nice Visitors Center, which offers information about the Gorge, old mining activity, and the bridge. The New River Gorge bridge is the largest steel arch bridge in the western hemisphere, and for awhile was the biggest in the world. It's a thing of beauty, and it really appealed to the part of me that wanted to build dams and bridges when I grew up. Vance got a National Parks 'Passport', which allows him to 'stamp' his book at the various national parks, monuments, historic areas, wilderness areas, seashores, rivers, etc, etc, etc…..
The bridge provided some nice synergy – to stay entertained, Vance has been asking us questions out of his 'Guinness Book of World Records' book. He's a tough judge – if you don't answer exactly what is written down, he takes great glee in letting you know you missed it! Which is most of the time ;-( In this case, one of his questions was 'what is the longest steel arch bridge in the world?'. Seeing the bridge the very next day was a neat way to point out that these are real things in real places that he's reading about.
The geography going thru WV was interesting. We saw lots of veins of coal in the highway cuts, and the rocks had a reddish tint similar to what you see out west. The Pennsylvania Welcome Center had a memorial up for 37 miners who were killed in a mine explosion in the '60s, where the mine was 400 feet directly below the current visitors center. I was surprised at how sparsely populated the sections of WV we passed thru were (I-77, US 19, I-79). Lots of pretty mountains, but not many people.

Today answered several questions as far the camper and the truck are concerned, such as: .
Will it pull okay?
The camper is heavy – something like 6500-7000 pounds loaded. We are hauling a lot of mass! As I mentioned before, we were in almost constant mountains from the time we left the farm, until almost to Erie, Pennsylvania. After awhile, you could almost forget the camper was back there, except for the length. I was extremely pleased with how easy it towed, and after a few hundred miles under my belt, I really feel comfortable pulling it up and down some rather steep terrain.
First night camping….it seems a little strange – we spent probably a 1/3 of last year living in the camper parked in front of the farmhouse while we completed the renovations, and the first night we owned it me and Vance 'camped out' parked in our driveway in Marietta, GA….but until last night, we'd never 'camped' except parked on property we owned. For a well used camper, that was a strange thought ;-) Anyway, we all slept fine in the camper – we have lots of experience!

Mileage – the truck averaged around 11 mpg coming up here. While that doesn't seem like anything to get terribly excited about, I'm pretty thrilled. Our previous tow vehicle, a Ford Expedition, averaged around 7mpg when I pulled the camper up to the farm from Atlanta. Most big RV's only get 6-7 mpg, so 11 looks pretty good in comparison. Of course, every once in awhile the thought crosses my mind that with Diesel at $3+ a gallon, it's equivalent to throwing a dollar bill out the window every 3 miles or so, but…..it could be worse. Our whole plan is to use the camper as a rolling hotel room., where we find a campground, set up, and stay for 4 or 5 days, exploring the surrounding area. This avoids the hassle and expense of picking up and moving the camper every day or two – we'll just use a series of campgrounds as base camps and explore from there.

Finally – once we got the camper all hooked up – it just looked big. I couldn't help but compare it to a couple cross country family trips we took when I was a teenager. The first one we taveled from Athens, GA to Yellowstone in a Ford LTD Country Squire Station Wagon, using a 10x16 tent and screened in room. The second, in what seemed pure luxury, we had graduated up to a 10 passenger Dodge Van pulling a small Jayco pop-up trailer.This sure seems big compared to that (We have an Aruba 28DBS, and with the slide out, it's nice and comfy).

However, just in time to spare me a guilt trip, a couple of big, and I mean big, 5th wheel rigs pulled up next to us at one of the NY rest areas and parked. They dwarfed our rig. I feel better now ;-)

Plan for the next few days – see Niagara Falls, and what Buffalo and the western Lake Ontario have to offer.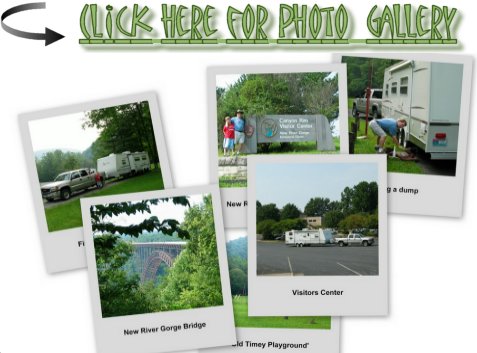 Home
-
Index
-
Old Fort Niagara